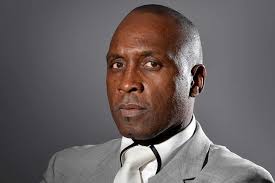 By Donald "Braveheart" Stewart
In the end sense prevailed. Or rather a shoulder injury intervened. Benjamin Button has gone back to his bed and the derision that flowed towards former world title holder, Nigel Benn, 42-5-1, 35 KO's that came from his announcement that his comeback fight was off was unfortunate and unwarranted. Benn just wanted another shot at his dream and that was what was being denied by circumstances or at least that was the narrative.
Benn's body broke down. The images on YouTube told a tale of an incredibly fit looking 55 year old were impressive for static shots and even the first two or three punches thrown but then Benn was showing his age. He was not as fluid as he had been, and he was not showing if he could take a shot – there was nothing much on sparring; but here was a man who was getting on in life…
His explanation came in interviews and as reported on the BBC he said, "I had to call it quits today, I wanted a hard spar, but it just wasn't happening. My shoulder started playing up and I could not throw a right hand at all."
His comeback was one of the worst kept secrets in British boxing as we knew he had chased Chris Eubank, SR. agreed to a fight with Steve Collins and eventually settled on a fight with Sakio Bika. Licensed through the British and Irish Boxing Authority (BIBA) Benn had settled on the same bunch who had given the license to David Haye and Dereck Chisora when nobody else would and the controversial Danny Williams world title fight in Aberdeen that saw him take on Lee McAllister who was a lightweight; Williams got knocked out. It would seem that BIBA are aware of opportunity and open the door when it comes knocking.
They got the publicity and they got the headlines. When Benn had to pull out, their monster bill in Birmingham lost its shine, had to be pulled and a whole lot of boxers who were in camp are probably now struggling for Christmas as a payday went with the circus pulling out of town.
It was such a huge circus because of who Benn is to the ordinary boxing enthusiast. In his heyday, you were a Benn fan and in the Dark Destroyer's corner or a Eubank, SR. fan with the ego, monocle and lisp. I was a Benn fan. His inability to beat Eubank. SR. left bragging rights firmly in the Brighton hometown of the Eubanks but Benn had his moments and was the WBO middleweight and WBC super middleweight champion in the 1990's.
He had grown into the professional ranks of boxing after having served as an infantryman in the 1st Battalion, Royal regiment of Fusiliers, with an 18 month tour of Northern Ireland whilst in the army; patrolling British streets as British armed forces personnel was not easy.
In the army he boxed and became an undefeated welterweight before in 1986 winning the ABA middleweight title as an amateur. In 1987 he turned over and his ability to knock people out made him a hero amongst many, including me. Quickly he was the Commonwealth champion but there are fights that defined him in our hearts and left lasting memories in our heads.
In May 1989, undefeated and in a fight against another massive presence in the middleweight division in the United Kingdom, Michael Watson he was stunned, out gunned and counted out in the sixth round.
He was not to be put off by hitting the canvass and this proved to be his doing as he won the WBO middleweight title in April 1990 against Doug DeWitt in Atlantic City after being knocked down in round two and then stopping DeWitt in round eight after sending him down once in round three and three times in the final three minutes.
It was his fight, however, against Iran Barkley in August 1990 that went a long way to proving his worth as he sent Barkley crashing to the floor three times and due to the three knockdown rule, got the win in the first round. It set up the defining rivalry of the 90's. Nigel Benn and Chris Eubank, SR.
This was THE defining rivalry of the time. Ordinary, non boxing fans had also picked sides. British sporting fans are suckers for rivalries that include class conflict.
In the 1980's the UK had been smitten by the rivalry between middle distance runners, the aristocratic and aloof Sebastian Coe and the down to earth and working man, Steve Ovett. We divided on class lines there and now we had the refined Eubank and the roughly defined Benn. We divided again.
Benn was stopped in the 9th round of their first fight in Birmingham in November 1990; some of us faltered but that was his appeal. He was imperfect. He was a fighter, but he needed refinement.
Benn was in the doldrums, but he got on with business and built towards the WBC super middleweight fight against Mauro Galvano in October 1992. Winning by a fourth round TKO it was the second time he had fought for a world title outside of the UK and the second time he had won it. Being the less favored fighter was not something that phased him and he returned to the UK with one fight in everyone's minds. The rematch. The decider. The revenge mission.
9th October 1993.
Nigel Benn Vs Chris Eubank, SR.
In Manchester in the open air – at Old Trafford
It was a draw. Honors even but clearly not enough honor for Benn.
Benn licked the wounds of his failure to win and went on to fight an epic battle against Gerald McClellan on 25th February 1995 where Benn went through the ropes in the first, through the gears in the next nine, including through his determined spirit when he hit the canvass again in the eighth and then through McClellan in the tenth forcing a stoppage. He was behind on two scorecards when it was halted. Tragedy was about to hit as McClellan had a blood clot on his brain. He ended up in hospital and is now almost completely blind and in a wheelchair. Benn kept fighting and the last two fights of his career – against Steve Collins – were hard fought but both lost though they were and continue to be eclipsed by his fights against Eubank and his foreign triumphs in the memory.
And then he was coming back. Universally, the boxing world in the UK declared it a bad idea. Given what Benn had seen in the ring and the dangers he came through, what could have possessed him at the age of 55 to think one more fight, one last hurrah, a final exposure to tragedy would be worth it?
The facts, and they are facts, are that Benn did not apply to the British Boxing Board of Control (BBB of C) for a license. He approached BIBA and they sanctioned the fight. BIBA pride themselves on being safe and they have brain scanners and put Benn through their medical tests which he passed.
BIBA were fully in agreement with Benn's return and believed that should he be fit and healthy enough that they should not stand in his way. A bill was built round this epic event. There was a lot of press and media attention. When Benn pulled out, this monster bill of boxing was cancelled. At first, we thought it might go ahead with names – like Scott Harrison – being added to the bill to shore it up. However, the potential losses were clearly too much for such a smaller cousin of BBB of C.
In all my dealings with BIBA they have always been professional and they are trying hard to add to what is out there. I am, however, mystified why they sanctioned it apart from the opportunity to jump on a bandwagon and get some publicity. It seems less than right but we can all argue over boxing, can't we.
What we are left with though, is an overwhelming sense that the images of Benn in the 90's is what fuels us. We can remember him as he was and not some old guy trying to resist the ferociousness of the crucible of fight night. It may be a little blessing, but it is one I am willing to count.
Contact the Feature Writers