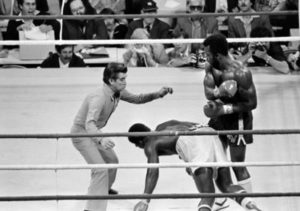 By "The First Lady of Boxing" Jackie Kallen
After seeing how one punch turned around the fight for Deontay Wilder Saturday night, I was once again reminded that it only takes one carefully-placed punch to totally alter the outcome of a fight, Careers can be destroyed or seriously derailed in a split second. Or the opposite can happen. Every man who enters the ring is capable of landing that "one lucky punch."
James Toney was behind in his title fight with Michael Nunn in 1991 when that big left hook changed both his life and mine. Not to mention what it did to poor Michael Nunn. Some say he was never the same. Toney was a huge under-dog coming into the fight and became a champion by the time we walked out of the ring.
My favorite all-time comeback punch was in 1980 when Mike Weaver KOed "Big" John Tate. Tate was favored to win this fight and was doing exactly that as he pushed Weaver around the ring, winning round after round. It seemed like a done-deal going into the final round, but with only 10 seconds left in the fight, Weaver dropped a bomb on Tate. That was all she wrote. It was the beginning of the end for "Big" John.
Another great comeback punch was in the 1994 fight between George Foreman and Michael Moorer. George was 45 years old and at the tail end of his career. Moorer was nearly 20 years younger and was expected to walk through the older man easily.
He was boxing Foreman's socks off and was ahead on all the scorecards when Foreman landed his famous right hand and flattened Moorer and became the oldest Heavyweight Champion in history.
I remember the 2010 fight between Audley Harrison and Michael Sprott. These two had fought three years earlier with Sprott cleanly KOing Harrison in three rounds. Though he was a highly-touted Olympian, Harrison's pro career was not turning out as planned. This fight was his chance to avenge the earlier loss and redeem himself. He was losing the fight going into the final round when Sprott caught him with a solid assault that rocked Harrison. But he dug deep and from somewhere out of left field, he found an opening and landed a blistering left hand. Down went Sprott and Harrison got his revenge.
One of my favorite classic fights was the one between Rocky Marciano and Jersey Joe Walcott in 1952. Of course, I wasn't there, but I used to watch old fight tapes with legendary trainer Bill Miller and this one was high on his list. Marciano entered the bout with an undefeated record in this title fight, but Walcott (who held the belt) wasn't giving it up that easily. He dropped Marciano, who was nearly a dozen years younger, in the first round and started racking up the points. Going into the 13th round, Marciano needed a KO to win. He unleashed a devastating hook and the title changed hands.
Do you remember Roy Jones, JR.'s second fight with Antonio Tarver in 2004? The first fight was a close one, with Tarver edging it out. In this second match-up, Jones, JR. was boxing confidently when he suddenly got caught with a thunderous left hand that knocked him down and out. It was after this fight that Jones, JR. started visibly slipping.
Although it doesn't always pay for a man to wait for that one lucky punch—it can happen. And when it does, a career can take a whole new path.
Contact the Feature Writers