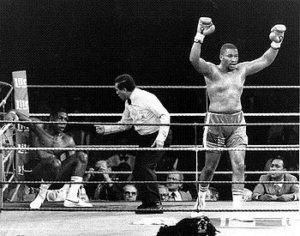 Exclusive Interview by Anthony "Zute" George
Demographics means a lot. Among other things, where an individual is born and/or raised determines what language they speak, what type of accent they speak that language with, and what culture and traditions matter to them. In many ways, Tim Witherspoon is a product of his demographic. Born in South Philadelphia, Tim lived a mere five minutes away from Angelo Dundee, the legendary trainer. Living within walking distance from Angelo, was there any doubt a kid of Tim's elk would pursue the sweet science? Even though Tim lived near Angelo, the famous trainer did indeed live in an Italian neighborhood. What is that you say, Italian's and blacks living so close together in what Tim said was harmonious? As a youngster, Tim was unaware of the unique nature of his demographics, "When we were little, I did not know the city was so unique until I got older." Translation, until Tim was exposed to such places that were not as harmonious as South Philly.
"We had a large population of Italian's, a large population of Irish, the blacks were in the middle, and we lived close to the Jewish people," Tim goes on to describe the makeup of his youth. Tim also had ten siblings to bounce off and experience the joys of life with. With his large family, Tim would enjoy going to church on Sundays and playing sports. But it was not boxing that occupied most of Tim's time at first, "we were grooming to be professional football and baseball players," Tim explained. Although more diverse than most cities, South Philly was not without enticing vices and gangs, but Tim credits this rigorous schedule for staying out of gangs, and "not doing bad stuff."
Of course, we never got to find out if Tim could hit the corner with a slider, handle the curveball, tackle an oncoming diesel, or throw a touchdown pass to a blanketed wide receiver in the professional ranks. But we did find out that Tim could box, and indeed, as they say, 'fight a little bit,' but that came much later. Tim was enjoying a football scholarship in college when boxing made its way in his life, "I never looked at boxing, even though I had a whole bunch of uncles who boxed, and I heard about boxing all my life. I heard about Bennie Briscoe, Sonny Liston, Muhammad Ali, Joe Frazier, I heard of all these names, but my sports were football and baseball."
How boxing became Tim's sport in a classic case of a bad situation, turning out as a positive. Tim came home from college because he got hurt playing football, "we went home, I did not understand the value of education; then, I just wanted to play football. So, I forfeited my education," Tim offered. Once Tim got home, he got acquainted with old friends such as Buster Drayton and Earl Hargrove, men who were all in with boxing. Tim's brother Anthony was also fixing to be a prizefighter. Once again, where you are, shapes who you may be. Being around friends from his neighborhood who inspired to continue the great Philadelphia boxing tradition was what got the boxing juices flowing for Tim, "I told my brother Anthony, I am going to start going to the gym, I am going to box."
Tim tagged along with Buster Drayton to the Passyunk Gym, and the rest is history. A history that is long, eclectic, and saturated with hard work. Hard work that was not for everybody, "My friend from college came to the gym with us, but he did not last long, he quit because it was too hard," Tim explained. The Passyunk Gym helped shaped Tim; he started out with just seven amateur fights before turning professional. Anyone who has watched Tim fight knows he had a solid boxing pedigree; therefore, it might sound odd that such a solid boxer had less than ten amateur fights, "I did not learn much in the amateurs because my trainer was limited. I mostly learned by imitating other champions like Matthew Saad Muhammad and Jeff Chandler. A lot of young people try and do that."
Tim's first amateur fight was not in keeping with his great success, as he lost to a fellow who was a multi-amateur champion, "I did not know any better, young people don't know," was how Tim described being unknowingly thrown to the wolves. Tim said he went on to win his next four amateur fights before facing Marvis Frazier in the Golden Gloves final. A pugilist with a clear name advantage. Tim lost a split decision but was recognizing improvement, "by then I was learning things from other people. I thought the Marvis Frazier fight was a great accomplishment because I was only boxing like a year and a half."
Tim took that confidence and knowledge and turned professional on October 30th, 1979. He stopped Joe Adams, who was also making his professional debut in 1979. Tim soon found himself sparring with Muhammad Ali, a Legend who he was learning from by studying, "I learned to work my jab by watching Ali." Tim describes sparring with "The Greatest" as a euphoric experience, "Just being around the ring with him. You're in there with one of the greatest boxers who ever lived. When I first met him, he treated me like he knew me for years. It just did not sink in how great an experience it was until years later."
One thing that "The Greatest" did not do, and he is often given credit for, was give Tim Witherspoon his memorable moniker. "A friend of mine named Taleek Eddy Berges gave me the name, "Terrible". Ali was more like a promoter of the name. I want to give just due to the right person," Tim declared. Of course, "Terrible" is a moniker that describes someone exceptional at what they do, "That boy Terrible, he just kicked a 70-yard field goal," Tim demonstrated.
Unfortunately, "Terrible" would not be the way one would describe where Muhammad Ali was at when Tim began sparring with him. Not the excellent Terrible anyway. Ali observed Tim sparring with Eddie Mustafa Muhammad, who was Eddie Gregory at the time and chose Tim to help him prepare for his return bout with Larry Holmes. Tim explained that he did not think about whether or not Ali should still be fighting at that time. With that said, Tim did notice that Ali was far from Terrible in their sparring sessions, "He acted kind of weak. I said he can't go in there like this with Larry Holmes." Indeed, Ali did go in there a mere shell of himself against a prime Larry Holmes, and the result was one of the ugliest events in boxing history.
A little over a year after the Holmes and Ali fiasco, "Terrible" Tim was beating the likes of Marvin Stinson, Alfonzo Ratliff, Luis Acosta, and Renaldo Snipes. The Snipes victory was a standout. The bout was to be aired on the ABC television network, and Snipes had plenty of gloss on his shine from recently dropping Larry Holmes in a losing effort. "Renaldo Snipes was moving too much for me. Every time I cornered him, I 'bang, bang bang,' and he was gone. It was an awkward fight for me, I did not expect him to move that much. But I won the fight," Tim said.
Tim's victory earned him a title shot against Larry Holmes, who held the WBC heavyweight title at the time. The fight took place on May 20th, 1983. Holmes was considered one of the best fighters in the world, while Tim was still an unknown commodity in many circles. With only fifteen professional fights, many experts felt Holmes would be too seasoned for the Terrible neophyte. The decision of the battle can be debated. Tim lost a very close split decision on the scorecards, although one judge, Chuck Hassett, handed in an erroneous scorecard of 118-111 in favor of Holmes. What cannot be disputed, however, was that Tim was in this fight mainly because he had a superior jab against Holmes. Not enough is said about that. How could Tim, with only fifteen matches and a paltry amateur record, out jab Larry Holmes, a boxer who is always considered to have one of the best jabs in boxing history? Tim was exponentially Terrible in the sweet science of boxing is the explanation.
The other major story in that fight was how Tim had Larry in tremendous trouble in the 9th round, out on his feet, is the best way to describe it. But Holmes survived and went on to have some of his better rounds late in that fight. "That is where experience comes in," Tim explained. Tim insists that if he had more fights under his belt, he would have stopped Larry, or won by a much wider margin, "I felt I won, but I felt I needed a couple of more fights to have erased any doubts."
The ninth round of that fight was memorable, as it showed just how impossible it was to put Larry Holmes away. But Tim does not remember the round at all. "Everyone always asks me about that, but it was like I blacked out (when he had Holmes in serious trouble). I could remember all the other rounds, but that particular round was something. I can't remember that round. All that noise took something out of my brain. I was too excited. That is from not being experienced. That was just another lesson."
Tim manufactured his lesson learned into a stellar boxing career, entrenched in world titles and fantastic displays of boxing and fistic prowess. Among the wins he says were most satisfying includes, Jorge Luis Gonzalez, Art Tucker, and James Broad. But the fight Tim cites as his most satisfying is his first-round stoppage of James "Quick" Tillis in 1983, "He is a good guy, but before the fight, he was trying to antagonize me. He was saying I did not want to fight him. I pulled out of the fight (originally) because I had an ear infection. So, the next time he seen me, he called me a punk, and that I was scared. So, I really wanted to get him, and I knocked him out in the first round."
The other side of that coin is Witherspoon's most disappointing loss, which was an easy choice for him, "The second fight with "Bonecrusher". I fought him the first time and shut him out. The second time we fought, it was political. Don King was attacking me. If I won the fight, which I wasn't going to win (because they would rob him), I would only make about $100,000 for fighting Mike Tyson. I had to throw the fight. I feel bad for "Bonecrusher" because he thinks he really knocked me out."
The reason why Tim had to face "Bonecrusher" a second time was because he tested positive for marijuana after his title-winning victory against Tony Tubbs. Spoon was fined $25,000 and had to give Tubbs a rematch. In preparation for the rematch, Tubbs was injured and replaced by "Bonecrusher". Tim felt this was a ploy by Don King to feed Mike Tyson, his cash cow, an easier fight with "Bonecrusher". Tim felt that "Bonecrusher" was too strong of a fighter to knock out, and he felt there was no way he could get a fair shake on the cards. According to Tim, he decided to throw the fight instead. Tim felt that even if he bested "Bonecrusher", he had little chance against Tyson. "Tyson was the main interest for Don King, there was no way I was going to be able to win that fight. And I was not going to fight Mike Tyson for just $100,000.
His decision to throw the fight to free himself from Don King also came after the fact that he came home with only $95,000 of a promised $2.5 million purse in the Frank Bruno fight. Tim felt Don and Carl King were not working in his best interests and made a bad decision to take a dive. But he thought it was the only decision he could make at that time. Keep in mind this was in the 1980s' and $2.5 million adjusted for inflation today is more than $5.8 million. Indeed, it was a dark, terrible time for Tim, and not the kind of 'terrible' that receives accolades.
"I made sure it was a three-knockdown rule. My corner and lawyer knew I was going to throw the fight. If you look at that fight, you could see I am really acting. I crawled, I was not even hurt or anything. But I was happy to get away from Don King. But the saddest thing I needed to do in my career was to throw that fight. But it did not make sense to go through with a fight with "Bonecrusher", one of the hardest hitters of that time, a guy I already beat, but also the strongest guy I fought. So, I did it…three knockdown rule, and I was the happiest man in the world. My mom and all the women in my family were crying, I had to tell them later on." Tim declared.
According to Tim, Don King was responsible for a lot of heartache in his career. They had a nasty legal battle; "we sued Don right after the second "Bonecrusher" fight. That was our plan." But because of Don's shenanigans, Tim's motivation was sucked out of him "I went into boxing with good intentions. But I had a bad promoter. I made money, but I also got ripped off. I was deprived of making millions. I blame myself a little bit. But Don King was the main culprit. Mismanagement and all of that. I was in condition for all these fights when I was undefeated. But then all hell broke loose. The business got bad. I started dealing with Don King, and I found out it wasn't really pleasant to be under him. The moral was low with King, and it felt like there was no way out of it. We had to put up with everything he gave us."
Tim felt he never got that spark entirely back, and he regrets that now because he thought he blew his chance to do very well after being connected with Dennis Rappaport after his tumultuous relationship with Don King. "Dennis treated me real good. Dennis looked after me. I did not have to worry about money. I did not have to worry about a lot of things. But I did not train as hard as I should have when I was with Dennis. I did not take advantage of what Dennis did for me. I want Dennis to know how grateful I am, even though I did not take full advantage of what was in front of me. I had a chance to be even more famous than what I am now. I let that go by. I wish I would have concentrated more and trained harder."
Tim's motivation might have been sapped from him, but he was still very competitive throughout his career. Speaking with Tim today, he still is in good health. What is his secret? "I had a very good trainer, Slim Robinson, and he taught me defense. When I was in the amateurs, I was getting hit a lot, but once I got Slim in my corner, that is when it started to go uphill."
Slim Robinson might have taught Tim how to be durable inside the ring, but Don King taught Tim to be skeptical and untrusting of others. Today, Tim says he respects Don when he sees him, but his words aimed at King still suggests bitterness, "If I see him, I am not going to disrespect him. Don has to live with what he done. That is enough right there for any human being. To walk around knowing, and everybody knows, what he done. Everybody knows he ripped this one off, and that one off. I think that is a punishment on its own. I do not have to walk around like the victim. I am happy now. He has to walk down the street with people saying he ripped people off. I do not have to do that. He has to walk down the street with people saying he killed somebody. I don't have to do that. He has enough going on that people will realize that he is the bad guy. I hurt him more by saying I love him. He won by ripping me off. But I won because I have no blemish on me. Nobody can say that I ripped them off. Nobody can say that I treated them bad. That is how I get my reward. I forgot all about 'Rip-off Don King'; he is in the back of my mind."
Today, Tim Witherspoon walks around trying to help other fighters. He is trying to get a union together for boxing, to help young fighters put their money away, and help retired fighters who are struggling, "Aftercare is what is important to me now. If a fighter dies, do we have enough money to help bury them?" Tim feels that the promoters are needed for this quest, and must be acknowledged, "We need to support the good promoters, and if there is a bad promoter, try and make him do right. If they do not do right, they do not have to be in our organization. We are the only sport that does not have a union." Tim is not alone in his quest to make sure boxers have more protection, a pension, so to speak, and they want the United States Congress to help make this happen. The major problem is that boxing is a worldwide sport, spanning in more continents than just North America. One could only hope something can be put in place to take better care of boxers, however.
Stay tuned…
Contact the Feature Writers