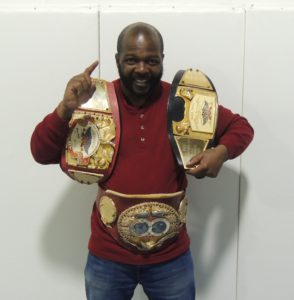 By Donald "Braveheart" Stewart
"I set out to do something that very few people on this Earth have ever done, and I did it."
There is a cast of character in this man's life that could be held to come straight out of a cross between Disney and the Sopranos…
Picture the scene as you find the box of long lost memories…
In it are…a money punch, a long right hand, "John Boy", Mr Nelson, Mr Gonzalez, Bunky, Mr Paez and Mr Tszyu.
Such was the life led and lived by former world champion featherweight, super featherweight and lightweight title challenger Calvin Grove, 49-10, 18 KO's, that he has been inducted into a hall of fame and left memories for us all in our boxing brains.
One of five children, Grove can cast his own mind back to when he had to throw hands in the street to defend his own family. In a newspaper interview, given, not a long time ago he recalled, "My family is a real tight family. If somebody was fighting, we would jump them."
Such was his proficiency in the street that a cousin, George, also known as "Bunky", took to training young Calvin from the age of 14 to take the obvious fighting instinct, and turn it into a positive force that meant by the time he was 16 he had his first amateur fight.
In 40 amateur fights he lost only 4 times, winning the Pennsylvania Golden Gloves title at 125 pounds in 1982. After the hard work of being a roofer for 4 years, Grove made the decision to try his hand at the professional game.
He made his professional debut at 19, having already gotten the nickname, "Silky Smooth" because of the slick movement in his footwork. In a 59 fight professional career, from 1982 up until 1998, he also became known for his side-to-side movement – especially against Azumah Nelson – a stinging jab, and his money punch which was a long right hand he called "John Boy."
He only took 6 years to become a world champion before losing his belt, moving on up in weight , challenging for a WBC belt against Nelson, losing, moving on up in weight to lightweight, challenging for a WBC lightweight belt against Miguel Angel Gonzalez and losing before retiring in 1998, after a first round stoppage against Kostya Tszyu.
You have to say that this is a record worthy of any true champion…
His first attempt to win a world title came on the 23rd January 1988 in Normandy, France, against Antonio Rivera. Grove was seconds into the fourth, when he was sent to the floor by a left hook, with his arm dangling on the ropes being the only thing stopping his head from hitting the canvas; it's a powerful image and one that makes his recovery and victory even more impressive. His trainer certainly had reckoned the fight was over and had turned away!
Later on, Grove was to reflect on that knockdown and unlike his trainer, knew that he was never going to give up! "At that point, I'd already been on the canvas three times earlier in my career," he said, "so I knew how to react." Grove responded beautifully, managing to knock the Puerto Rican down twice in the same round! The first knockdown came with a three-punch combination and then the second managed with a swift right uppercut and left hook.
Rivera got back up the second time, but it took very little time before the referee stepped in and stopped the contest, the IBF featherweight championship crown was now Grove's.
Grove was in reflective mood, afterwards though it took quite a few years to get there as he managed to talk of his win years later, "It's hard to describe that feeling of becoming a world champion," Grove said. "It took a while for me to understand (the magnitude of) what I achieved. I set out to do something that very few people on this Earth have ever done, and I did it."
After getting the world title, Grove kept his belt in the ring once, against Philadelphia's Myron Taylor, who was the older brother of Olympic champion Meldrick Taylor. The belt was then lost on August 4th, 1988, when he suffered his first defeat as a professional with a 15-round – the last ever 15 round – majority decision loss to Jorge Paez in Mexicali. Grove fought in an open-air bullring which had a capacity of 11,000 fans; 16,000 boxing supporters crammed in to see the spectacle. Travelling to the melting pot of Mexicali was something his camp was to regret as it was Grove who was ahead on the cards until he was dropped three times and lost to a majority decision; his title was gone.
His next fight made a bit of history as it was held in Moscow, the date August 20th, 1989. Grove was the first American, along with his American opponent, Anthony English, to fight in the Soviet Union, though Rocky Balboa might argue…
Fought at super featherweight the fight was for the United States Boxing Association's belt at that weight!
His world title ambitions were to be lit up three times more.
He challenged for the WBC super featherweight belt, losing to the Azumah Nelson in Lake Tahoe, Nevada in 7th November 1992 on points. He then unsuccessfully fought against Miguel Angel Gonzalez for the WBC lightweight belt in 1994 – the 13th December – and Angel Manfredy for the new WBU super featherweight belt in 1995 where he was stopped in the 7th round – at the time he was behind in only one of the three score cards , the other two showing a draw!
Of the three, the hardest to take was the loss to Nelson as Grove spoke much later in life in an interview when he said, "They knew that [I] didn't lose this fight. I was like 'I can't believe it.' I walked over to him and said, 'You know you didn't beat me, but congratulations anyway.'"
Once he finished his boxing career, he returned to being, a roofer. His sacrifices to be a world champion and a role model for others allowed his reputation to grow outside the ring and add to the reputation he had gathered inside it. It led to his induction into the New Jersey Boxing Hall of Fame as he had fought so often in Atlantic City.
"I did what I set out to do," said Grove. "It was a lofty goal, maybe more of a dream, but I accomplished it."
He did and with some silky smooth style…
Contact the Feature Writers