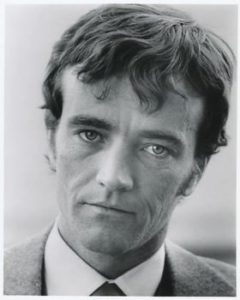 By Geoffrey Huchel
TV and film actor Robert Walker, JR. died on December 5, 2019 at age 79. The son of Hollywood royalty- Robert Walker and Jennifer Jones, died Thursday in Malibu, California. Walker's cause of death has not been disclosed.
Walker was born on April 15, 1940 in Queens, New York. He attended The Lawrenceville School near Princeton before pursuing an acting career. Walker was largely known for his work on television. He made appearances in numerous television series such as ROUTE 66 (1960), THE ELEVENTH HOUR (1962), BEN CASEY (1961), THE DEFENDERS (1961), DAYS OF OUR LIVES (1965), COMBAT (1962), THE INVADERS (1967), BONANZA (1959), MARCUS WELBY, M.D. (1969), COLUMBO (1971), THE STREETS OF SAN FRANCISCO (1972), THE SIX MILLION DOLLAR MAN (1974), CHARLIE'S ANGELS (1976), CHIPS (1977), SIMON & SIMON (1981), DALLAS (1978), DRAGNET (1989), MURDER, SHE WROTE (1984), THE NEW LASSIE (1989), L.A. LAW (1986), and IN THE HEAT OF THE NIGHT (1988).
Walker was best known for his memorable guest performance in an early episode of STAR TREK: THE ORIGINAL SERIES (1966).
Walker's film credits include THE CEREMONY (1963), THE HOOK (1963), THE WAR WAGON (1967), YOUNG BILLY YOUNG (1969), BEWARE! THE BLOB (1972), and the Oscar nominated EASY RIDER (1969).
Walker won the Golden Globe for Most Promising Newcomer- Male for THE CEREMONY. He is survived by his wife and seven children.