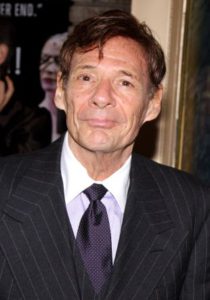 By Geoffrey Huchel
Actor Ron Leibman, the accomplished actor of stage and screen has died from complications of pneumonia in his native New York City. He was 82.
Leibman was a familiar face to both TV and movie audiences during his five decades long career. He made appearances on the series THE EDGE OF NIGHT (1956), HAWK (1966), POLICE STORY (1973), KAZ (1978), PACIFIC STATION (1991), MURDER, SHE WROTE (1984), C.P.W (1995), LAW & ORDER (1990), LAW & ORDER:SPECIAL VICTIMS UNIT (1999), THE PRACTICE (1997) and his most recent work, ARCHER (2009). Leibman guest starred in three episodes of the award-winning HBO series THE SOPRANOS (1999) as Dr, Lior Plepler. He is also known for his portrayal of Rachel Green's (Jennifer Aniston) overbearing father Dr. Leonard Green on the hit NBC series FRIENDS (1994), appearing in 4 episodes. Leibman won a Primetime Emmy Award for Outstanding Lead Actor in a Drama Series for his performance in KAZ.
Leibman's film credits include WHERE'S POPPA? (1970), HOT ROCK (1972), with Robert Redford, SLAUGHTERHOUSE-FIVE (1972), YOUR THREE MINUTES ARE UP (1973), with Beau Bridges, NORMA RAE (1979), starring opposite Sally Field, NIGHT FALLS ON MANHATTAN (1996), with Andy Garcia and Richard Dreyfuss, JUST THE TICKET (1998), PERSONAL VELOCITY (2002), AUTO FOCUS 92002), with Greg Kinnear and Willem Dafoe, and GARDEN STATE (2004).
On Broadway, Leibman starred as Roy Cohn in the production Angels in America, a role that won him the Tony Award and the Drama Desk Award for Outstanding Actor in a Play in 1993.
Contact the Feature Writers