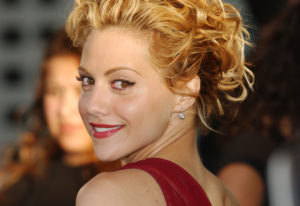 By Geoffrey Huchel
December 20, 2009: The world lost one of its most vibrant souls and Hollywood one of its most colorful personalities and brightest stars. Brittany Murphy was on the fast track to become one of the most sought-after actresses of her generation, and she was- until her life was sadly cut short at the age of 32, leaving her fans devastated and wondering what could've been. In the months following her death, and even now I can't help but think of how her career would've turned out, what characters she could've played and what influence she'd have on the film industry. With this year being the tenth anniversary of her death; here's a look back at her career.
Murphy's acting career began in the early 90s. She landed roles in over a dozen television series, including MURPHY BROWN (1988), PARKER LEWIS CAN'T LOSE (1990), KIDS INCORPORATED (1984), DREXELL'S CLASS (1991), BLOSSOM (1990), ALMOST HOME (1993), PARTY OF FIVE (1994), FRASIER (1993), SISTER, SISTER, (1994), SEAQUEST 2032 (1993), BOY MEETS WORLD (1993) and NASH BRIDGES (1996). Murphy also provided the voice of Luanne Platter for the entire run of the popular and long-running series KING OF THE HILL (1997-2010)
It was in the 1995 teen comedy CLUELESS when Murphy landed her big break into feature films. Murphy played Tai, the awkward and shy transfer student, who is taken under the wing of the popular Cher Horowitz, played by Alicia Silverstone. Murphy's portrayal of quirky, funny and lovable Tai was one of the highlights of the hit film and was just the beginning of the young starlet's budding film career. The following year Murphy landed a small role in the very little seen, but very funny dark comedy FREEWAY (1996), starring Reese Witherspoon, Kiefer Sutherland and Brooke Shields.
During the mid to late 90s Murphy appeared in several feature films and returned to television, to star in the dramas DAVID AND LISA (1998), with Lukas Haas and Sidney Poitier and the critically acclaimed THE DEVIL'S ARITHMETIC (1999), with Kirsten Dunst. Murphy portrayed Rivkah, a young Jewish girl, who befriends American teen Hannah (Dunst). The two form an unlikely bond in a 1941 Nazi concentration camp. Another of Murphy's most memorable films was the biographical drama GIRL, INTERRUPTED (1999), starring Winona Ryder and Oscar winner Angelina Jolie. Murphy played mental patient Daisy Randone. The same year Murphy appeared in the supporting role of Lisa Swenson, a contestant in a small-town beauty pageant in the comedy DROP DEAD GORGEOUS (1999). Murphy was reunited with her DEVIL'S costar Kirsten Dunst.
Murphy's successes in the late 1990s led her straight into the 2000s with an even more promising career. In 2001, Murphy starred in four feature films: SUMMER CATCH, starring Freddie Prinze Jr. and Jessica Biel; Woody Allen's SIDEWALKS OF NEW YORK, with Gwyneth Paltrow, Edward Burns and Heather Graham; Penny Marshall's drama RIDING IN CARS WITH BOYS, with Drew Barrymore and the thriller DON'T SAY A WORD, with Michael Douglas. The following year Murphy was cast as Alex, the love interest to the film's star, Eminem, in the Academy Award winning and Golden Globe nominated drama 8 MILE (2002), also starring Kim Basinger and Mekhi Phifer. In her next film, UPTOWN GIRLS (2003), Murphy shined as Molly, the spoiled daughter of a deceased rock legend, who is forced to get a job as a nanny for the often ignored and precocious daughter of a music executive, played by Dakota Fanning.
Murphy's next high profile roles were in the romantic comedies JUST MARRIED (2003), with Ashton Kutcher and LITTLE BLACK BOOK (2004), with Holly Hunter and Ron Livingston, the film noir SIN CITY (2005), starring Bruce Willis, Clive Owen, Benicio Del Toro and Jessica Alba and the animated HAPPY FEET (2006), starring the voices of Elijah Wood, Hugh Jackman, Robin Williams and Nicole Kidman. Murphy's final films were the lower-profile THE DEAD GIRL, (2006), LOVE AND OTHER DISASTERS (2006), THE RAMEN GIRL (2008), TRIBUTE (2009), DEADLINE (2009), ACROSS THE HALL (2009), ABANDONED (2010) and SOMETHING WICKED (2014).
Contact the Feature Writers