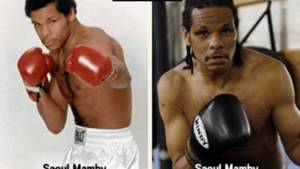 By Vinny "Glory Days" Lucci
This past week the word leaked slowly across the boxing universe in rational disbelief if it were true that the fists of extelligence were silenced. Media, fans and friends frantically searched the internet for any clues that the rumor of former champion Saoul Mamby took his last bows. Sadly, Ring 8 confirmed his passing last week on December 12th from former manager Steve Tannenbaum.
The news of his passing stung like a cherished relative had passed even though I didn't know him personally. Why? Because Saoul was one in a million and different from any boxer I had ever known. I'd see him in Gallagher's Gym starting in 1980 when I was a gym rat and he wore a title belt.
While most who graced the building were in awe of giant "Gentleman" Gerry Cooney pounding a heavy bag I was always hypnotized at the ominous graces that Saoul possessed. Mamby could make the speed bag sing a rhythm like few fighters I 've ever witnessed. He wore the everyday man's work ethic on his sleeve just like a factory worker who punched a clock five days a week without vacation. Yet that sleeve was like a King's robe that flowed to the floor separating him from his peers by an unseen nobility.
His commitment to the life he choose was bewildering to both the novice and reporter as nothing could discourage his Lion's heart from the gauntlet he navigated. He left behind an unimpressive ledger of 45-34-6, 19 KO's yet the numbers won't ever add up to the measure of what an outstanding gentleman and boxer he was.
Mamby was a Bronx born New Yorker who later settled into the borough of Brooklyn. At sixteen years of age he took himself off the streets and headed for the gym to make a better life for himself. The future champion competed in the Golden Gloves in 1965-'66 compiling a record of 25-5. He later went on to serve his country proudly overseas in 1968 at the apex of the Vietnam war and after finishing his tour of duty he took up his passion for pugilism once again and turned pro in 1969. Saoul would labor on the undercards of established champions of the day honing his craft and building a resourceful reputation.
Mamby virtually lived in the gym and walked around between bouts at his fighting weight. On any given day you could bounce a quarter off his abs or make better use spent calling him on short notice to add to any fight card.
The road warrior finally received a crack at a world title back when there were only two; the WBA and WBC. Matched against WBC super lightweight champion Saensak Muangsurin Mamby lost by split decision. He once again had to labor a couple of years and put together a six-bout win streak before receiving a much deserved second chance at a title shot early in 1980. Making the most of his opportunity Mamby defeated Sang-Hyun Kim by 14th round TKO.
He would successfully defend his title five times against the likes of Esteban De Jesus, Maurice "Termite" Watkins, Jo Kimpuani, Thomas Americo and Obisia Nwankpa.
At the exalted height of his popularity Saoul was to fight a unification match with immensely popular WBA champion Aaron Pryor in a classic matchup of contradicting styles. The MAPS promoted event was cancelled when new promoter on scene Harold Smith stepped down from public eye for defrauding Wells Fargo National Bank of over 21 million dollars that he was lavishing on boxers as if he printed money. So exhaustive were the generous paydays each event lost money. Smith would later be convicted under his birth name Ross Fields and sentenced to ten years in prison thus denying Saoul the one monster payday he richly deserved.
In 1982 Mamby lost his treasured belt by 15 round split decision to Leroy Haley in a memorable tug of war battle. The following year he dropped a 12 round unanimous decision in rematch with Haley.
Even through close decisions it seemed near impossible to get the best of Mamby as he was a master technician of defense inside the ropes with whiskers of steel. The one thing he lacked was the power to impress judges or dissuade his opponent from entering the pocket.
Somehow the rounds finally caught up with him in 1984 when he lost a 12 round unanimous decision to power punching WBC champion Billy Costello in an event where he couldn't keep his adversary at bay. The bruising bout had taken a toll and Mamby never fully recovered his "A" game even though he kept himself in magnificent shape and avoided the pitfalls of all vices.
The ex-champion would go on to toil in the game once again as a gun for hire and he won the N.Y.S. version of welterweight title against Larry Barnes by unanimous decision in 1990. Ten years later at 53 he would be forced into retirement by California State Athletic Commission.
In an astonishing turn of events Mamby fought ten years later against Anthony Osbourne in the Cayman Islands dropping a 10-round unanimous decision. He was sixty years old and had fought in five separate decades.
Saoul Mamby lost decisions to hall of famers Roberto Duran, Antonio Cervantes and James "Buddy" McGirt and fought many notable fighters of the day like Maurice Blocker, Gary Hinton, Glenwood Brown, Jorge Vaca, Rene Arredondo, Ronnie Shields, Harold Weston, Monroe Brooks and Edwin Viruet. In all that time Mamby was stopped only once at the age of 46.
Saoul never bragged about his prowess nor did he complain over fate or misfortune. He felt everyday of his life after returning from the service was a gift and he made boxing his vocation to a life well spent.
Rest easy champ, you will be missed…
Contact the Feature Writers