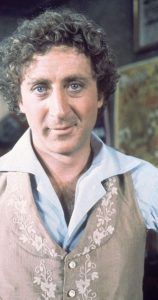 By Geoffrey Huchel
"If you want to view paradise, simply look around and view it. Anything you want to do it, want to change the world, there's nothing to it." Those immortal words were sung by none other than Gene Wilder, in character as the original candy man Willy Wonka in the classic 1971 film WILLY WONKA AND THE CHOCOLATE FACTORY. Although his portrayal of Willy Wonka is certainly what he will be remembered for most, there are other roles that the incomparable actor and singer portrayed on screen that have been cherished by his many fans throughout his near five decade-long career.
Gene Wilder was born Jerome Silberman on June 11, 1933 in Milwaukee, Wisconsin. Wilder's interest in performing started when he was just eleven years old after seeing his sister performing onstage. He studied with his sister's teacher for two years and then at age fifteen, he performed for the first time in front of an audience in a production of Shakespeare's Romeo and Juliet, in the role of Balthasar. He graduated from Washington High School in Milwaukee in 1951. From there, he studied Communications and Theatre Arts at the University of Iowa. Following his graduation in 1955, Wilder was accepted at the Bristol Old Vic Theatre School in Bristol, England. He returned to the U.S. living with his sister and her family in Queens. On September 10, 1956 Wilder was drafted into the Army. Following the death of his mother in November 1957, he was discharged and returned to New York City.
After being awarded a scholarship at the HB Studio he became a full-time studio, studying under Herbert Berghof and Una Hagen, Wilder won his first professional acting job in Cambridge, Massachusetts, where he played the Second Officer in a production of Twelfth Night. After three years of study with Berghof, Wilder left the studio to study with Lee Strasberg. Several months later, Wilder was accepted into the Actors Studio. After his acceptance he was getting noticed in Off-Broadway productions, such as Sir Arnold Wesker's Roots and in Graham Greene's The Complaisant Lover. In 1963 he was cast in a leading role in Mother Courage and her Children, starring the legendary Anne Bancroft, who introduced Wilder to her boyfriend (and later husband) to Mel Brooks. Brooks mentioned a screenplay he was working on and told Wilder he'd be perfect in the role of Leo Bloom. Brooks promised to talk to Wilder before making any commitments. Brooks kept his word. About three years after their meeting, Wilder received a call for a reading with Zero Mostel, who would be his costar. Wilder won the approval of Mostel and he was cast in his first leading role on a feature film, 1967's THE PRODUCERS. THE PRODUCERS became a cult classic, with Wilder being nominated for an Academy Award for Best Supporting Actor.
Also, in 1967, Wilder appeared in the Oscar winning BONNIE AND CLYDE, with Warren Beatty and Faye Dunaway. His next high-profile project would be for the film adaption of Roald Dahl's Charlie and the Chocolate Factory. Wilder read a few lines for director Mel Stuart, who immediately cast him in the role of the eccentric candy maker. Charlie and the Chocolate Factory would become what we all know as WILLY WONKA AND THE CHOCOLATE FACTORY. Wilder played Wonka to perfection and masterfully displayed the many levels of Wonka's complex personality, which was a combination of funny, quirky, serious, whimsical, dark and scary. The film featured an ensemble cast including Jack Albertson, Peter Ostrum Roy Kinnear and Julie Dawn Cole. The following year Wilder costarred as Lord Ravensbane in the TV movie SCARECROW (1972), starring Blythe Danner and Norman Lear. Next, Wilder was cast in Woody Allen's comedy EVERYTHING YOU WANTED TO KNOW ABOUT SEX*BUT WERE AFRAID TO ASK (1972). Wilder reunited with director Brooks to star in the Oscar nominated comedy YOUNG FRANKENSTEIN (1974), with an all-star cast that includes Madeline Kahn, Peter Boyle, Cloris Leachman, Marty Feldman and Teri Garr. The same year Wilder appeared in four more films; THURSDAYS GAME, THE LITTLE PRINCE, RHINOCEROS and the hilarious BLAZING SADDLES, reuniting him with his FRANKENSTEIN costar Madeline Kahn. Wilder received an Oscar nomination for FRANKENSTEIN for Best Writing, Screenplay Adapted from Other Material. Wilder starred opposite Richard Pryor in the comedy SILVER STREAK (1976), with Jill Clayburgh. Toward the late 1970s Wilder appeared in THE WORLD'S GREATEST LOVER (1977) and THE FRISCO KID (1979), with Harrison Ford.
Wilder, again worked with Pryor for the comedy STIR CRAZY (1980). Two years later, he starred opposite (his future wife) Gilda Radner in the comedy HANKY PANKY (1982). He starred as Theodore Pierce in the romantic comedy THE WOMAN IN RED (1984), also starring Kelly LeBrock and Charles Grodin. Wilder and Radner starred together again in the comedy HAUNTED HONEYMOON (1986). For the 1989 comedy SEE NO EVIL, HEAR NO EVIL, Wilder reunited with Pryor for a third time. Wilder played Dave, who is deaf, and Pryor, played Wally, who is blind. Both witness a murder and must work together to bring the killer to justice. Wilder and Pryor have proven to be quite the duo, especially in this comedy classic. The film also stars Joan Severance and Kevin Spacey. Wilder continued with comedies, starring in FUNNY ABOUT LOVE (1990), with Christine Lahti and Mary Stuart Masterson and ANOTHER YOU (1991), reuniting for a fourth and final time with Richard Pryor. ANOTHER YOU was the last theatrical motion picture for Wilder.
For the remaining years of his career Wilder made several television appearances including the short-lived comedy series SOMETHING WILDER (1994), costarring Hilary B. Smith, 5 episodes of SESAME STREET (1969), the TV movies THE LADY IN QUESTION (1999), MURDER IN A SMALL TOWN (1999),and ALICE IN WONDERLAND (1999), as the Mock Turtle and featuring an all-star cast including Tina Majorino, Whoopi Goldberg, Ben Kingsley, Christopher Lloyd, Martin Short and Miranda Richardson. Wilder's final TV appearance was in a two-episode arc on the hit series WILL & GRACE (1998), which earned him a Primetime Emmy Award for Outstanding Guest Actor on a Comedy Series.
Wilder also wrote and directed many of the films he starred in including YOUNG FRANKENSTEIN, THE ADVENTURES OF SHERLOCK HOLMES' SMARTER BROTHER (1975), THE WORLD'S GREATEST LOVER, SUNDAY LOVERS (1980), THE WOMAN IN RED, HAUNTED HONEYMOON, and SEE NO EVIL, HEAR NO EVIL.
On August 29, 2016, Gene Wilder died at the age of 83, at his home in Stanford, Connecticut, from complications of Alzheimer's disease. Although he had been diagnosed three years prior, Wilder had kept knowledge of his illness private so that this was not to sadden fans of WILLY WONKA because he simply couldn't bear the idea of one less smile in the world. And Wilder did make everyone smile. Not just children, but adults alike, through his colorful performances and his humor. As he did for the lucky golden ticket winners in WILLY WONKA, he'll always be remembered for somersaulting his way into the hearts of millions.
Essential Wilder:
THE PRODUCERS (1967)
WILLY WONKA AND THE CHOCOLATE FACTORY (1971)
YOUNG FRANKENSTEIN (1974)
BLAZING SADDLES (1974)
THE FRISCO KID (1979)
HAUNTED HONEYMOON (1986)
SEE NO EVIL, HEAR NO EVIL (1989)
Contact the Feature Writers