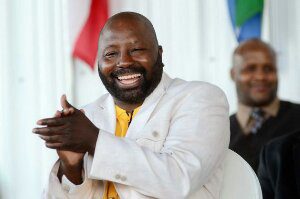 By Donald "Braveheart" Stewart
Born into a place where there was gang culture all around him, weighing 45 pounds at the age of 5, asking to enter a tournament where the minimum weight was 55 pounds, putting on ankle weights and filling his pockets with coins to bring his weight up, won that tournament, with a father who ran a boxing team and looking to a future where he would be a 4 time world champion at no fewer than 2 weight divisions, what else was Mrs Johnson going to do with her baby boy, Mark "Too Sharp" Johnson 44-5, 28 KO's? I may never get the chance to ask her – "Bad" Brad keeps moaning about transportation fees for things like this and I keep telling him, the world is getting smaller. – but flying over to Washington DC aint in my remit … yet…
Born Marcellus Joseph Johnson in 1972, still a resident last I could find in DC, Johnson became a world champion at flyweight and super flyweight whilst a titlist at bantamweight. He made his professional debut in 1990 and fought for the next 16 years, Johnson was a remarkable southpaw who had real skills; some called him unbeatable as his speed and power for a little guy were explosive.
In 1998, exactly midway through his professional career Johnson's career and reputation were so highly regarded that he was seen by Ring Magazine no less, as fifth in the world in their pound for pound rankings. He made the Hall of Fame in 2012.
Johnson, though, had made his name in the amateurs before he turned over to the professional ranks by winning the 1989 US Golden Gloves at light flyweight in 1989. Being unable to qualify for the 1988 Olympics, Johnson turned his back on the amateur code and, unlike his older brother James Harris, who hung around and tried three times to make the three Olympic teams, he went pro.
As an amateur Johnson was USA's number 1 at 106-pounds with a record of 105 wins and only 5 defeats; the US expected and Johnson delivered.
Before he got there though, he fought once outside of the USA against Richie Wenton in Belfast, Northern Ireland in only his second professional contest. And lost on points to a man who as to go on and fight Barrera. It was the only time we in the UK saw Johnson in the flesh and given the result, hardly surprising he never returned!
First world title fight came in 1993 when he beat Alberto Jimenez on a split decision win in Inglewood, the World Boxing Board title that he then defended on 10 occasions fighting at Caesar's palace on one occasion to defend that crown.
In 1996 he was in the ring opposite Francisco Tejedor for his next world honor, the IBF flyweight world crown. Danny Romero had given him the opportunity by vacating the title and allowing former champion Tejedor to face Johnson. Later on, in an interview with Ring magazine, Johnson was to reflect on the opportunity and the win, "I was Danny Romero's No. 1 contender and he chose not to fight me," he said. "I knocked out Tejedor in 91 seconds of the first round. I became the first African-American fighter in history to win the title at 112 pounds." Making history and winning the title was followed by defending it no fewer than 7 times in a 3 year spell that saw him knocking out former Olympian Arthur Johnson!
The super flyweight title came in 1999, when at home in Washington he beat Chaiya Pothang for the IBF version of the belts. Again, it was a vacating of the title that led to his chance as Johnny Tapai had moved up to bantamweight. Johnson defended this title twice including in a strange fight against Raul Juarez that was ruled a no contest after Johnson hit Juarez with a low blow, put Juarez on the canvass for a good 10 minutes before Juarez had to be stretchered away – Johnson had been hit with his fair share of low blows throughout the contest leaving Johnson justifiably angry at the no contest decision.
Johnson though, lost the belt in unfortunate circumstances. Johnson was to lose that title, not in the ring nor on the scales but due to inactivity. He had been jailed for a drug related violation of his parole along with domestic abuse charges against his wife. It was an ignominy that he needed to address as his career had stalled. He came out 18 months later no longer a world champion.
Moving up to bantamweight Johnsen went in against Rafael Marquez in his third return fight in October 2001. Marquez beat him by a split decision, after Johnson lost 2 points for holding, an upset that clearly rankled as there was a rematch. What made it even worse was that he had been declared the winner in the ring, only for the real result to be told to him in the dressing room. Stepping up in class to face Marquez was a step too far for a man who had been incarcerated for 18 months – it showed. What happened in the rematch Johnson was beaten again, this time emphatically, being stopped in the 8th.
In 2003 Johnson was to gain his third world title when he took on the WBO and unbeaten champion Fernando Montiel scoring an upset of his own as he beat him by majority decision before defending the title once then losing it in the 8th round to Ivan Hernandez in 2004.
Johnson's last fight was another loss as he took on the future WBC featherweight champion Jhonny Gonzalez and again fell in the 8th round. Johnson could have got his third weight class title but missed weight on the scales and then lost the fight. In that Ring Magazine article, Johnson was to ruefully reflect on that loss, "The Gonzalez fight showed me it was time for me to say so long to the game," he said. "As a boxer, you always feel there's one more fight in you."
Given his weight categories it is hardly surprising that the real fame and financial glory eluded Johnson. Casual boxing fans are more interested in the knockouts and the big guys than the little masters of the square ring. Along with that Johnson managed his own career which hardly helped his cause – he had no massive promotional machine behind hm nor an army of advisors helping him and guiding his pathway. "It was definitely very difficult to get the love," Johnson told RingTV.com of his early career. "As a small guy on the East Coast, it was kind of hard to get fights. My second fight, I lost to Richie Wenton in Belfast, Ireland, on St. Patrick's Day."
His own words in that interview chimed with my own impression of his career when he said, "I was the Marvin Hagler of the flyweights. I was the guy that didn't get the top-notch fights I wanted because not only was I a southpaw, I could also box and punch."
Of fights that he never had we can only wonder and what caught my eye was this admission. "I was willing to go to 126 to fight Prince Naseem Hamed. Even though I was the smaller guy, I was willing to take on that challenge." Now THAT would have been some contest!
Contact the Feature Writers