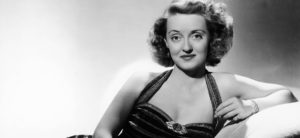 By Geoffrey Huchel
A list of the most popular stars during Hollywood's Golden Age wouldn't be complete without the legendary Bette Davis. With a career spanning 60 years and 100 acting credits, she is regarded as one of the greatest actresses in Hollywood history.
Ruth Elizabeth "Bette" Davis was born on April 5, 1908, in Lowell, Massachusetts. She was an American actress of film, television and theater. She was noted for her performances in a range of film genres including crime, historical, suspense, horror, and occasionally, comedies, although her greater successes were in romantic dramas.
In 1921, Davis left Massachusetts and moved to New York City, working as a portrait photographer. Davis auditioned for George Cukor's stock theatre company in Rochester, New York. He gave Davis her fist paid acting assignment in a production of Broadway, playing the part of a chorus girl. Following her stint with the production, Davis continued working in theatre in Philadelphia, Washington, and Boston. She made her Broadway debut in 1929 in Broken Dishes and followed with Solid South.
At age 22, after appearing in Broadway plays, Davis moved to Hollywood in 1930. She signed with Universal Studios making her film debut in BAD SISTER (1931), with Humphrey Bogart. For her next film, she appeared in a small role in WATERLOO BRIDGE (1931). Davis' star status began to rise and soon she went from supporting roles to receiving top billing. She appeared in 9 films throughout 1932 including THREE ON A MATCH, with Joan Blondell and Humphrey Bogart, THE DARK HORSE, THE CABIN IN THE COTTON and while on loan from Columbia Pictures she appeared in THE MENACE and for Capital Films, she appeared in HELL'S HOUSE, also 1932. From 1933-1939 Davis appeared in more than 25 films including OF HUMAN BONDAGE (1934) with Leslie Howard, DANGEROUS (1935), THE PETRIFIED FOREST (1936), also with Leslie Howard and Humphrey Bogart, SATAN MADE ME A LADY (1936), THAT CERTAIN WOMAN (1937), with Henry Fonda, MARKED WOMAN (1937), with Humphrey Bogart, IT'S LOVE I'M AFTER (1937), with pre-GONE WITH THE WIND stars Leslie Howard and Olivia de Havilland, THE SISTERS (1938), with Errol Flynn, the Oscar winning JEZEBEL (1938), with Henry Fonda, and the Oscar nominated DARK VICTORY (1939), with Humphrey Bogart.
Davis' first film of the 1940s was THE LETTER (1940), a crime drama that was nominated for 7 Oscars, including Best Actress in a Leading Role for Davis. The following year Davis starred in three films: THE LITTLE FOXES (1941), THE GREAT LIE (1941), and THE BRIDE CAME C.O.D. (1941), with James Cagney. Davis' next role was as Maggie Cutler in the comedy (and my personal favorite) THE MAN WHO CAME TO DINNER (1942). Davis' Cutler is the trusted secretary of egotistical critic and radio personality Sheridan Whiteside, played by Monty Woolley, who slips on some ice outside the Stanley home, causing him to become a houseguest whose entourage takes over the household. It features an all-star cast including Ann Sheridan, Jimmy Durante, Richard Travis, Billie Burke, Mary Wickes, and Grant Mitchell. Davis' next film was NOW, VOYAGER (1942), with Paul Henreid and Claude Rains, followed by IN THIS OUR LIFE (1942), MR. SKEFFINGTON (1944), DECEPTION (1946), A STOLEN LIFE (1946), and JUNE BRIDE (1948).
Davis starred as Margo Channing in the acclaimed drama ALL ABOUT EVE (1950). The film was nominated for six Oscars and is one of Davis' most well-known films. It also starred Anne Baxter, George Sanders, Celeste Holm, Gary Merrill and Marilyn Monroe. Davis starred opposite Sterling Hayden and Natalie Wood in the drama THE STAR (1952) and Richard Todd and Joan Collins in the biographical drama THE VIRGIN QUEEN (1955). By the mid-1950s, in between film projects, Davis made appearances on several television series and specials including THE FORD TELEVISION THEATRE (1952), SUSPICION (1957), STUDIO 57 (1954), ALFRED HITCHCOCK PRESENTS (1955) and WAGON TRAIN (1957). Davis returned to films in the early 1960s in Frank Capra's comedy/drama POCKETFUL OF MIRACLES (1961), with Glenn Ford and Hope Lange. Davis' next film is arguably her most well-known. Not just because she turned in an Oscar nominated performance, but because she starred opposite her longtime rival, Joan Crawford. Of course, the film is the horror/drama WHATEVER HAPPENED TO BABY JANE?
(1962), with Davis playing the title role. This movie was the focus of the TV mini-series FEUD (2018), depicting the rivalry between the two stars, starring Susan Sarandon (Davis) and Jessica Lange (Crawford). Davis starred in the Oscar nominated crime drama HUSH…HUSH…SWEET CHARLOTTE (1964), opposite Olivia de Havilland and Agnes Moorehead. Davis took on the dual roles of Margaret DeLorca and Edith Phillips in the crime drama DEAD RINGER (1964), with Karl Malden and Peter Lawford.
Toward the end of her career, Davis starred in several more films with darker tones (like BABY JANE and DEAD RINGER), including BURNT OFFERINGS (1976), and the classics RETURN FROM WITCH MOUNTAIN (1978) and THE WATCHER IN THE WOODS (1980). One of Davis' last projects was the TV movie MURDER WITH MIRRORS (1985), based on the novel by Agatha Christie.
Bette Davis died on October 6, 1989 at the age of 81, after a battle with cancer.
Throughout her extraordinary career, Davis was nominated for a whopping eleven Oscar nominations, and winning two, for the films DANGEROUS and JEZEBEL. She was also nominated for three Golden Globes and was awarded the prestigious Cecil B. DeMille Award in 1974.
Essential Davis:
DANGEROUS (1935)
JEZEBEL (1938)
DARK VICTORY (1939)
ALL ABOUT EVE (1950)
WHATEVER HAPPENED TO BABY JANE (1962)
HUSH…HUSH…SWEET CHARLOTTE (1964)
RETURN FROM WITCH MOUNTAIN (1978)
WATCHER IN THE WOODS (1980)
Contact the Feature Writers