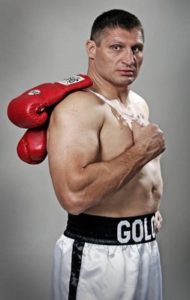 By Donald "Braveheart" Stewart
One of the joys of looking back is to reflect upon long forgotten events that should have stuck more firmly in your memories.
There is the sight of a heavyweight boxer in tears, of a heavyweight boxer taking on the best of the time and coming up short, the sight of a heavyweight boxer winning in fights, only to be disqualified, Andrew Golota 41-9-1, 33 KO's is that man and when I saw a few YouTube clips recently, of his fight against Mike Tyson especially, I felt that tingle at the back of my mind and the desire to go back and take a better look; 2020 vision coupled with hindsight you might say.
Golota was a 51 fight professional who was also an Olympic veteran who managed a bronze in the 1988 Seoul Olympics as well as bronze in the 1989 Athens European championships before turning pro. He then had a 21 year professional career that began in 1992.
Controversially I believe that it followed a bar room brawl in his native Poland where he fled his homeland to come to the United States, where he settled in Chicago.
His debut, at the United Community Center in Milwaukee was against Roosevelt Shuler who was also a debutant that night. For Shuler it was no ball as he was stopped in the 3rd round!
In Golota's first 28 fights as a pro only 2 went the distance and that kind of record does not stay under the radar for very long. Having been touted by Ring magazine as a "new face" his rise continued to be relentless, but it was not without some more controversy.
Continuing such an impressive rise with beating fringe world candidates like Darnell Nicholson and Samson Po'hua got him his very first high profile fight – against Riddick Bowe – but Golota had beaten Po'hua after biting him on the side of the neck – two years before Mike Tyson copied the gesture!
The name of Riddick Bowe may have been huge in the division, but Bowe had been out of the ring for a year; it was not the last time Golota would be in against a former world champion returning after some time out of the ring.
11th July 1996, at Madison Square Gardens was where they faced each other as part of the HBO World Championship Boxing Series. From the beginning Bowe was in trouble. Given Golota's tactics in his fight with Po'hua he now carried a reputation for not following the rules of the sport to the letter. This was blatantly evident in this fight as Golota hit Bowe repeatedly below the belt, got warned and then in the 7th lost points before he staggered Bowe, and then followed up with a shot that was square at the genitals. Referee Wayne Kelly disqualified Golota, a riot ensued, many were injured and Golota needed 11 stitches to a head wound caused by being hit by a radio thrown by one of Bowe's people. The Ring magazine hailed it as the event of the year!
At least his fights were never less than entertaining…
With all that drama in mind there was obviously only one thing to do – have a rematch and do it again!
This time in Atlantic City at the Convention center on the 14th December 1996 they faced each other once more.
Golota, who had been ahead on points in the first fight when it was stopped, was also ahead on points in the rematch when…
It was stopped.
This time Golota got to the 9th round before referee Eddie Cotton had enough of his low blows and disqualified Golota for a second time for the same reason as the first time!
Having seen him being beaten not once but twice, the WBC took note and made him their no 1 contender…
On the 4th October 1997, again in Atlantic City, he was thrown in against Lennox Lewis. Lewis would not wait for Golota to start throwing low blows and knocked him out in the 1st round. Afterwards Golota claimed that a knee injection had made him dizzy and light headed – he must have shared it with the WBC before the fight…
His career was put back on track, once more, when he beat Tim Witherspoon and Corey Sanders in 1998 and then in 1999, when Ring Magazine who seemed to have had such a soft spot for Golota, made his 10th round knockout by Michael Grant in a WBC eliminator, one of the fights of the year – strangely enough he was in front in the score cards just before being knocked out… Rather than fight on, when asked by the referee when he had been floored by Grant, Golota firmly shook his head and answered no.
Golota's bizarre career then found him, in 2000, fighting Mike Tyson. Eventually ruled a no contest because Iron Mike tested positive for marijuana, Golota begged his corner between rounds to let him stop before telling the referee he wanted it all to end in the 3rd round. There was derision from his corner and in the Palace Arena, Michigan, and with Tyson coming back after a 15 month ban for biting Evander Holyfield – an activity that was not a stranger to Golota – perhaps more was expected of the Pole. Golota was pelted with rubbish on his way to his dressing room form where he went to hospital to be treated for concussion, a fractured left cheekbone and a herniated disc.
Golota then became inactive for 3 years before returning, getting a shot at the IBF title against Chris Byrd, in 2004. This was his most successful world title attempt – it ended in a draw at Madison Square Garden. If his career had not been bizarre enough he followed up with two straight world title fights – losing by decision against John Ruiz for the WBA title and then his fourth title shot against Lamon Brewster for the WBO belt in 2005 which was a loss in the 1st round by stoppage.
Golota's last two fights were back In Poland where he fought in 2009 against Tomasz Adamek, losing by stoppage in the 5th before having another 3 years plus off and taking on Przemyslaw Saleta in his final fight in Gdansk. They must have forgotten about that bar room brawl – we and certainly I can fondly remember his career and how he gave us too many headlines. 4 shots at the titles – all 4 belts – losing 3 and drawing 1 may not be the most impressive of records but without people like Golota, the great would merely be ordinary.
Contact the Feature Writers