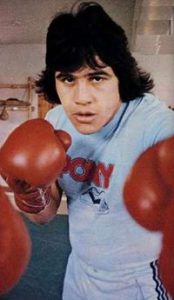 By Donald "Braveheart" Stewart
When the first thing that you read tells you that he was in the worst heavyweight fight ever, you would be forgiven for closing the laptop and giving up. Nothing to see here would be the clarion cry as you move onto something far more interesting.
It would be a mistake.
The first thing that does to me is make me MUCH more interested and with Uruguayan heavyweight Alfredo Evangelista, 63-13-4, 43 KO's; I was rewarded in spades. Though born in Montevideo he made his home in Europe, Spain, and his record includes European title fights as well as world title attempts against Muhammad Ali and Larry Homes; he lost both of them.
Nicknamed the Lynx of Montevideo, his best shot was his left hook and he caught the world's attention as he rose in the ranks through a professional career that began in Madrid on the 10th of October 1975 with a first round stoppage of Angelo Visini.
Under two years later he was in his first world title fight.
No matter how good this guy was – that was rapid progress. It was the one that earned the name of being the worst in the history of the sport – I, along with many others would dispute that moniker strenuously – and on the 16th May 1977 when a crowd of around 12,000 saw Ali win on points at the Capitol Center in Landover. Evangelista had entered the ring as a highly favored opponent and was in the top 10 for both the WBA and WBC. His previous three fights hardly told that tale as he stopped a 5 fight opponent in Madrid, then stopped a man with as many losses as wins in Madrid before losing in Bilbao to Lorenzo Zanon – whose record at the time was 17-2-1, in Bilbao before facing Ali; and we complain about matchmaking now?
Although not the worst ever seen, the fight was nevertheless dull. Evangelista fought an Ali who had slimmed down for the fight but seemed to wear all his weight in his arms. He was slow and cumbersome meaning that Evangelista could have had a chance but never really took it. Ali was all defense and rope a dope which did not go down well with the crowd – they booed his win – nor with the television companies – ABC commentator Howard Cosell wished they had never televised it and it is him we can thank for the worst ever tag. Perhaps having seen Roberto Duran on the undercard they all expected much better…
Ali was 35 at the time and commented after, in his usual Ali style, "I danced for 15 rounds, it's a miracle." The miracle was perhaps that 12,000 stayed to the end…
Given his residency in Spain Evangelista began a love affair with the EBU European title which he won for the first time, in September 1977 in Madrid against Lucien Rodriguez who had a decent record. Evangelista had to get off the canvass in the 5th to do it but went on to defend it in November 1977 against Jean-Pierre Coopman in Brussels, and in March 1978 against Billy Aird in Leon.
1978 then saw him rack up four wins that must have caught someone's attention as it led to his second title fight in November of that year. Perhaps as one of those four wins had been against Jody Ballard in Caesar's Palace that they thought inviting him back a good idea.
That he landed another world title shot against Larry Holmes only a year after his stinker might have been surprising to some, but it could be argued it was a very astute decision by Holmes' team. The WBC title fight in Caesar's Palace came only five months after a split decision win for Holmes against Ken Norton had given him the title. It had been widely disputed but the unbeaten in 28 professional fights Holmes entered the ring for his first defense against Evangelista, a man expected to provide little by way of a test for the new champion. Holmes' record is always open to question and here the naysayers have a field day. That Evangelista managed to last 7 rounds is no excuse for them as he is seen as one of Holmes' many "soft opponents". It's a bit of a very harsh judgment on a man who had 41 knockouts in his career, but some boxing "people" like to criticize…
Having been unsuccessful in his world title attempts, Evangelista went back to his home and Spain and carried on in the sport for a further 8 years. His affair with the European strap continued as he won it again in 1978 in Bologna and defended it in Liege and lost it in Torino in 1979 to Lorenzo Zanon.
He didn't manage to get the Spanish title in 1979 when he drew against an unbeaten Felipe Rodriguez in Pontevedra but by now the long slide away from the lights had begun. Of note to British fight fans is the 23rd October 2981 when Evangelista fought and drew with British referee and judge, Terr O'Connor over 8 rounds in Madrid!
He suffered a 1982 title loss for the European title whilst 1987 saw him win the European title in Bilbao and lose it in Copenhagen loss to Pierre Coetzer in Johannesburg was the last big "name" on his resume. He continued until 88 when he won his final fight with a 2nd round knockout in Madrid but ended an amazing and varied career which may have had a headline above it, hardly justified, but ended with much admiration for his many triumphs in the ring.
Contact the Feature Writers