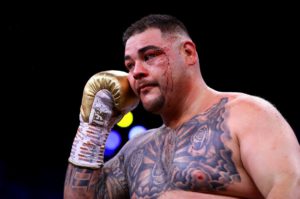 By Roy "The Body Snatcher" Skillen
After Andy Ruiz, JR. knocked out Anthony Joshua hall of fame commentator, Teddy Atlas, used one of his famous quotes to describe AJ's lacklustre performance, "it's hard to be motivated when you wake up in silk sheets."
The saying is in reference to the millions of dollars that the English heavyweight had made up until that point of his career. It was also a reference to the fact that everybody thought he was going to easily win the fight meaning that is motivation simply wasn't there. Since then the tables have flipped, Ruiz, JR. has himself struggled for motivation since his stunning win and massive pay day. This has resulted in massive weight gains, an embarrassing loss to Joshua in the rematch and bags and bags of criticism culminating in Dillian Whyte calling him a. "fake Mexican," after the two failed to agree the details of a bout.
"Typical coward move from fake Mexican @Andy_destroyer1 a blob rolling away from a big payday you're all stomach & no heart," said Whyte.
It's a harsh call out to a man that prides himself on being Mexican. Prides himself in living the Mexican fighter ethos of never backing down from a challenge. However, you have to ask, is this type of criticism truly deserved? The main reason that most of these guys step into the ring is to better their lives and the lives of their family. For Andy the hard work had paid off when he got two multimillion dollar pay days within a year. Pay days that he truly feels he deserves and pay days that he was enjoying as much as possible.
Having done a little sparring myself and taken a few whacks to the noggin and having nearly died during a couple of strength and conditioning sessions, I can only imagine the shit that these guys must go through to be a world champion. With that in mind, I would not hold it against Andy if he turned around and said "fuck this shit," and walked away with a full bank account and an even fuller belly.
But I feel that if he does it should be for the right reasons. I know he would never admit it but I am pretty sure there has also been a little fear eating away at him over the last six months, which may have even come to fruition with him not training hard for the AJ rematch. By not training he already had his excuse readymade, by saying he deserves more money to fight Whyte he can pull out without quitting. But fear is not a reason to run. Ruiz needs to regroup and think about what truly matters to him, because if he lets his fear win this fight then he will never truly enjoy the new found riches that have come in to his life.
Contact the Feature Writers