[AdSense-A]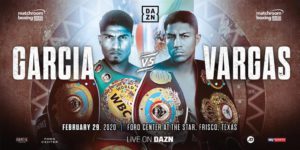 By Vinny "Glory Days" Lucci
Sometimes boxers just like the rest of us, fail to heed golden advice based on both wisdom and experience because youth has blinded them with the gifts of fury and competitiveness. Unlike a sibling or best friend where people love to tease them with the admonishment of "I told you so," there is a special reverence reserved for our heroes who go to war with leather gloves not just for fame or fortune but for the greater glory of pushing themselves beyond our wildest expectations. For these provocative warriors who insist on galvanizing their legacies fighting the best of the best regardless of the odds are the key components of what keeps the sport alive.
The Event:
On February 29, Eddie Hearn of Matchroom Sport will promote former world champions Mikey Garcia and Jessie Vargas who have recently overstepped their boundaries in refusing to acknowledge their own limitations and now have agreed to fight each other in hopes of once again challenging their fistic capabilities against the welterweight's demigods deemed too talented for either man.
The event will be hosted at the Ford Center at the Star, in Frisco, Texas. The 12 rounder will be shown on DAZN in the United States and on Sky Sports in the UK and Ireland.
The Stats:
Mikey Garcia is a former four-division champion who sports an impressive ledger of 39-1, 30 KO's and fights out of the orthodox stance. Standing 5'6" with a 68" reach he was at the very top of his game just one year ago before taking on the ill-advised challenge to Errol Spence, JR. the IBF welterweight champion. The American boxer of Mexican heritage hailed from Oxnard California and resides in Riverside where he is trained by his father Eduardo and brother Roberto. Garcia is currently ranked #3 by the WBA. At 32 years of age there is speculation that Mikey has already peaked.
Jessie Vargas is a former two division champion with a respectable resume of 29-2-2, 11 KO's. At 30 years of age his 5'11" frame is better suited to the welterweight division than his adversary. Boxing from orthodox stance he holds a two-inch reach advantage and calls Los Angeles California home. Vargas is now trained by world renowned Freddie Roach and recently left the 147 pounders to add muscle and power among the JR. middleweights. Vargas is currently rated #5 by the WBO.
Last Fight:
In March Garcia made his only ring appearance of 2019 having forgone defending his unified IBF and WBC lightweight titles, and instead electing to tangle with IBF welterweight champion Errol Spence JR. in an ill-advised foray into the welterweight division without testing the waters with a few tune ups to let his body acclimate. The results were disastrous as Mikey lost every round and took a beating in last third of bout where his corner begged him to allow them to throw in the towel.
Last April Vargas took on world traveled former champion Humberto Soto at 154 pounds at the Forum in Inglewood, California stopping his foe by TKO 6 of a scheduled 12 rounder.
Styles:
Prior to the Spence debacle Garcia had been showcasing superior boxing skills where he would patiently walk his man down in a demeanor reminiscent of the great Alexis Arguello reeking of class and beyond trash taking an opponent. Garcia is always hell bent on a singular mission to put pressure on foes looking to exploit any mental lapses in defense and then capitalizing on their mistakes. As rounds progress, he continually makes the necessary adjustments to make his punches count.
Vargas is also a flat-footed boxer but is quite nimble on his feet often pivoting ring center giving his opponents new angles to ponder as he fights behind a solid jab and straight right hand. In recent fights he has shown an extraordinary punch out-put sometimes leaving himself winded in the later rounds. Jessie is always well conditioned but has the terrible flaw of leaving his chin exposed in the heat of two-fisted battle.
What to look for fight night:
This promises to be a better fight than expected as Vargas is known for quick starts out of the gate and Garcia usually comes forward at a calibrated pace timing his adversary while looking to establish traps come the middle rounds. Jessie holds the natural edge in power regardless of Mikey's walking around weight while Garcia has the innate ability to box, slip and counter without ever disrupting his own rhythm. Add Vargas's height which actually rivals Errol Spence JR. and Garcia once again has to learn to cope with cutting down a larger adversary without sustaining the type of punishment he endured last March.
The Vinny Factor:
Early reports of west coast training camps have Garcia much better acclimated to the weight change and exhibiting muscle tone that he lacked against Errol when he skipped a division and omitted a tune up. Mikey is not a fan of jumping rope but has put his time into getting his body in "fighting shape" rather than just making contracted weight.
Meanwhile Vargas who thought he left the 147-pound division behind for good has to shred natural muscle as he firmly grew into a Jr. middleweight to make the scales and then rehydrate to natural weight and beyond after weigh in. Jessie too is looking sharp a month away from fight night so this cross roads bout will be fascinating if both boxers are fined tuned like Swiss watches to see who has more in the tank as the bout approaches the final three rounds.
Fight Significance:
B, with no title on the line it's a nice fan friendly scrap that moves the winner into position for a title shot and should supply 12 rounds of nonstop action.
Odds:
Vegas has installed Mikey Garcia the favorite at -500 with Jessie Vargas at +333.
R.S.R. Prediction:
Mikey Garcia by decision.
Aftermath:
A win for Garcia paves the way for a lucrative bout against WBA welterweight champion Manny Pacquiao.
Look for Vargas to return to JR. middleweight division where he will never again have to delete muscle to make weight. Gentleman, now's the time…
Stay tuned…
Contact the Feature Writers