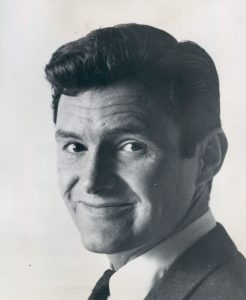 By Geoffrey Huchel
Orson Bean, the TV, film and stage actor, was killed February 7, after being struck by two cars (the second striking him fatally) while walking near and Venice Boulevard and Shell Avenue in Venice, California. He was 91. His wife of 27 years, actress Alley Mills (THE WONDER YEARS (1988), THE BOLD AND THE BEAUTIFUL (1987), was with him at the time of the incident.
Bean's acting career spanned back to the 1950s. Television is what he's primarily known for, making appearances on numerous series and TV movies including GOODYEAR PLAYHOUSE (1951), BROADWAY TELEVISION THEATRE (1952), THE PHIL SILVERS SHOW (1955), MIRACLE ON 34TH STREET (1959), THE TWILIGHT ZONE (1959), NAKED CITY (1958), LOVE, AMERICAN STYLE (1969), ELLERY QUEEN (1975), THE HOBBIT (1977), THE LOVE BOAT (1977), ONE LIFE TO LIVE (1968), THE FALL GUY (1981), THE FACTS OF LIFE (1979), MURDER, SHE WROTE (1984), TINY TOON ADVENTURES (1990), DR. QUINN, MEDICINE WOMAN (1993), DIAGNOSIS MURDER (1993), WILL & GRACE (2000), THE KING OF QUEENS (1998), ALLY MCBEAL (1997), COLD CASE (2003), TWO AND A HALF MEN (2003), THE CLOSER (2005), HOW I MET YOUR MOTHER (2005), DESPERATE HOUSEWIVES (2004), THE BOLD AND THE BEAUTIFUL (1987), MODERN FAMILY (2009), THE GUEST BOOK (2017), SUPERSTORE (2018) and GRACE AND FRANKIE (2020).
Bean's film credits include ANATOMY OF A MURDER (1959), LONDON AFFAIR (1970), BEING JOHN MALKOVICH (1999) and THE EQUALIZER 2 (2018).
On Broadway, he starred in the original cast of Will Success Spoil Rock Hunter? In 1955. In 1961, he was featured in Subways Are for Sleeping, for which he received a Tony Award nomination as Best Featured Actor in a Musical.
Bean was also a mainstay on many television game shows appearing as a panelist on TO TELL THE TRUTH (1956), as well as making several appearances on SUPER PASSWORD (1961), I'VE GOT A SECRET (1952), WHAT'S MY LINE? (1950), MATCH GAME (1973) THE 10,000 PYRAMID (1973) and CLASSIC CONCENTRATION (1987).
Most recently, Bean and Mills had been performing in a play called Bad Habits at the Ruskin Group Theatre in Santa Monica, which just ended its scheduled run last week.
Ringside Report sends our condolences to the Bean Family in their time of grief.
Contact the Feature Writers