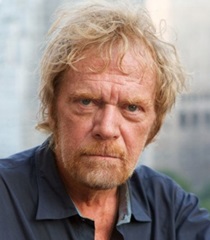 By Geoffrey Huchel
Kevin Conway, the American actor of stage and screen died on February 5, 2020, of a heart attack at the age of 77, in Manhattan, New York City. The character actor has over 80 credits in a career that has spanned 5 decades. Conway built an extensive body of work and worked with some of Hollywood's biggest stars, including Clint Eastwood, Kevin Costner, Martin Sheen, Sylvester Stallone, Michael Keaton, Laura Dern and Sean Penn.
Conway's television and film credits include THE DOCTORS (1963), ONE LIFE TO LIVE (1968), PARADISE ALLEY (1978), THE SCARLET LETTER (1979), THE ELEPHANT MAN (1982), MIAMI VICE (1984), FLASHPOINT (1984), THE EQUALIZER (1985), IN THE HEAT OF THE NIGHT (1988), FUNNY FARM (1988), STAR TREK: THE NEXT GENERATION (1987), RAMBLING ROSE (1991), ONE GOOD COP (1991), JENNIFER 8 (1992) GETTYSBURG (1993), HOMICIDE:LIFE ON THE STREET (1993), THE QUICK AND THE DEAD (1995), LAW & ORDER (1990), JAG (1996), THE OUTER LIMITS (1995), OZ (1997), MERCURY RISING (1998), THIRTEEN DAYS (2000), MYSTIC RIVER (2003), GODS AND GENERALS (2003), INVINCIBLE (2006), BROTHERHOOD (2006), THE BLACK DONNELLYS (2007), THE GOOD WIFE (2009), and PERSON OF INTEREST (2011).
Conway's off-Broadway credits include One Flew Over the Cuckoo's Nest, One for the Road, The Elephant Man, Other People's Money, and When you Comin' Back, Red Ryder. On Broadway, Conway appeared in Indians, Moonchildren and in revivals of The Plough and the Stars, Of Mice and Men (opposite James Earl Jones) and Dinner at Eight.
Ringside Report sends our condolences to the Conway Family in their time of grief.
Contact the Feature Writers