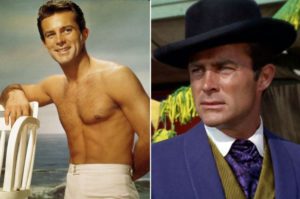 By Geoffrey Huchel
More sad news out of Hollywood with the passing of legendary television and film star Robert Conrad of heart failure on February 8, 2020, in Malibu, California.
Conrad, the handsome actor who brought intensity to his roles was best known for his roles on the TV series THE WILD WILD WEST (1965), HAWAIIAN EYE (1959), and BLACK SHEEP SQUADRON (1976).
Conrad's other television and film credits include SEA HUNT (1958), MAVERICK (1957), HIGHWAY PATROL (1955), 77 SUNSET STRIP (1958), YOUNG DILLINGER (1965), THE BANDITS (1967), MANNIX (1967), ADAM-12 (1968), MISSION: IMPOSSIBLE (1966), COLUMBO (1971), SUDDEN DEATH (1977), LAUGH-IN (1977), THE LADY IN RED (1979), THE DUKE (1979), COACH OF THE YEAR (1980), HIGH MOUNTAIN RANGERS (1987), GLORY DAYS (1988), ANYTHING TO SURVIVE (1990), SAMURAI COWBOY (1994), JINGLE ALL THE WAY (1996), JUST SHOOT ME! (1997), and NASH BRIDGES (1996).
In addition to acting, Conrad was a singer and recorded several pop/rock songs in the late 1950s and early 1960s.
Ringside Report sends our condolences to the Conrad Family in their time of grief.
Contact the Feature Writers