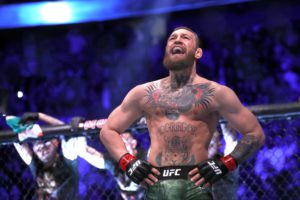 By Anthony "Zute" George
Regardless of what your opinion is of Conor McGregor is as a mixed martial artist, there is no denying his star power. When boxer Michael Conlan made his professional debut at the Hulu Theater in New York City, Conor McGregor was there supporting his countryman. Boxing writers who could not name three UFC champions were breaking their necks to get a photo of Conor to tweet about it. Shortly after, McGregor fought Floyd Mayweather, JR. A fraud of a boxing match that generated over four million pay per view buys. Over four million pay per views for a fight that virtually everyone knew one guy had zero chance of winning. That is star power.
Currently, McGregor is ranked ninth on the UFC's pound for pound list, despite not being a current UFC champion, and only having one fight in the UFC since 2019. More evidence on just what a juggernaut McGregor is. In that one fight, McGregor blasted Donald "Cowboy" Cerrone in forty seconds in a welterweight contest. While impressive, the victory has to be put in perspective. Cowboy was indeed long in the tooth, and susceptible to strikes. He lost his previous two fights via TKO. Even if you look at Cowboy at his very best, he is at least a few notches below the best lightweights and welterweights currently in the UFC; Conor is currently ranked number three at lightweight (155 pounds), and fifteenth at welterweight (170 pounds).
After Conor's victory, there was more social media buzz about another boxing match than a UFC fight. And we are not talking an approach to boxing that would see McGregor start off in six to eight rounds fights against pugilistic talent in keeping with that round limit. No, the potential names being shopped for McGregor have been Manny Pacquiao, Terence Crawford, and a rematch with Floyd. Have we learned nothing?
On the surface, the desire to see Conor McGregor in another high-profile boxing match makes no sense. However, if you peel the layers of the onion, this desire speaks to the star power of McGregor. People would pay to see him install drywall. Also, many people point to some success that he had in the match with Money Mayweather. If he could be competitive against Floyd… Now, the keen eye, the educated boxing fan, knows precisely what the deal was with that fight. Floyd carried Conor. Plain and simple. But not everyone watching that contest was an educated boxing fan. That is not a knock on anyone, but it is a fact. Very few boxing matches have ever equaled the number of buys that that fight did. Speaking to the point of just how much star power trumps both the sports these guys compete in. In contrast, Conor's fight with Cowboy did around a million buys. Indeed, high numbers for the UFC, but nothing like the fight with Mayweather, JR. generated.
I have no doubt that another boxing match featuring McGregor would generate more PPV buys than most UFC cards and most boxing matches. Especially in the United States. There has never been a train wreck or a circus act that we did not love. Neither boxing nor UFC can compete with the bizarre. Therefore, the only way such a debacle can be prevented again is if Conor McGregor decides that his true legacy as an MMA fighter matters.
Conor should have more money than he could ever spend in his lifetime. So, his next is his choice. Can we expect him to choose pride in himself as a mixed martial artist over the opportunity to make more money than he could ever make in a UFC fight? A significant amount more? Conor's actual MMA resume is not congruent with his star power. He has been submitted twice in what most people would cite as his two toughest fights, Khabib Nurmagomedov, undoubtedly being the best fighter he has faced. In his rematch with Nate Diaz, he won by a majority decision and went the distance with Max Holloway-who can also be considered as one of the best he has faced-when Max had only ten MMA fights.
The intention is not to demean Conor's accomplishments. But he has been relatively inactive as an MMA fighter since 2016 and needs to fight the best competition the UFC has to offer. Will he? It is hard to say, and ultimately up to him. An overwhelming majority feels that Conor has very little chance against Khabib in a rematch. Because regardless of what Conor does, his star will still shine bright, and he will continue to get rich, how people perceive the rematch with Khabib might be low on the list of this Conor cares about. Also, it appears that Dana White and the UFC will also make plenty of coin if McGregor has another boxing match. So, there is little motivation for Dana to force Conor's hand to be more active in the UFC.
What Conor decides to do next will be his decision alone. There are very minimal signs to suggest that he will do what the MMA fans want. The fans that made him relevant. That is not so unusual for individuals who have reached such heights of fame. We can only hope he proves me wrong.
Stay tuned…
Contact the Feature Writers