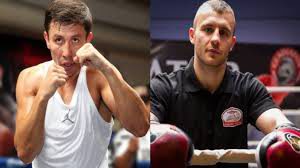 By Vinny "Glory Days" Lucci
Every once in a while, even the best of us are caught between a rock and a hard place now and again. That unenviable position that life has cruelly aligned us to where there simply are no easy solutions to what we once pondered as an unfathomable place to rest our laurels or find adorned on our landscape of aspirations every time we look in the mirror. The bone aching dread of the ponderance of how one could knowingly do everything they thought was just and fair in forsaking all shortcuts and still feel like they are on the road to perdition. This doesn't always equate to physical suffering mind you, more likely than not it's the mental anguish of knowing you must walk the gauntlet alone and until you clear the confusing vortex ahead of you there simply will be no balance of life even if you own every excuse in the book of why you neither deserve the anguish nor asked for it.
The Event:
On April 11 Eddie Hearn and Tom Loeffler of Matchroom Boxing and GGG Promotions respectively will co-promote Gennady Golovkin making the first defense of his IBF Middleweight title against mandatory challenger, one Kamil Szeremta. In case you are a hard-core fan and never heard of the challenger before, get it line. The IBF has its number 1 and 2 middleweight slots inexplicably vacant at this writing so Golovkin must give the third ranked Szeremta a shot at title. In case you are wondering aloud that the name still doesn't ring a bell, he fought an 8 rounder on Golovkin's last card in a prelim bout. As we went to press the bout is proposed to be be hosted at the Wintrust Arena in Chicago with MSG as another strong possibility. Considering the unpopular reaction at his last post fight interview there Hearn and Loeffler are both finally eyeing a potential defense in Gennady's native Republic of Kazakhstan. Event will be broadcast on DAZN, live stream service.
The Stats:
Gennady Golovkin is of Kazakhstani heritage and now resides in Santa Monica California. The champion will have just turned 38 years of age days before entering the ring and may be passed his prime yet doesn't flinch at pain and still wields steel hammers in both fists. Fighting from orthodox stance the champion boasts a ledger of 40-1-1, 35 KO's with half the boxing establishment believing he has never been defeated in the ring regardless of draw and loss on his record courtesy of Canelo Alvarez and highly questionable scorecards. Standing 5'10 ½" with a 70" wingspan he has been the quintessential middleweight of the last decade having systematically entered the ring in magnificent condition going 19-1-1, 17 KO's in title bouts. In his storied career he attained all but the WBO belt.
The challenger Kamil Szeremta is known all over his own neighborhood of Bialystok, Poland where he was born and resides. The 30-year-old fighter has been pro for eight years and has amassed an undefeated record of 21-0, 5 KO's over boxers whose names you probably could not pronounce let alone ever heard of. You see where this is going? Oddly enough in this madcap world of alphabet titles Szeremta is also ranked number 3 by the WBC and 9th by the WBO.
Previous fight:
In October Golovkin took on Sergiy Derevyanchenko for the vacant IBF title when it was vacated by Canelo Alvarez who refused to give his mandatory Derevyanchenko a shot at title. While Sergiy is a rugged powerhouse he did nothing to earn a title shot at vacated title against either Danny Jacobs nor Golovkin but his promoter Lou Dibella of DiBella Entertainment is highly respected and was more than capable of getting his charge both title shots. What Sergiy lacked in ring experience he makes up with two fisted thunder and an iron chin very reminiscent of Golovkin himself. The outcome of a UD left many at Madison Square Garden in Manhattan booing the decision. Gennady unbeknownst to DiBella and his rivals corner entered ring with the flu and fought throughout taking more punishment than we are accustomed to seeing and the fans quickly turned on him for not ending matters in spectacular fashion. Derevyanchenko was dropped in first round and suffered a gash in second but came back strong to dominate the middle rounds. Gennady gained control there after and closed the show by once again dominating his opponent securing the win on scorecards.
On same card as a mere prelim bout, Szeremta fought on U.S. Soil for first time against one Oscar Cortes in an 8 rounder. Kamil gave the early birds at arena a good show stopping Cortes by TKO in the second round. What the official tally doesn't show is that Cortes was looking to do a "tank" job rolling around on canvass in hopes of securing a win by DQ. No one in attendance could possibly imagine that this performance would result in a mandatory defense for Golovkin's next bout.
Styles:
The champion was once the most feared fighter extent and was long avoided by the division's best including Canelo Alvarez and Danny Jacobs. Gennady was an expert assassin at walking his man down and setting traps by making his foe turn into his power shots. His brutal body attack and wicked uppercuts made him stand out among other fighters but he has inexplicably abandoned those attributes becoming more of a head hunter and making recent bouts tougher on himself.
The challenger fights from typical stand up European style which is apropos considering he is the middleweight European champion. He is a slow-moving stalker whose wide stance makes his balance appear robotic. His five KO's among 21 bouts with the last being beyond suspect instantly turns this into a sacrificial lamb scenario. Further evaluation of his resume infuriates even the most casual of fans.
What to look for fight night:
A ten-count knockout anytime "GGG" decides to end the charade. If he comes forward behind a heavy jab and requiem body attack his sledge hammer right will find a home. Kamil promises a startling upset which beguiles the imagination beyond culpable handicapping. Simply put, when he enters the pocket, he is facing a firing squad where his only chance after signing contract is fight Golovkin in a locked closet with a grenade.
The Vinny Factor:
In what is to be one of the most significant insights since this column's origin, I rarely have witnessed such a backlash of negativity against a beloved hero as the recent swing against Gennady. Not since Manny Pacquiao's knock out loss to Juan Manuel Marquez 8 years ago has such unwarranted negativity towards an icon developed into a socially acceptable target of ridicule. Both fans and media alike have taken to pot shots while prematurely writing his epitaph as the champion has found himself between the proverbial rock and hard place. Forced to extinguish a mandatory challenger who has stepped out of the shadows among a myriad of ghosts, as the IBF middleweight rankings contain no recognizable names with the exception of Sergiy Derevyanchenko who is ranked 7th in the organization. Gennady has been actively campaigning to fight the best available opponent which is his old nemesis Canelo Alvarez who was recently awarded the egregious WBC "Franchise" champion.
This "honor" which allows him to omit mandatories yet fight for any belt whenever he chooses has allotted him the leverage to bypass a third meeting with Golovkin. The WBO followed suit by bestowing the same privilege under the guise of their new "Super Champion" both ignoring the fact that Alvarez built a reputation for years cherry picking, avoiding mandatories, fighting at catch weights and rehydrating into middleweight monster. His admitted steroid use and waiting for his best adversaries Sergey Kovalev and Golovkin to age past their primes makes one wonder aloud how he has reached sainthood after squeaking by Gennady who now navigates the waters of unappreciation. It truly is mind boggling how Alvarez gets a career pass while internet haters are calling Golovkin's reign a fraud, negligently omitting the fact that the rematch polled fifty writer's ringside of which 47 thought Golovkin won the bout.
To make matters worse it's my gut instinct that new trainer Johnathon Banks might not be the best fit to fill the one-time father mentorship of Abel Sanchez who split with Gennady two fights back over money disputes when Golovkin secured huge upscale in revenue signing with DAZN. While Sanchez didn't implore his pupil to go after Alvarez with his signature body attack either there are a handful of terrific trainers who could get the train back on track to what made Golovkin so special just a couple of years ago. Banks has been quoted saying his aim is "to increase Golovkin's punch out put" instead of focusing on specific aspects of restoring his acumen to a razors edge.
Fight Significance:
This warrants a C- and is truly self-explanatory. Much of the media has urged Golovkin to vacate IBF title and look to secure a high-profile match rather than this silly defense that is unwarranted with a forgone conclusion. If Gennady was squeezing this match in as a tune up to a mega bout in May no one would care. Golovkin usually fights twice a year and this bout does little to enhance his legacy and merely fulfills a notch on his DAZN contract. It would truly be in Gennady's best interest to fight two more times in 2020.
Odds:
Vegas has made Gennady Golovkin the overwhelming favorite at -4100 with Kamil Szeremta at +825
RSR Prediction:
Golovkin by KO.
Aftermath:
A dramatic KO win will not get the champion any closer to his dream of fighting a trilogy with Canelo Alvarez and restoring his legacy than he is right now and the boxing community with its short memory will be very vocal in letting him know just that. Golovkin needs to come back strong with a short lay off and tackle a formidable adversary to gain the public's demand to see that event to fruition. Undefeated Jermall Charlo who holds the WBC Middleweight strap would do just fine in a fan friendly unification match since no name boxers want to tangle with him.
Gentlemen, now's the time.
Contact the Feature Writers