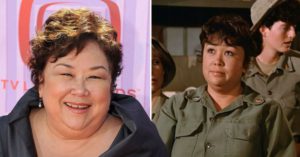 By Geoffrey Huchel
Actress Kellye Nakahara, an American actress best known for playing Nurse Kellye in the hit series M*A*S*H has died at the age of 72, surrounded by her friends and family. She had been fighting cancer.
Nakahara was born in O'ahu, Hawaii. She moved to San Francisco to pursue a career in art, but after marrying her husband, David Wallett, she moved to Los Angeles to give acting a try.
Nakahara appeared on the television series KOLCHAK: THE NIGHT STALKER (1974), LITTLE HOUSE ON THE PRAIRIE (1974), MATT HOUSTON (1982), AT EASE (1983), LOTTERY! (1983), OTHERWORLD (1985), HUNTER (1984), GROWING PAINS (1985), DREAM ON (1990), NYPD BLUE (1993), CRISIS CENTER (1997), SABRINA THE TEENAGE WITCH (1996) and THE WILD THORNBERRYS (1998), and had a successful run on M*A*S*H* (1972), appearing in 165 episodes.
Nakahara's film credits include the cult classic comedy CLUE (1985), AMAZON WOMEN ON THE MOON (1987), SHE'S HAVING A BABY (1988), SHATTERED (1991), 3 NINJAS KICK BACK (1994), BLACK DAY BLUE NIGHT (1995) and DOCTOR DOLITTLE (1998).
In addition to acting, she was a noted watercolor artist.
Nakahara leaves behind her husband, David, and two children.
Ringside Report sends our condolences to the Nakahara Family in their time of grief.
Contact the Feature Writers