[AdSense-A]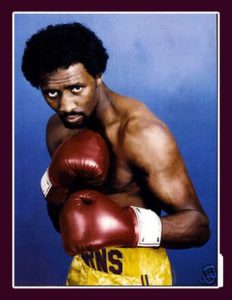 By Vinny "Glory Days" Lucci
In the ceaseless annals of boxing legends only a few icons of the sport can truly be called immortal; those that went past indelible impressions with their magnificent skills and put fear and trepidation in every opponent's heart. Enter Thomas "Hitman" Hearns who ignited the boxing landscape he plundered on a singular mission to match his extraordinary skills against the most dominant champions of his era. In this oversaturated alphabet world of twelve round cherry pickers fans ache for a new redeemer cast from the same mold as Hearns, hoping to emerge from his shadow while heaping praise on manufactured idols to pass the time.
Even after a defeat Hearns still stood godlike among men in his 6'2" frame and his freakish 78" wingspan that emulated trying to sneak past a boa constrictor. The wunderkind was born in Grand Junction, Tennessee before moving to Michigan at five years old where he would later pick up a secondary moniker of the "Motor City Cobra." Tommy's ledger reads 61-5-1, 48 KO's in an era where 15 rounds of hell where still in session while his counterpart in welterweight history Sugar Ray Leonard tabulated a 36-3-1, 25 K0'S resume with their names forever linked together in artistic chaos.
The gents would extend hands to Roberto Duran, Wilfred Benitez and Marvin Hagler forever ensuring the chain of events be an everlasting kinship to the selective boxing realm known as the hall of fame.
Hopefully the retelling of Hearns story comes with some clarity and insight that was saved for but for a scant few. After dethroning the merciless Jose' Pipino Cuevas in 1980 by brutal two round knockout Thomas and Ray's stars were aligned on a collision course like a beacon on a very short horizon. At the time of Hearns first coronation as a champion, Cuevas was riding an incredible title bout streak of 12-0, 11 KO's. The destruction was not only swift but complete having ruined Pipino's aura of invincibility forever.
After three title defenses by stoppage Hearns and Leonard would embark on what then was a very rare unification bout where every housewife in America knew who the combatants were when fight time drew closer. In an historical event that played out like a Shakespearean play in four acts the world witnessed a reversal of fortunes as Hearns became the superior boxer and Leonard was forced to go to war and become the puncher. In act one, Tommy would cruise to a huge early lead winning the first five rounds rather easily. Ray would batter his tormentor around the ring in the next two rounds before Hearns would flip the script once again and box his way to stealing the next five rounds on scorecards. If this way todays era of 12 rounders Thomas would have easily secured the win but was again battered over the 13th and 14th rounds where he could no longer maintain gravity and was snared in the ropes like a catfish in a net. Hearns regained his footing but referee Davey Pearl called off the contest giving a one-eyed Leonard the sensational victory.
What the history books doesn't tell us that the fight billed as the "Showdown" had a fascinating backstory told to me by Tommy's trainer the venerable Emanuel Steward. Hearns was eager to prove to the assembled press that he was indeed a true welterweight that he actually stepped on scales a pound less than Ray on that massive light heavyweight frame. His metabolism was still in hyper mode and he failed to rehydrate properly between the Vegas heat, nerves and ring lights. After the bout Hearns was dehydrated and weighing a shocking 139 pounds in the dressing room. Neither boxer nor manager would ever take away from Leonard's victory and offer an excuse of any kind. Both men only asked for the rematch that the public clamored for which took Ray eight years to grant when both our heroes were super middleweights. Hearns once again had a few rocky roads that mirrored the first encounter only this time he dropped Ray twice and it was only a 12-round bout. Incredibly the judges scored Hearns certain victory a draw where it took a decade for Ray to admit he lost.
Before the first encounter Hearns was 32-0 and thought to be indestructible. After three useful tune ups at middleweight Thomas would challenge a peaking Wilfred Benitez for his super welterweight title and win by MD. One tune up and one title defense later the gathering of clouds brought together two kings of redemption in what was supposed to be Hearns second unification with the mighty Roberto Duran who erased the debacle of quitting against Leonard in their rematch and went on to barnstorm Davey Moore for his Jr middleweight belt. The day before fight it was decided it was just for Tommy's title, who shockingly boasted he would take Duran out in two rounds. After dropping Roberto 2x's in the first round here is a blow by blow of the "combination" that had Roberto KO'd before he hit the canvas.
After a wicked volley of lightning fast punches Hearns corners Roberto with a long solid spear of a left hand from six feet away and follows it with a second jab followed by a straight right hand, short left hook inside to the face and a short right cross to the forehead. Hearns leans forward not giving his adversary room to escape the corner and digs a set of left/right uppercuts and repeats the double up to ribs again, left/right uppercuts followed by a short-left hook and an inside right hand. In a frenzy of adrenalin Hearns accelerates the speed of same combination defying logic of the forces of nature starting with balance unleashing left uppercut, right uppercut, left uppercut, right uppercut followed by long straight left and right hand to head with short left hook to chin. Finally, there is a left, right, left that misses its target but a right hook to ribs stops his opponent from slipping out of harm's way outside the pocket. Hearns repositions himself outside the gate and throw a tap jab to abdomen followed by another that takes Roberto's eyes off the horizon of Thomas's shoulder line and then the booming straight right hand projectile that crashes on Duran's chin with a wicked echo rendering Duran on canvass face first in what is arguably the most picturesque knockout of the ages.
Duran's body lay motionless except for a vein in his neck in an eerie glimpse of death. Had his corner not rushed out and pick him off the canvas to save the embarrassment of being counted out Duran might still lay there. The combination was 23 punches fired in 12 seconds and impossible to call in real time.
After administering a brutal beating to contender Fred Hutchings in three rounds more defenses against Davey Moore and John the "Beast" Mugabi were set aside to dress the table for an event of epic proportions against Marvelous Marvin Hagler in what would turn out to be the most indelible shootout in the history of the game giving us 3 rounds of unbridled mayhem. There simply is no other condensed narrative to bring this the justice of enshrinement it deserves. From the opening bell Marvin lead off with a power right cross and all hell broke loose. The fight of the year quickly escalated into every fan's classic for the ages.
Less than a minute into the first round Thomas landed the same right hand on Hagler's forehead the he used to knock out Roberto Duran. Marvin's knees buckled, he was wobbly for a few seconds and the next barrage from Hearns opened a cut between his eyes and blood began to spill. Hagler came back but the first round belonged to Thomas. Between rounds in Hearns corner he disclosed to trainer Emanuel Steward that he broke his right hand on Hagler's dense skull. Steward implored his fighter to box in a playpen that Marvin was hell bent on turning into a phone booth. Round two was just as ferocious but Tommy was trying to shoot left hooks off power jabs in order to keep Marvin at bay and spare the impact on the metacarpals of his right paw. He had success for half a round and the crowd could sense Hearns could no longer crack the thunderbolt right and was using it only to give Marvin something to think about.
The third round began and a minute into the action referee Richard Steele stopped the clock to have Marvin's wound looked at by ring doctor as cut was pouring blood freely masking his facial features. In a frantic sense of urgency knowing he turned the tide the marvelous one went to work striking his adversary on any inch of skin he saw exposed. Thomas's legs were now long gone and rubbery as Marvin launched three looping right hands that splayed Hearns out on his back. Glassy eyed he rose like a spirit in a graveyard at the count of eight but Steele mercifully waved off the brutal war of attrition with a 1:09 remaining in round.
While fans screamed "rematch" at pay per view screens at outlets across the country the media instantly went into overdrive speculating if Hearns had boxed all night instead of going to war could he possibly reverse the outcome.
Two monumental issues went under the radar that night, and only one was meant by design. Somewhere between losing to Leonard and Iran Barkley three years after the Hagler bout Tommy got a bad wrap for having a soft set of whiskers. Any fool who likes to troll boxing threads using Hearns chin as a handicapping tool are sorely mistaken. No, Hearns did not possess Hagler's chin but less than few fighters ever have. Based on Marvin's title reign he hit Hearns point blank on the chin and temple enough times to knock out the entire division for the next three years before Tommy gave out.
What the public was never privy to was relayed to me by Steward himself over coffee and buttered Kaiser rolls months after the fight. Minutes before the ring walk Emanuel went to Hagler's dressing room to observe his hands being wrapped. When he returned, he was aghast at Tommy getting his legs massaged by a member of his corner. It has been rumored but never confirmed it was a gesture on behalf of his brother Billy who was trying to keep the nerves at bay. What no one in camp realized is that there is a world of difference between getting loose and total relaxation of muscles. Ever been lucky enough to get a worthwhile back massage? Imagine a leg massage just prior to entering the ring in a fifteen-round war with Marvin Hagler bearing down on you!
Steward knew the damage was done and with minutes to opening bell, irrevocable. Hearns would no longer be able to stride aloft his long gate and box the perimeter picking his shots but would have to stand his ground and defend his real estate. The challenger's elastic femoris muscles often gave way and bent in opposite direction in which he was trying to pivot. From his ring walk on uncharacteristic shaky legs Hearns gait appeared nervously suspect and within three seconds of the first bell Hagler would put Tommy to the test for all his was worth bringing true justification for event's title, "War."
Once again both fighter and manager refused to use any excuse for losing and simply asked for a return match after once again thrilling the world with an unforgettable orchestration of fistic warfare. While Emanuel never held back from telling boxing brethren what happened behind the scenes, he shied away from granting media interviews concerning the loss and only wanted to focus on the future with so much at stake. It was always their master plan to win both the middleweight and light heavyweight titles while the Hitman was still in his prime. Hearns would next take aim at number one contender James Shuler to align the public demand for the Hagler rematch.
Keep an eye out for Part II on Ringside Report in the next week…
Contact the Feature Writers