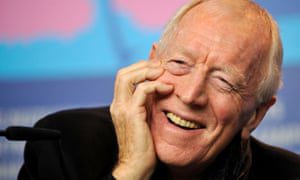 By Geoffrey Huchel
Hollywood remembers the great Max von Sydow. The beloved Academy Award and Golden Globe nominee, and star of the classic horror film THE EXORCIST (1973), died March 8, 2020 in Provence, France, at the age of 90. Von Sydow's career spanned from 1948-2018, appearing in both film and television.
von Sydow has an extensive and impressive list of film credits to his name including THE GREATEST STORY EVER TOLD (1965), HAWAII (1966), THE DIARY OF ANNE FRANK (1967), FLASH GORDON (1980), CONAN THE BARBARIAN (1982), STRANGE BREW (1983), NEVER SAY NEVER AGAIN (1983), DUNE (1984), HANNAH AND HER SISTERS (1986), PELLE THE CONQUEROR (1987), GHOSTBUSTERS II (1989), AWAKENINGS (1990), A KISS BEFORE DYING (1991), NEEDFUL THINGS (1993), JUDGE DREDD (1995), WHAT DREAMS MAY COME (1998), SNOW FALLING ON CEDARS (1999), MINORITY REPORT (2002), HEIDI (2005), RUSH HOUR 3 (2007), THE WOLFMAN (2010), SHUTTER ISLAND (2010), ROBIN HOOD (2010), EXTREMELY LOUD & INCREDIBLY CLOSE (2011), and STAR WARS: EPISODE VII-THE FORCE AWAKENS (2015). He reprised his role of Father Merrin for the sequel to THE EXORCIST, EXORCIST II: THE HERETIC (1977).
His television credits include SAMSON AND DELILAH (1984), CHRISTOPHER COLUMBUS (1985), RED KING, WHITE KNIGHT (1989), THE YOUNG INDIANA JONES CHRONICLES (1992), THE TUDORS (2007), THE SIMPSONS (1989), and the mega popular HBO series GAME OF THRONES (2011) appearing in three episodes as Three-Eyed Raven.
Contact the Feature Writers