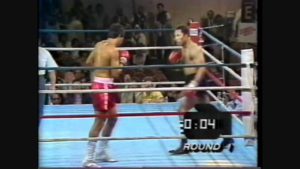 By Donald "Braveheart" Stewart
Argentinians, much to our shame, don't always feature highly on the radar when it comes to anything in Britain. The 1982 war between the United Kingdom and the regime of General Gualtieri is still one that resonates badly due to the many veterans that still suffer from its effects.
It is a shame that all dictator's who have vanity projects end with ordinary people giving their lives as they are forced to participate in something with nationalist fervor dressed up to feel like an achievable object until… people die, hopes are dashed and reality sets in.
There are clearly rival claims over a small set of islands in the southern hemisphere and little doubt that the land that covets the Malvinas are a country of rich dreams and that includes some pretty decent boxers.
One, Luis Acosta, 15-7, 11 KO's, even managed to get in the ring at heavyweight with Tim Witherspoon in 1982 though his performance ended up being not much being written home about.
In my looking into Acosta, there were, however three fights that caught the eye in his record.
His debut was in 1979, the end of decade and for many an era. As "Bad" Brad, and many others muse over when was the best decade for heavyweight boxing, there is little doubt that those who joined the fight game in the late 70's would have been heavily influenced by the events in a golden age of heavyweight boxing. Growing up under the shadows of Norton, Frazier, Foreman, Ali would have been a time of taking the dreams of your hometown, mixing them with the sparkly lights of a golden Vegas style future and coming up with a plan to conquer the world – not unlike a dictator's dream and perhaps it will always just as much blind faith and bloody mindedness.
Who knows what dreams climbed into the ring with Acosta on his debut in Miami Beach in 1979 when he faced Jimmy Jones, but a 6 round points win sent them on their way…
The first fight that caught my attention was his 4th fight against John L Johnson in Miami Beach on the 12th February 1980. Acosta won by knockout in the second round but a man, we are talking Johnson here, who went on to share the ring with Tony Tubbs, Scott LeDoux and Mike Koranicki – twice – was after the fight, suspended by the Miami Commission for 60 days for "general ineptitude". Now I have a great deal of respect for boxers – "Bad" Brad keeps us all in line on the forum and in our articles… but general ineptitude! That must have hurt harder than the loss…
After that fight another 8 straight wins followed including on the 31st October 1980, beating Gilbert Acuna for the Latin American heavyweight title with a 3rd round stoppage. It was his first fight outside of America though back in his homeland as he fought in Santa Fe – what a triumphant return.
With his first dozen fights all being wins, he would have been building momentum. As his base was Miami and the majority of his fights were in America, he could build that Latino commitment from his fans and delight the local crowds that would "claim" him as their own.
His 13th fight, in Caracas, was a loss on points that would have stalled that momentum.
His 14th? A win against Joe Louis Bailey, back in Miami.
Then came the second fight that caught my eye. To many in the British boxing scene, Terry O'Connor is a well respected judge and referee who has shown himself as a fair judge of a fight or two… his last big fight he refereed was Tony Bellew Vs Aleksandr Usyk. What many do not remember or even know is that he was a heavyweight fighter, active between 1976 and 1983. His record was not a tremendous one but in 1981, a year before the Falklands War, O'Connor beat Acosta on points over 8 rounds in Bilbao, Spain. Terry's record going into that was 17-19-2…
It would have been clear by then that the future for Acosta was not going to be at the top of the boxing game and for the next few years getting paydays and closer to retirement healthy would have been most fighter's vision.
After a couple of wins against opposition that were not stellar, Acosta finished his career with 5 straight losses. But hold onto your opinions. These were not straight forwards losses.
They were fighters with decent records. In fact, pretty impressive records – Reiner Hartmann, 7-1-1, followed by 4 unbeaten fighters – Tim Witherspoon 13 undefeated, Pinklon Thomas 17 undefeated, Lee Canalito, 10 undefeated, and finally Monte Masters 24 undefeated. Five fighters with 71 wins, 1 loss and 1 draw…
The Witherspoon fight lasted less than 2 rounds and is on YouTube. As you would expect Witherspoon was withering of his opponent and there was clear distance between the two in terms of ability. As the third fight to catch my eye it let me see him in action, but it was a poor showing.
His final fight was perhaps one that left him with the most memories as he was at the mecca of boxing – he fought on the 30th October at Caesar's Palace, Las Vegas, on the undercard of Sean O'Grady's split decision loss to Pete Ranzany. Not a bad final memory? It was also the promotional debut for Sylvester Stallone so a bit of history. Wonder what happened to that Stallone fella…
As for Acosta there is nothing to find but at least there is some footage of a fighter never known for shirking a fight or "general ineptitude"…
Contact the Feature Writers