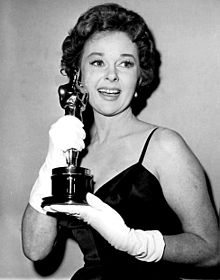 By Geoffrey Huchel
During the casting process for the Oscar winning film GONE WITH THE WIND, many Hollywood starlets arrived at the audition with the hopes of being the film's heroine, Scarlett O'Hara. One of those hopefuls was model and aspiring actress Susan Hayward, who traveled to Hollywood to try to secure the role. Even though she lost the part to Vivien Leigh, she made an impression on the film's producer, David Selznick, who gave her a contract at Warner Bros. Not becoming Scarlett didn't hurt her career as Hayward became a star in her own right.
Susan Hayward was born Edythe Marrenner on June 30, 1917 in Brooklyn, New York. After moving to Hollywood in 1937 she started her six-month contract for $50 a week with Warner's. She started her film career with uncredited bit parts in HOLLYWOOD HOTEL (1937), and THE SISTERS (1938) before winning a sizable role in GIRLS ON PROBATION (1938) with Ronald Reagan.
Her next two films COMET OVER BROADWAY (1938) and CAMPUS CINDERELLA (1938), were also uncredited. After her contract ended with Warner's, she signed a contract with Paramount for $250 a week. She won credited roles in OUR LEADING CITIZEN (1939), BEAU GESTE (1939), opposite Gary Cooper and Ray Milland, and $1000 A TOUCHDOWN (1939).
By the 1940s Hayward's star status was climbing. She appeared in 1941's AMONG THE LIVING, and ADAM HAD FOUR SONS (for Columbia) with Ingrid Bergman. The following year she appeared in a total of five films, THE FOREST RANGERS, with Fred MacMurray, STAR SPANGLED RHYTHM, with Bing Crosby, Bob Hope and Fred MacMurray, REAP THE WILD, with John Wayne and Ray Milland, I MARRIED A WITCH, and the short A LETTER FROM BATAAN. Her next films were YOUNG AND WILLING (1943), opposite William Holden, JACK LONDON (1943) and the Oscar nominated HIT PARADE OF 1943 (1943), with John Carroll. In 1944's THE FIGHTING SEABEES, she starred opposite John Wayne as Constance Chesley, followed by AND NOW TOMORROW (1944), with Alan Ladd, DEADLINE AT DAWN (1946), CANYON PASSAGE (1946), THEY WON'T BELIEVE ME (1947), with Robert Young, THE LOST MOMENT (1947), with Robert Cummins and Agnes Moorehead, TAP ROOTS (1948), TULSA (1949), MY FOOLISH HEART (1949) and HOUSE OF STRANGERS (1949), with Edward G. Robinson.
Hayward started the 1950s in the western RAWHIDE (1951), opposite Tyrone Power, followed by I'D CLIMB THE HIGHEST MOUNTAIN (1951), opposite Rory Calhoun and William Lundigan, I CAN GET IT FOR YOU WHOLESALE (1951) and DAVID AND BATHSHEBA (1951), with Gregory Peck. She starred drama WITH A SONG IN MY HEART (1952), again opposite Rory Calhoun, as well as Thelma Ritter and Robert Wagner. Hayward starred back to back opposite Robert Mitchum in the films THE LUSTY MEN (1952) and WHITE WITCH DOCTOR (1953). She reunited with Gary Cooper for the western GARDEN OF EVIL (1954) and Tyrone Power in UNTAMED (1955). Hayward eventually starred opposite Clark Gable, her potential costar for GWTW, in SOLDIER OF FORTUNE (1955). Hayward delivers a powerful performance in her next film, I'LL CRY TOMORROW (1955). Her performance as Lillian Roth earned her an Academy Award nomination for Best Actress in a Leading Role. Hayward costarred again opposite John Wayne for THE CONQUEROR (1956) and in 1957's she starred opposite the legendary Kirk Douglas in the comedy TOP SECRET AFFAIR (1957). Next, Hayward starred in the biographical crime drama I WANT TO LIVE! (1958), as Barbara Graham, a prostitute sentenced to death for murder and pleads her innocence.
In the early 1960s Hayward starred in the drama ADA (19610, opposite Dean Martin and WHERE LOVE HAS GONE (1964), with Bette Davis. She took a break from films for a few years and returned for the classic VALLEY OF THE DOLLS (1967), replacing Judy Garland as Helen Lawson, with a cast that included Barbara Parkins, Patty Duke and Sharon Tate. The same year she starred opposite Rex Harrison in the comedy THE HONEY POT (1967). Hayward's final projects were the western THE REVENGERS (1972), with William Holden and the TV movies SAY GOODBYE, MAGGIE COLE (1972) and HEART OF ANGER (1972).
Hayward was a five-time Academy Award nominee, winning once for Best Actress in a Leading Role, (I WANT TO LIVE!) and a two-time Golden Globe winner for Best Actress (WITH A SONG IN MY HEART, I WANT TO LIVE!).
Hayward was diagnosed with brain cancer following a seizure in April of 1973. She suffered a seizure on March 14, 1975 and died in her Beverly Hills home. She was 57 years old.
Essential Hayward:
RAWHIDE (1951)
I'LL CRY TOMORROW (1955)
UNTAMED (1955)
TOP SECRET AFFAIR (1957)
I WANT TO LIVE (1958)
VALLEY OF THE DOLLS (1967)
Contact the Feature Writers