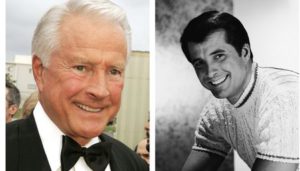 By Geoffrey Huchel
Beloved actor and model Lyle Waggoner, known for his work on THE CAROL BURNETT SHOW (1967) and WONDER WOMAN (1975) died on March 17, 2020 in Westlake Village, California after a brief illness. He was 84.
Prior to his acting career, Waggoner joined the United States Army. Serving two years in West Germany as a radio operator. After he was discharged, he studied mechanical engineering and sold encyclopedias door to door. After he earned enough money, he moved to Los Angeles to start an acting career.
By the mid-1960s, Waggoner was appearing regularly in television and films. He was a finalist for the title role in the TV series BATMAN, but as we all know, that role went to Adam West.
His television credits include GUNSMOKE (1955), LOST IN SPACE (1965), THE GOVERNOR & J.J. (1969), MARCUS WELBY, M.D. (1969), MAUDE (1972), TIME EXPRESS (1979), SUPERTRAIN (1979), CHARLIE'S ANGELS (1976), MORK & MINDY (1978), THE LOVE BOAT (1977), GUN SHY (1983), FANTASY ISLAND (1977), HAPPY DAYS (1974), SIMON & SIMON (1981), HARDCASTLE & MCCORMICK (1983), IT'S A LIVING (1980), MURDER, SHE WROTE (1984), BURKE'S LAW (1994), ELLEN (1994), THE NAKED TRUTH (1995), THAT 70S SHOW (1998), and THE LOVE BOAT: THE NEXT WAVE (1998).
His film credits include JOURNEY TO THE CENTER OF TIME (1967), CATALINA CAPER (1967), LOVE ME DEADLY (1972), ZERO TO SIXTY (1978), MURDER WEAPON (1989), THE GIRL I WANT (1990), and GYPSY ANGELS (1990).
Contact the Feature Writers