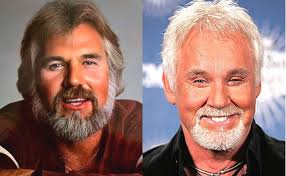 By Geoffrey Huchel
We say a sad farewell to beloved American singer, songwriter and record producer Kenny Rogers, who passed away March 20, 2020, in Sandy Springs, Georgia at the age of 81. Fans and colleagues of the legendary singer have been posting tributes and paying their respects to the entertainer all over social media. Rogers was an important and influential figure and an inspiration to many. His music will live on through his generations of fans, and his legacy will forever leave its mark in pop culture history.
Rogers' career dates back to the 1950s, which began with teenage rock and roll to becoming a country-pop crossover artist of the 1970 and 1980s. Before becoming a solo artist, Rogers was a member of the jazz band the Bobby Doyle Three, as well as the New Christy Minstrels and First Edition (later renamed Kenny Rogers and the First Edition). In 1976 Rogers launched his solo career. Rogers discography consists of 39 studio albums and 80 singles, with 24 reaching Number One on the country music charts. Rogers collaborated with some of music's biggest names including Dolly Parton, Barry Gibb, Kim Carnes, David Foster, and Lionel Richie.
Some of Rogers' biggest hits include Islands in the Stream, You Can't Make Old Friends (both with Dolly Parton), Lady, Through the Years, The Gambler, Lucille, Sweet Music Man, Ruby, Don't Take Your Love to Town, Don't Fall in Love with a Dreamer (with Kim Carnes), She Believes Me, Every Time Two Fools Collide, Long Arm of the Law and You Decorated My Life, among others.
Rogers sold over 100 million records worldwide making him one of the best-selling music artists of all-time. Rogers has won countless awards from pretty much every association including 3 Grammys, 7 Academy of Country Music Awards (including the Willie Nelson Lifetime Achievement Award), and 13 American Music Awards. He was inducted into the Country Music Hall of Fame in 2013.
Ringside Report sends our deepest condolences to the Rogers Family in their time of grief.