Loading ...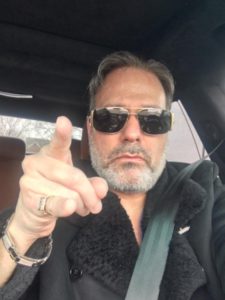 By "Bad" Brad Berkwitt
As many of you know who read my columns and for new readers, I am the CEO/Publisher of the very popular boxing and entertainment website, Ringside Report ("The Heart of Boxing & Entertainment"). With that said, I do a lot of promoting of my team's work that I publish daily along with other content. One of the social media platforms I use is Twitter. Well, with me also being a retired Navy man who served honorably for 20 years and 28 days in the US Navy during war and peace time, I have always cared deeply about people to include the troops I led. This brings me to my utter disdain of the orange racist traitor in the White House Donald J. Trump or who I call, the "Petulant Child – In – Chief"!
His disrespect for our military and our society of Americans minus his base who he panders to with fabricated lies daily, sickens me! I take to Twitter one of my social platforms to use my voice to speak out as I have done for many years on social and racial injustices in this country. It was instilled in me to speak out by my late father Alvin Berkwitt, who also did for many years.
So, when I see celebrities like Don Cheadle, Bette Midler, Jeffrey Wright, Cher, Treat Williams and Richard Marx to name just a few using Twitter as well to tweet to their millions of followers their utter disdain for Trump's dismantling of our country, it warms my heart! They don't have to use their voices, but they choose to do it! That is what America is about. Always speaking out on what is wrong and trying to move the scales to the side of what is right. As a long time fan of all of them through their singing or acting, I personally want to thank them for being a voice for many, especially ones, who may not have their platform to get their thoughts out on Trump and his hands down, destruction of America!
I will close my column with my saying I live my life by…
"Every Act Of Kindness Is A Little Love We Leave Behind".
Contact the management team