Loading ...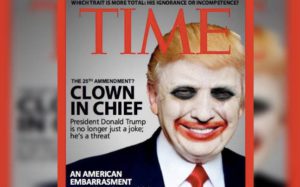 By Anthony "Zute" George
As typical with anything that happens during these times, Trump makes it about himself, toots his own horn with any positive results, and points fingers at others for any adverse results. The supporters, I call them Trump Humps, cheer and approve like mindless cannon fodder. Indeed, a mind is a terrible thing to waste, but when the senseless indeed have substantial power, like the ability to vote, beware.
The other dynamic that is happening now is a debate about the job performance of Trump during the Covid-19 virus. Well, I have a fail-proof solution for that argument.
If you really want to know what kind of job Trump is doing, just ask yourself a question: What would Trump tweet? Let us say Hillary Clinton won the election, and this was going down the same exact way, what would Trump be tweeting about it? Anything positive? Certainly not! And all the Trump Humps would be calling for Hillary to be impeached.
You see, when it comes to conservatives, it is virtually all about fake rage. They really do not care about anything but keeping the needle on the side of White America. I have not the time or desire to explain to you what that means in detail. And quite frankly, you either get it, or you do not.
But let us look at an example, Benghazi, Benghazi, Benghazi! When that tragedy occurred, Fox News, Trump, and the like could not stop reporting about it and spewed their fake rage about it. Why? Because a Black Man was President, and Clinton, a person more attached to pushing an agenda that also includes, 'them,' was in office when Benghazi happened. And indeed, I will submit to you that there was some wrongdoing from both Obama and Clinton when it comes to Benghazi. Still, not even close to the extremes, the right made it out to be.
Now, what about Ryan Owens, Ryan Owens, Ryan Owens?!!!!
Do you not even know who Ryan Owens is? I would stick a needle in my eye before I ever watched Fox News, but I can tell you exactly how they covered the Ryan Owens story. Had such a story happened when Obama, or if Clinton were President, Trump would be tweeting about it nonstop. And all his Humps and conservative outlets would be spewing about it until this day. Even with the Covid-19 crisis happening.
Why no outrage from the right? Well, it went down when a President who they see as one of 'them,' was in office, so… As long as the White Agenda needle is in the right position…Fake rage.
And I have tried to keep an open mind about the right. But conservatives have been bile, for the most part, even way before Trump.
If conservatives, had their way, we would still have open slavery, only rich white men would have the right to vote, interracial marriage would still be illegal, unions would be as weak as possible, strong labor laws would not exist, women would still be isolated to the kitchen, and the LGBTQ would have even fewer rights than they do now. I could list even more, but if you do not get the point by now…
Precisely what is good about conservatives, I do not know. Abortion is the only issue they stand for that I can understand as being legitimate. But even with that volatile issue, the majority of it is fake rage from the right. Bottom line, Trump would not have gotten as far as he has if indeed conservatives were worth the toilet paper that so many people cannot find now.
If that point was lost. Covid-19 has indeed annunciated it. What are conservatives doing now? Threatening Dr. Anthony Fauci. Really? And why? Because he will not completely lick the orange scrotum of Trump? Because it was discovered that he praised Hillary Clinton. By those standards, why not hate Trump? There are many more quotes and videos of Donald praising Hillary Clinton out there than that of Anthony Fauci. Of course, there is just as much evidence of Trump bashing Clinton, which should be all the evidence you need to see just how fake Trump is. But there is something about, "Lock her up!" that makes conservatives get all squishy inside. So, they fail to see what is white in front of them. I said white instead of right in front of them because all they see is that white needle.
And for the record, I am down on Anthony Fauci as well. Although I do not want to hurt him. But not for the same reasons. My issue with him is that he is kissing Trump's ass way too much. Fauci is a smart man; he is going to be the most intelligent guy in the room nine times out of ten. He knows how dangerously incompetent Trump is. He knows that the mental makeup of Trump makes him the worst possible person to get us out of the Covid-19 crisis, and he should be saying so. Every single day. And he does not.
You think I am too hard on your Orange Crush? How can I blame him for Covid-19? Well, like I said before if this was happening under another President, what would Trump be tweeting. Great job?
But if you need more of an explanation, try and follow along.
A few weeks ago, I was in a store where some burly guy was thumbing through The New York Times. He was a grandiose type, even for the standards of the Bronx. This was still what you would say was the early stages of the crisis, most things were still open. This man was going on how this whole thing was nonsense, and to paraphrase, he went on to say, 'every year they try and scare us with something, swine flu, Ebola, Zika Virus, SARS…" He went on, but I was done with my purchase and got out of there. The guy smelled of Trump, by the way. But then again, he was reading The Times.
But even the worst of people can be a useful idiot. And this guy got me thinking. Even now, there are so many people not taking this seriously. Not following the regulations. Why? Is it because they believe they are being lied to? Even with all the statistics showing that Covid-19 is not something to be a rebel against? I mean, that guy in the store was a complete moron, but he strangely had a point. The news always paints a bleak picture of a harmful virus that will hit our country (remember, when I write, I am writing about the confines of America, although everyone is welcomed to read). Still, we have never reached the level of disaster as with Covid-19 in recent memory. Why? Is it just a case of The Boy Who Cried Wolf on the most disastrous level? Perhaps.
However, I have another theory as to why Covid-19 reached the heights it has in America that all those other viruses never did. Ask yourself this? What is the big difference this time around? Well, from where I am looking, we have a President who has always been a danger to our country. Unless you are rich and trying to get richer, Trump is good at doing nothing. Where is the voice for the people whose idea of stocks, is having enough vegetable stock to cook an affordable meal for a family, and making sure their pantry is stocked for at least a week? Trump has hurt the environment, torn families apart that did not need to be, and has ballooned the deficit exponentially. Oh yeah, the deficit is another thing the right does not seem to care about anymore. I wonder why?
Trump is a dangerous egomaniac who only cares about his wallet and his ratings. Trump took the same approach with Covid-19 as he does everything else since being sworn in. 'I know more than you, I am not interested in hearing or reading other opinions, because I know more than anybody.' And if all else fails, my magic words and tweets will make it all go away, or at the very least, fool everyone.
Well, that did not work with Covid-19, and here we are. Not even Trump can talk or tweet Covid-19 away. And somehow most people approve of his job performance. Well, in true Trump fashion, I call nonsense, 'I don't believe those polls,' (Trump voice).
How could they be true? How? Trump's ignorance, arrogance, and smoke screens definitely contributed to the spread of the virus. There is no disputing that. Now, he is even more despicable. Because he knows the severity of Covid-19, and he is still doing Trump things. Trying to figure out how to financially benefit from it, and stroke corporate America more than the people who really need help.
Come on, people, wake the F up!
Let me get this straight, you still support a man who is deciding how to distribute medical equipment based on how nice Governors are to him? That is who you support? That is who you think is best suited to get us out of the worst crisis of our time?
Good luck with that.
If that is indeed your position, well, I am sorry, but I consider you even more of a threat than Covid-19, in the long run anyway. I will go one step further; I consider you even more of a threat than Trump himself. Because these high approval ratings send the absolute wrong message and provide Trump with no incentive to change his ways. Trump is all ID. His engine runs on immediate gratification and satisfaction. Which is precisely what he is getting right now.
It boggles the mind that Donald Trump is more popular than Anthony Fauci in the world of the right. But then again, if you look at the history of the right…
When will this madness end?
Stay tuned…
Contact the management team