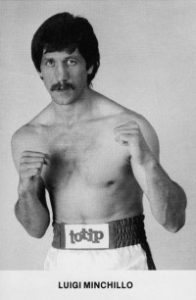 By Donald "Braveheart" Stewart
"He didn't make his first defense of the WBC junior middleweight title until February '84, when he outpointed Luigi Minchillo of Italy in Detroit."
From George Kimball's FOUR KINGS, the seminal boxing book on the rivalry and the top of their time stories of Hearns, Leonard, Hagler and Duran.
Close to the end of 2019, our editor in chief "Bad" Brad, bucking the suggested trend above, that it was merely a footnote in history, posted the fight as the Ringside Report fight of the day.
"Minchillo finished the bout with his left eye almost shut, his right eye swollen and blood coming from his nose. Duran, who had weighed in on the light-middleweight limit of eleven stone, said afterwards he felt strong and was punching harder than ever."
From Hands of Stone, The life and legend of Roberto Duran by Christian Giudice
Of course the focus of the Four Kings was the rivalry between the four greatest ever, arguably, mid weight boxers of any era, so being too harsh on any book that does not give wholesale credit to a fighter that was one of many who could not touch their greatness is wrong. However, we like to give credit where it is due and Italian 1980's welterweight Luigi Minchillo, 55-5, 31 KO's, deserves credit for taking on Roberto Duran, AND Thomas "Hitman" Hearns, of making a career that stretched from the 1976 Olympics to that night in 1981 and beyond to his retirement in 1988. In and around these fights he picked up the Italian title, the European title and had two world title fights. As an Olympian, a world title challenger and as a boxer who gave such tremendous dedication to the sport of boxing, his career shines.
That fight against Duran was one he really wasn't in. He was battered from one corner to another, however and this is important, he never quit, he never gave up and he always came out to try and better his opponent. If there was a fairytale for our time, now, then Minchillo would be at the heart of it as a tiger warrior; that fight – exhibit A.
His debut, at home in Italy was auspicious. 6 rounds against Silvano Bischero which did not last beyond the 5th. It was less than a year after the Olympics, happening in late January 1977. For most boxers, having made their arrival on the professional stage they want to make waves in their own country. In 1979, against Clement Gessi, in April he was, just over 2 years in the professional ranks, the Italian super welterweight champion with a first round stoppage. There isn't much better to announce your quality than a fight that doesn't last beyond three minutes at home for your national title.
He was to defend his title in 1979 against Paulo Zanusso with a 5th round stoppage and against Vincenzo Ungaro with a 6th round stoppage, then into 1980 against Alvaro Scarpelli with a 4th round knockout before his final defense, a rematch against Vincenzo Ungaro which was his only Italian super welterweight fight to go the distance. The result was the same as all the others as Minchillo kept the title.
Within our continent, having made yourself supreme, and the champion in your own country, Europe beckons. Nowadays there are a plethora of international titles or continental titles to go for but way back then the European title was where it was at. 1981 saw Louis Acaries be the man who was to try and beat Minchillo for the European super welterweight title. A points win for Minchillo saw him crowned as the European champion in a tight decision. Clearly going up the quality of opponents was going to be more challenging than being national champion as the stoppages were starting to slow down on the bigger stage…
It was time, the 26th September 1981, to enter the ring in Caesar's Palace, Las Vegas and take on a man who at that time was getting in the ring for his 76th professional contest! Duran was still 20 years away from retirement! In a 10 round contest where at least 2 of the 3 judges gave every round to Roberto Duran, it lasted the full 10 rounds in a non championship making that fight nothing short of remarkable. Duran had been cut by Minchillo but the value of a very decent cuts man was obvious as it was Minchillo who ended up looking the worse for wear at the end of the fight. And it is hard to forget that this was only Minchillo's second loss, after an early loss on his record as he was growing into the sport.
Two months later, he was in Rennes defending his EBU title against Claude Martin, and the 41 fight veteran, Martin, was no match for Minchillo who knocked him out in the first round.
The question was – would he now be able to build up to a world title shot, given he had not managed to show more than just heart and promise when in against one of the world's best.
The answer was yes.
Not once but twice…
Both in 1984.
Before then he was back winning the European title against Maurice Hope, in Wembley, where he retired the British great, though he scraped through with a split decision before two defenses that year – against Jean-Andre Emmerich with a 4th round stoppage and a majority decision win against Marijan Benes in San Severo.
Then came the world title shots. First up was that fight in Detroit against Thomas Hearns where he got to the finish line against another one of the all time greats, but here it was again like when he fought Duran – two out of the three judges gave all the rounds against him. The WBC title was not to be his.
Later on in the year, December, he was in the ring, in Milan against Mike McCallum for the WBA title. It was a fight over 15 rounds where home advantage did nothing for him as he was stopped in the 13th round.
He was to retire after his fight against Rene Jacquot saw him being stopped, this time in the 4th round for the, by then, vacant EBU European title. A belt that had formed such a huge part of his journey was out of his reach and so he placed the gloves in the same spot and gave it all up.
On the way he fought the best, won his home title, the European title and was in the ring with two of the greatest ever, once for a world title; not bad stories for a fireside chat or to tell the grandkids…
Contact the Feature Writers