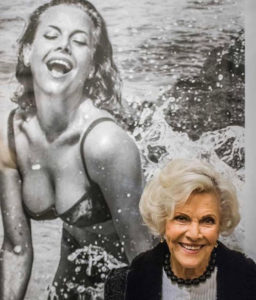 By Geoffrey Huchel
English actress Honor Blackman, best known for playing Bond girl Pussy Galore in the film GOLDFINGER (1964) and Catherine Gale on THE AVENGERS (1961), died on April 5, 2020 in Lewes, Sussex, England. She was 94 years old.
Blackman's career spanned 7 decades including film, television and theatre. In 1968 Blackman appeared in the musical play Mr. & Mrs. In the late 1970s she toured Australia and New Zealand in the comedy play Move Over, Mrs. Markham. In 1979 she starred in Night and Day. She appeared in the London revival of The Sound of Music.
In 1987 she starred as Mother Superior in the West End production of Nunsense. After a long break from the theatre she returned in 2005 and toured through 2006 with the production of My Fair Lady. In 2007, she took over the role of Fraulein Schneider in Cabaret in London's West End.
Her film credits include FAME IS THE SPUR (1947), A BOY, A GIRL AND A BIKE (1949), SO LONG AT THE FAIR (1950), THE RAINBOW JACKET (1954), THE GLASS TOMB (1955), A NIGHT TO REMEMBER (1958), SERENA (1962), JASON AND THE ARGONAUTS (1963), LIFE AT THE TOP (1965), MOMENT TO MOMENT (1966) LONDON AFFAIR (1970), FRIGHT (1971), AGE OF INNOCENCE (1977), TO WALK WITH LIONS (1999) and BRIDGET JONES'S DIARY (1999). Blackman built a large body of film work, but she'll always be remembered for her role in GOLDFINGER, opposite Sean Connery.
Her television credits include THE THREE MUSKETEERS (1956), THE NEW ADVENTURES OF CHARLIE CHAN (1957), THE THIRD MAN (1959), DANGER MAN (1960), THE SAINT (1962), THE NAME OF THE GAME (1968), COLUMBO (1971), THE LIVES OF BENJAMIN FRANKLIN (1974), DOCTOR WHO (1963), MIDSOMER MURDERS (1997), CORONATION STREET (1960), HOTEL BABYLON (2006) and CASUALTY (1986). She appeared in 43 episodes of THE AVENGERS, with Patrick Macnee and Diana Rigg.
Contact the Feature Writers