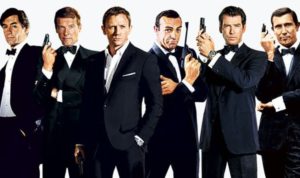 By Anthony "Zute" George
It was sad to hear the passing of Honor Blackman, who played the iconic Pussy Galore, in the James Bond classic, Goldfinger. She was 94 years old, and her character name provided plenty of material for millions of out of work comedians.
While Goldfinger is not in my top five favorite Bond films, you will see my top ten shortly, I credit it as the first James Bond film I saw. It was in the late seventies and aired on the ABC Television Network. I watched it with my grandmother. She also gave me a very welcomed education of the James Bond character. Soon after, I saw Moonraker in the theaters and was very confused. This was not the same person! I have been in love with the James Bond franchise ever since then.
In honor of Honor, I am going to list my top ten favorite Bond films. I was planning on doing this for the release of the new James Bond movie, but why wait?
For me, what makes for a great James Bond film are great villains, elaborate settings, and different nuances in a very systematic way of storytelling. Going in, we know someone is going to try and take over/destroy the world, or try and steal something, Bond will escape death many times over, there will be eye popping stunts, and Bond will have great success with the opposite sex! So, those Bond films that have different wrinkles in this very chalk method of filmmaking reigns supreme for me.
So, here it is, from 10 to 1. My favorite James Bond films.
10. Dr. No (1962): The original James Bond is still one of the best in the franchise. Sean Connery set a high bar for the suave spy. Ursula Andress achieved the same as a 'Bond Girl.' She is, quite frankly, one of the sexiest ladies to ever walk the planet, and the only Bond Girl to influence James Bond to sing. Scary spiders, robot dragons, Joseph Wiseman as Dr. No, what is not to love?
9. The Spy Who Loved Me (1977): For the most part, I was not a big fan of Roger Moore as James Bond, most of his films were dreadful and, in my opinion, an insult to the series. With that said, I loved this Bond film because Bond and Major Anya Amasova, played by Barbara Bach, had great chemistry throughout. Bond has a love interest who was indeed his equal in his profession. A significant dynamic for those days. Then there is Jaws. Sure, this character was over the top and would have never existed if it were not for Steven Spielberg. But he was fun. Jaws had a much stronger outing in this film than the dreaded Moonraker-one of the worst Bond films ever.
8. License To Kill (1989): I really wish Timothy Dalton was given more of a chance as Bond. He was superb. With that said, Dalton was not fired from Bond, he retired from the role due to the franchise being stagnant because of legal battles. What I mean by 'more of a chance' is that he was not treated too kindly during his Bond days. The Living Daylights just missed my top ten, and this film is a Bond classic. Its dark and grizzly tone was indeed unique to the franchise then but might be too much for some, but this movie has everything you could ask for in a Bond film. Everything I ask for I should say, and then some. It is also worth mentioning that this Bond film debuted in the Summer of 1989. It had to compete against Batman, as well as sequels from Ghostbusters, Indiana Jones, Lethal Weapon, and Star Trek. It did not perform well compared to most of those films. Yet, it was not the flop that the narrative attached to the film suggests. With that said, the Bond powers that be decided to scrap releasing Bond films in the Summer when the franchise got back on track with Goldeneye in 1995. Choosing to release all Bond films in November.
7. You Only Live Twice (1967): This installment is popcorn fun at its best. It was certainly heavy on the gadgets, had terrific fight scenes, and had a mystery element to it; do not act like you knew what was happening to those space crafts when you first watch it! In this one, we see James go from a Naval Officer to a Japanese Warrior. Brilliant. Also, its fast pace was in contrast to the other, more deliberate, Connery efforts. At least that is how I saw it.
6. Goldfinger (1964): Indeed, this one has it all. Great opening, great theme song, fantastic villains; both Goldfinger and Odd Job set a bar that few have reached in Bond lore, unique gadgets. It is also the only Sean Connery effort that did not involve SPECTRE. Instead, Goldfinger was the archetypical greedy degenerate gambler, whose penchant for grabbing with both hands caused him to cheat and steal. Goldfinger's ID is very much a reflection of many people in power over the years since its production. Goldfinger had a strong female character as well, although not even Pussy Galore could resist Bond's charm. With that said, it never really made sense why Pussy was working for Goldfinger, other than an excuse to use a raunchy name for a character.
5. Live and Let Die (1974): Roger Moore had a grand debut, and it more or less went downhill from there. But what a debut it was. James Bond in Harlem! Need I say more? Okay, I will. An iconic theme song, jumping over alligators, drug lords, and a fictional country! Sean Connery actually turned down the role of Bond for this film. But what is most enjoyable about this Bond film is that it contains three strong Bond villains, Kananga, Tee Hee, and Baron Samedi; I only wish we saw the man who could not die return in future Bond films. Live and Let Die also has the most memorable death scene of any Bond villain.
4. Thunderball (1965): This Bond entry is a bit deliberate at times. But Connery is magic on the screen at all times. He is truly in full Bond form here. The under-water battles are epic, and the storyline between Bond and Domino was enthralling and very unique for Bond films at that time. In contrast, Bond's interactions with the Matherson's in Goldfinger did not have that same visceral bite to it.
3. On Her Majesty's Secret Service (1969): It is refreshing to see how this classic is getting high praise today, as it had a terrible reputation for many years. The reason is the performance of George Lazenby as Bond. For me, I preferred him over Moore and Pierce Brosnan, but he was not better than Connery, Dalton, or Craig. Also, Lazenby could have returned as Bond, but decided not to. He was not fired from the role. Making him one of the greatest one-hit wonders of all time. But that was strictly his choice. OHMSS has some of the best Bond fight scenes, a great villain; Telly Savalas has never been better, and the biggest surprise endings of all Bond films. A treat from start to finish.
2. Skyfall (2012): I really enjoy Daniel Craig as Bond, but most of his films are uneven for me. Skyfall, however, broke a ceiling that future Bond films may never reach. Sam Mendes is a master director, and he was generous enough to lend that mastery to a franchise most filmmakers of his ilk would not touch, for whatever reason. Javier Bardem is sensational as Silva, and the character development for Bond is unprecedented. An edge on your seat joy from start to finish. Perhaps, Skyfall was too fantastic, as even a good Bond film that comes after, like SPECTRE, will be seen as a letdown.
1. From Russia With Love (1963): I rank FRWL as the best Bond film because it captured the feel of a 'spy' drama the best. The relationship between Bond and Tatiana Romanova is one with layers. As you often did not know who was using who. This film also had two great villains with Rosa Klebb (no, that is not Linda Hunt!) and Donald 'Red' Grant. We are also treated to an intense, female fight scene that was ahead of its time, a suitcase that does everything except wash your car, and still, one of the best fight scenes in film history. Sean Connery said his favorite Bond moment was his fight scene with Robert Shaw. Good choice. The icing on the cake of an all-time great spy thriller.
There you have it. Remember, this is just my opinion. Feel free to disagree, but I am not saying that I think these are the best Bond films. So, there is no need to tell me I am wrong!
Contact the management team