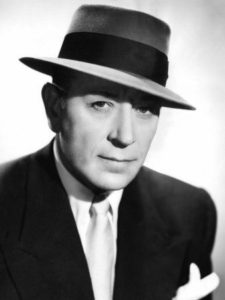 By Geoffrey Huchel
What do gangster movies, dancing, boxing and Alka-Seltzer all have in common? The answer is George Raft.
American actor George Raft was born on September 26, 1901 in Hell's Kitchen, New York City. Raft grew up on 41st Street and as a young boy he worked as a fishwrapper after school. At age 12, he left school and left home at 13. During this time he worked as an electrician's apprentice, doing that for a year. When he was 15, he started boxing professionally for two years. Under the name "Dutch Rauft" he had fourteen bouts: nine victories, three defeats and two draws.
He also played minor league baseball as an outfielder. Raft once said that he wanted to try anything that he liked that he could make a living. That led to his career as a dancer. After a short-lived baseball career, he began working as a taxi dancer. Then, after winning a Charleston competition his dancing career took off professionally.
Raft danced all around New York City and had a reputation as being "the best Charleston dancer in New York". He also helped popularize the tango in Paris, Vienna, Rome and London. His success led him to Broadway, as a dancer of course. His stage performances include The City Chap, Gay Paree, Madhattan, Palm Beach Nights and Padlocks of 1927. In 1927 he relocated to Hollywood to pursue acting. While trying to establish himself in the industry he supported himself by dancing in night clubs.
Raft made his screen debut in a small role in the film QUEEN OF THE NIGHT CLUBS (1929). He followed with small roles in GOLD DIGGERS OF BROADWAY (1929) and SIDE STREET (1929). He was cast in a substantial gangster role which included a solo dance sequence as Spencer Tracy's sidekick in QUICK MILLIONS (1931). He followed with GOLDIE (1931), HUSH MONEY (1931) and PALMY DAYS (1931). Rafts big break came when he was cast in a leading role, alongside Paul Muni, as Tony Camonte, in the original SCARFACE (1932). Raft's performance as Guino Rinaldo was notable for his character's frequently flipping a coin during scenes, which became an iconic image in gangster films.
SCARFACE was just one of the many gangster films he appeared in. His other gangster films include INVISIBLE STRIPES (1939),with William Holden, EACH DAWN I DIE (1939), with James Cagney, THEY DRIVE BY NIGHT (1940), with Humphrey Bogart, BACKGROUND TO DANGER (1943), JOHNNY ANGEL (1945), NOCTURNE (1946), RED LIGHT (1949), A DANGEROUS PROFESSION (1949), JOHNNY ALLEGRO (1949), LOAN SHARK (1952), BLACK WIDOW (1954), opposite Ginger Rogers and Gene Tierney and ROGUE COP (1954) starring Robert Taylor and Janet Leigh.
Rafts other film credits include the musical BOLERO (1934),with Carole Lombard, I STOLE A MILLION (1939), AROUND THE WORLD IN 80 DAYS (1956), SOME LIKE IT HOT (1959), with Tony Curtis, Jack Lemmon and Marilyn Monroe, and the original OCEANS 11 (1960), with Frank Sinatra, Dean Martin, Peter Lawford, Angie Dickinson and Sammy Davis, JR.
Raft also did some television work. He starred as Lieutenant George Kirby in 27 episodes of I'M THE LAW (1953). His other television appearances include THE RED SKELTON HOUR (1951), THE ED SULLIVAN SHOW (1948), BATMAN (1966), and ROWAN & MARTIN'S LAUGH-IN (1967).
Now, that Alka-Seltzer thing. In 1969, Raft starred in the antacid brand's TV commercial Unfinished Lunch. In the ad, Raft is incarcerated and in the prison lunchroom. After taking a bite of the food he suddenly bangs his cup on the steel table. It ripples through the room. He starts chanting "Alka-Seltzer, Alka-Seltzer…" Soon after several other inmates do the same. That commercial was so popular that a few weeks later Raft appeared on THE TONIGHT SHOW WITH JOHNNY CARSON and talked about the 30-second commercial that took 7 hours to film. The iconic commercial can be found on Youtube.
George Raft died on November 24, 1980 in Los Angeles from emphysema at the age of 79.
Essential Raft:
SCARFACE (1932)
EACH DAWN I DIE (1939)
THEY DRIVE BY NIGHT (1940)
BACKGROUND TO DANGER (1943)
JOHNNY ANGEL (1945)
NOCTURNE (1946)
BLACK WIDOW (1954)
SOME LIKE IT HOT (1959)
Contact the Feature Writers