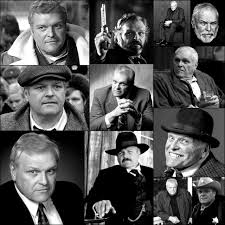 By Geoffrey Huchel
Golden Globe and Tony Award winning actor Brian Dennehy died April 15, 2020, of cardiac arrest at his home in New Haven. Connecticut. He was 81 years old.
The versatile veteran stage and screen actor has captivated audiences for decades with performances in films such as FIRST BLOOD (1982), SILVERADO (1985), COCOON (1985), ROMEO + JULIET (1996), LEGAL EAGLES (1986), TOMMY BOY (1995), SUMMER CATCH (2001), RATATOUILLE (2007), RIGHTEOUS KILL (2008), FOUL PLAY (1978), LITTLE MISS MARKER (1980),10 (1979) and TAG (2018).
Dennehy made appearances in dozens of television series and TV movies, including SERPICO (1977), M*A*S*H (1972), LOU GRANT (1977), KOJAK (1973), ANTS! (1977), DALLAS (1978), KNOTS LANDING (1979), DYNASTY (1981), HUNTER (1984), CAGNEY & LACEY (1981), MIAMI VICE (1984), RETURN TO SNOWY RIVER (1988), MURDER IN THE HEARTLAND (1993), JUST SHOOT ME (1997), THE WEST WING (1999), THE 4400 (2004), LAW AND ORDER: SPECIAL VICTIMS UNIT (1999), 30 ROCK (2006), RULES OF ENGAGEMENT (2007), RIZZOLI & ISLES (2010), THE GOOD WIFE (2009), THE BLACKLIST, and DEATH OF A SALESMAN (2000), for which he won the Golden Globe for his role as Willy Loman.
Dennehy's stage work spanned throughout the United States, Canada, and Europe. His stage productions include Death of a Salesman, Long Day's Journey into Night, Inherit the Wind, The Iceman Cometh, All's Well that Ends Well, The Field, Twelfth Night, and The Homecoming. Dennehy won two Tony Awards for Best Lead Actor in a Play for Death of a Salesman and Long Day's Journey into Night. Dennehy was also inducted into the American Theatre Hall of Fame in 2010.
Ringside Report sends our condolences to the Dennehy Family in their time of grief.
Contact the Feature Writers