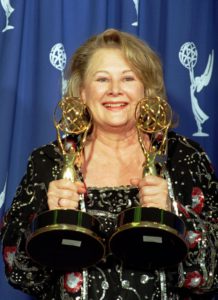 By Geoffrey Huchel
American actress Shirley Knight, who appeared in feature films, television movies and series, and Broadway and off-Broadway productions died April 22, 2020, from natural causes in San Marcos, Texas, at the age of 83.
Knight was born on July 5, 1936 in Goessel, Kansas. She attended Phillips University and Wichita State University, as well as the Pasadena Theatre School. In 1959 she moved to New York to begin a theatre career. Her decision to pursue theatre turned out to be a successful endeavor for the actress. She appeared in several stage productions including Three Sisters, We Have Always Lived in the Castle, Kennedy's Children, which earned her the Tony Award for Best Performance by a Featured Actress in a Play, A Lovely Sunday for Creve Coeur, Landscape of the Body, The Young Man from Atlanta, and Come Back, Come Back, Wherever You Are.
Knight's film credits include THE DARK AT THE TOP OF THE STAIRS (1960), with Angela Lansbury and Dorothy McGuire, THE COUCH (1962), SWEET BIRD OF YOUTH (1962), with Paul Newman, HOUSE OF WOMEN (1962), THE GROUP (1966), with Candice Bergen, DUTCHMAN (1966), THE COUNTERFEIT KILLER (1968), THE RAIN PEOPLE (1969), JUGGERNAUT (1974), with Anthony Hopkins and Richard Harris, BEYOND THE POSEIDON ADVENTURE (1979), COLOR OF NIGHT (1994), DIABOLIQUE (1996), with Sharon Stone, AS GOOD AS IT GETS (1997), with fellow Oscar winners Jack Nicholson and Helen Hunt, ANGEL EYES (2001), DIVINE SECRETS OF THE YA-YA SISTERHOOD (2002), with Sandra Bullock and Ellen Burstyn, GRANDMA'S BOY (2006), THE OTHER SIDE OF THE TRACKS (2008) and OUR IDIOT BROTHER (2011). Knight was nominated for two Academy Awards for her performances in THE DARK AT THE TOP OF THE STAIRS and SWEET BIRD OF YOUTH.
Knight's television credits include RAWHIDE (1959), 77 SUNSET STRIP (1958), MAVERICK (1957), THE OUTER LIMITS (1963), THE DEFENDERS (1961), THE VIRGINIAN (1962), THE FUGITIVE (1963), THE OUTSIDER (1967),THE STREETS OF SAN FRANCISCO (1972), THE COUNTRY GIRL (1974), MARCUS WELBY, M.D. (1969), BARNABY JONES (1973), 21 HOURS AT MUNICH (1976), SPENSER: FOR HIRE (1985), THIRTYSOMETHING (1987), MURDER, SHE WROTE (1984), MATLOCK (1986), LAW & ORDER (1990), L.A. LAW (1986), NYPD BLUE (1993), IF THESE WALLS COULD TALK (1996), MAGGIE WINTERS (1998), THE FUGITIVE (2000), ER (1994), INDICTMENT:THE MCMARTIN TRIAL (1995), ALLY MCBEAL (1997), LAW & ORDER: SPECIAL VICTIMS UNIT (1999), COLD CASE (2003), HOUSE (2004), DESPERATE HOUSEWIVES (2004), and HOT IN CLEVELAND (2010). Knight was a three-time Emmy Award winner for her guest-starring roles in THIRTYSOMETHING and NYPD BLUE, and Outstanding Supporting Actress in a Miniseries for a Special for INDICTMENT: THE MCMARTIN TRIAL.
Ringside Report extends our condolences to the Knight Family in their time of grief.
Contact the Feature Writers