[AdSense-A]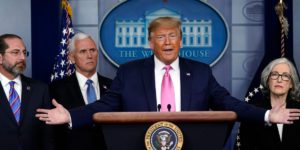 By Diane Batshaw – Eisman
It was a happy day for Doctor Curmudgeon ®. Her squeals of joy were so loud that had she been in her office, people from other floors would have hurried in.
Today, peering onto her front porch, she spied a FedEx envelope. Donning balaclava, followed by mask, goggles, face shield, outdoor disposable booties, gloves, and grabbing what remained of her Lysol disinfecting spray she snaked a hand outside to retrieve the envelope.
Picking it up by a corner, she managed to rip open the envelope, throw it in the trashcan and with her now usual precautions, retrieve what was inside. She disinfected it thrice more. This was followed by a microwave interlude of three hours; after which she scoured her hands for six "Happy Birthdays."
Finally, she was able to look at the documents that had been FedExed to her. These papers had been long awaited.. She had dared to hope that her background would prove acceptable.
And now, with shaking fingers she held her coveted Press Pass bestowed upon her from one of the world's finest newspapers, "The Garlic."
Wasting no time, she managed to book a seat on the train.
Two days later, she found herself alone in a car. The staff was treating her like a very special person, feeding her, giving her pillows and blankets and chatting amicably behind their home made masks.
And so, Doctor Curmudgeon® was now on her way to report on her first press conference.
The room held uncomfortable wooden cushions. Reporters squirmed in their seats, in vain attempts to ease their discomfiture.
Even worse, no water was available.
And even worse than having no water, no coffee, tea or chocolate was available.
Bathroom facilities? Please…not for members of the enemy…the Press!
As usually happened with this specific government, the President was now three hours late. Three hours ago, the doors had been locked, bolted, sealed with an unknown substance and guarded by a company of mercenaries hand-picked by the President for their unquestioned loyalty. In this way, nobody could be allowed in. But the corollary was that nobody could leave.
Whispering across their separation, the reporters awaited the entrance of the President…everybody seated at least one alligator apart (as had been mentioned by a Floridian, that in Florida, safe distancing would be an alligator apart as alligators were about six feet in length).
After four hours of enduring very sore butts, the reporters found themselves facing a glassy eyed press secretary who was babbling that the President was detained as he had difficulty making a great decision and was thinking about it. He was deciding on how many bands should play "Hail to The Chief" upon his entrance, because he was the greatest chief of all and needed more bands than any of his predecessors to announce him.
Snickers among the press corps, as no other president had required fanfare for a press conference.
All hands rose and a reporter, after performing the requisite curtsy, inquired, "What is being done to bring more personal protective equipment to doctors and nurses caring for Coronavirus patients?"
"Everything, you idiot!!! And I had you banned because your roots are showing and I can't stand looking at you….Get her out of here!"
Another reporter was acknowledged and asked," Why has the response of the government been so slow?"
At a nod from the President, four armed guards dragged the questioner out as the response from the podium was "You are so disgusting and fat and I don't answer questions from fat people."
And yet, another brave member of the press, "When you were holding all those rallies back in February and playing golf, why weren't you giving us the facts and warning us about the spread of the virus?"
Screams from the podium as the president yelled at the reporter," You are so stupid. You don't have the right to question me…because I am a genius and you are not at my level." Turning to an aide, he shouted "Off with his head!" (Much whispering as the aide explained that was not a presidential power, and the president told him to make it a presidential power as soon as the conference ended).
And, finally Doctor Curmudgeon® had her turn, "Why are you advocating a drug that can be quite dangerous without solid evidence double –blind…."
"Listen, you little piece of turd,….because of you, there will be no more questions. You and the rest of your fake news buddies have not been respectful of me. None of you treat me with the respect I deserve. You are all asking dumb questions and you keep addressing me as "Mr. President.
"Wrong! Wrong! Wrong!"
"If you can't call me Your Majesty…Get the f*ck out. No more press conferences!"
(Sir Galahad the Siberian Husky who is a furry family member and keeps the Curmudgeon household running on an even keel recommends Leonard Pitts, the superb columnist for the Miami Herald who can be found at pitts@miamiherald.com )
Contact the Feature Writers