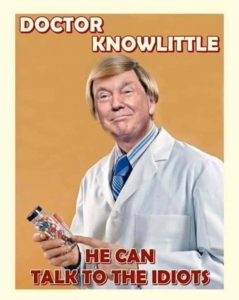 By Henry S. Villard
Ladies and Gentlemen:
While I have never understood, in my deep naivete, the willingness of so many sheeple to follow a philandering, degenerate, thieving, corrupt, female crotch-grabbing coward and traitor who has unquestionably proven himself to actually be the Anti-Christ, the revelations of today, from a good few sources, will hopefully enable at least some of the aforenoted mindless fools to begin to think and to realize who they are following IF they can begin to understand the horror that he has created and which, in the United States he is totally, absolutely and completely responsible for.
Before I bring said sources to bear I want you to be aware of the FACTS (an epithet to the believers in "fake news" and/or "alternative facts," neither or which are reality in any shape or form) which will hopefully and finally make a difference:
1. President FF Von Clownstick was present, during the months of January and February, at an average of 18 daily briefings on national security and issues of paramount importance, almost every one of them mentioning or dealing with the oncoming pandemic. According to Leon Panetta, Trump, with his unbelievably short attention span, paid no attention to nor showed any interest in any of them. Remember that Bill Gates wrote about the coming pandemic in 2015; upon taking office Trump was advised of what could come and was presented with Mr. Gates's article, to which he was completely disinterested. Throughout 2016, 2017, 2018 and 2019 he was repeatedly briefed and warned, giving each warning utterly short shrift and showing total indifference.
2. As of today—Tuesday, April 28, 2020–more Americans have died from this horror which Donald Trump is totally responsible for in the United States (no, we cannot blame him for what happened in Wuhan) than died in the Vietnam War, with the number of deaths due to the coronavirus surpassing 58,000.
3. As of today more than one million Americans are suffering from this terrible virus.
4. Today, the hypocritical phony, second only to Trump, his vice president, Mike Pence paid a visit to the Mayo Clinic. There are signs outside and in the lobby that all visitors must wear masks. That vile excuse for a human being made the tour totally unmasked and for that the fault and blame lies completely with that otherwise fine health facility.
5. Today, in some kind of a televised briefing, he performed his usual daily ritual, engaging in the only act or tactic which he is good at, which is lying through his teeth. He claimed that not only will "the whole thing be gone by June but when it comes back next winter it will be much milder and we will be able to treat it." That ridiculous blathering of the bloviating bovine feces dropping low grade excuse for a human being should have made every health care professional in America, and every American with even half a brain, retch his or her guts out.
Today's column has gone on to a somewhat greater length than I thought it would, so rather than a series of pieces from reliable and respected sources I will conclude with the one (not any more important than all of the other exposes of the total worthlessness of the orange haired orangutan who defiles the Oval Office every time he steps into it) piece from Rachel Maddow and ask that you pay attention because of its importance in exposing the faux president.
Trump reportedly ignored intel briefings on coronavirus threat
Trump "rarely, if ever" reads the President's Daily Briefing. When it comes to the coronavirus, his indifference has had brutal consequences.
By Steve Benen
In recent weeks, there have been a variety of reports about the coronavirus warnings Donald Trump and his team received, but failed to heed. This Washington Post report, however, strikes me as the most devastating.
U.S. intelligence agencies issued warnings about the novel coronavirus in more than a dozen classified briefings prepared for President Trump in January and February, months during which he continued to play down the threat, according to current and former U.S. officials. The repeated warnings were conveyed in issues of the President's Daily Brief, a sensitive report that is produced before dawn each day and designed to call the president's attention to the most significant global developments and security threats.
As the Post's report explained, the PDB did precisely what it was supposed to do: it highlighted the growing viral threat; it raised doubts about the veracity of the claims from Chinese officials; and it warned of dire domestic consequences. What's more, the frequency with which the coronavirus was mentioned in the PDB "reflected a level of attention comparable to periods when analysts have been tracking active terrorism threats, overseas conflicts or other rapidly developing security issues."
Common sense suggests a president would receive see intelligence briefings like this one and take swift action to prevent a disaster from unfolding in his own country. And yet, the more intelligence officials issued warnings, the more Donald Trump publicly downplayed the threat and took few steps to address the looming crisis.
One possibility is that the president questioned the reliability of the information. The Republican has, after all, spent several years denigrating the work of his own country's intelligence professionals.
But the more likely explanation is that he never bothered to read the information in the first place. As the Post's article added, "[T]he alarms appear to have failed to register with the president, who routinely skips reading the PDB and has at times shown little patience for even the oral summary he takes two or three times per week."
This may seem brutally damning, but it's actually a staple of Trump's presidency. Indeed, we learned more than two years ago that he "rarely, if ever" reads the PDB prepared for him.
Trump has been surprisingly candid on this point, repeatedly acknowledging his disinterest in reading intelligence reports. During his transition process in 2016, for example, he skipped nearly all of his intelligence briefings. Asked why, the Republican told Fox News in December 2016, "Well, I get it when I need it…. I don't have to be told — you know, I'm, like, a smart person."
As his inauguration drew closer, Trump acknowledged that he likes very short intelligence briefings. "I like bullets or I like as little as possible," he explained in January 2017. Around the same time, he added, "I don't need, you know, 200-page reports on something that can be handled on a page. That I can tell you."
As regular readers know, intelligence professionals have gone to great lengths to accommodate the president's toddler-like attention span, preparing reports "with lots of graphics and maps." National Security Council officials have even learned that Trump is likely to stop reading important materials unless he sees his name, so they include his name in "as many paragraphs" as possible.
In August 2017, the Washington Post had a piece on then-White House National Security Advisor H.R. McMaster, who struggled to "hold the attention of the president" during briefings on Afghanistan. The article noted, "[E]ven a single page of bullet points on the country seemed to tax the president's attention span on the subject."
Rachel-Maddow-Show: Team Trump slams 2020 virus strategy memo from GOP officials
A Trump confidant said at the time, "I call the president the two-minute man. The president has patience for a half-page."
Evidently, more than a dozen warnings about the novel coronavirus in January and February couldn't be reduced enough.
On Aug. 6, 2001, then-President George W. Bush received an intelligence briefing and was handed the "Bin Laden Determined to Strike in U.S." memo. He was on a month-long vacation at the time. After listening to the briefer, Bush reportedly replied, "All right. You've covered your ass, now." A month later, we saw the consequences.
Nearly two decades later, Trump received multiple reports with equally serious warnings about a viral threat. We're still dealing with the consequences now.
Postscript: As regular readers may recall, Trump used to take an interest in the presidential daily intelligence briefing, as we saw in 2014, when he seemed convinced that Barack Obama wasn't taking the national-security briefings as seriously as he should.
"Fact – Obama does not read his intelligence briefings," Trump complained, making up details that in no way reflected reality. Around the same time, Trump added, "Obama has missed 58% of his intelligence briefings" – which, again, was completely untrue.
The irony is hard to miss.
FROM H S V: Ladies and gentlemen, I hope and trust that you read the above and now I am asking that you engage in and take two very important actions:
1. Ask every person to pass on this website so you can keep up with ATT (All Things Trump) and,
2. Cut and paste this column and send it to every person you know.
Be well and stay safe, all.
Contact the Feature Writers