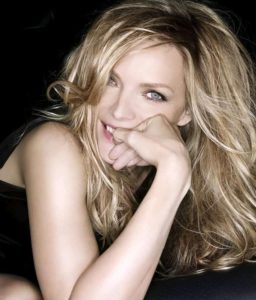 By Geoffrey Huchel
Michelle Pfeiffer (born April 29, 1958) is a 3-time Academy Award nominated and Golden Globe winning actress; and to her countless number of devoted fans she is considered the queen of the silver screen. And rightfully so. I mean, the woman is great in EVERYTHING, regardless of genre. And what better way to celebrate her birthday than by looking back at her phenomenal career, and her road to becoming one of Hollywood's most well-respected stars.
Pfeiffer's early career began in television, appearing in TV movies and series including DELTA HOUSE (1979), CHIPS (1977), B.A.D. CATS (1980), THE CHILDREN NOBODY WANTED (1981), SPLENDOR ON THE GRASS (1981), FANTASY ISLAND (1977), CALLIE & SON (1981), and ABC AFTERSCHOOL SPECIALS (1972), in the episode ONE TOO MANY, co-starring future Batman Val Kilmer.
Pfeiffer landed her first film role as Suzie Q in the comedy THE HOLLYWOOD KNIGHTS (1980). She won her first starring role in the musical GREASE 2 as tough-talking and independent Stephanie Zinone. Pfeiffer proved she could not only act but sing and dance too. Since her debut, Pfeiffer has dominated the big screen since her start in the 1980s; and now in 2020, she still captivates audiences with powerhouse performances.
She's racked up a long list of film credits that includes SCARFACE (1983), LADYHAWKE (1985), INTO THE NIGHT (1985), THE WITCHES OF EASTWICK (1986), TEQUILA SUNRISE (1988), MARRIED TO THE MOB (1988), DANGEROUS LIASONS (1988), THE FABULOUS BAKER BOYS (1989), THE RUSSIA HOUSE (1990), FRANKIE AND JOHNNY (1991), LOVE FIELD (1992), THE AGE OF INNOCENCE (1993), WOLF (1994), DANGEROUS MINDS (1995), UP CLOSE & PERSONAL (1996), ONE FINE DAY (1996), A THOUSAND ACRES (1997), THE STORY OF US (1999), THE DEEP END OF THE OCEAN (1999), A MIDSUMMER NIGHT'S DREAM (1999), WHAT LIES BENEATH (2000), I AM SAM (2001), WHITE OLEANDER (2002), HAIRSPRAY (2007), STARDUST (2007), I COULD NEVER BE YOUR WOMAN (2007), PERSONAL EFFECTS (2009), CHERI (2009), NEW YEAR'S EVE (2011), PEOPLE LIKE US (2012), DARK SHADOWS (2012), THE FAMILY (2013), WHERE IS KYRA (2017), THE WIZARD OF LIES (2017), MURDER ON THE ORIENT EXPRESS (2017), MOTHER! (2017), ANT-MAN AND THE WASP (2018), MALEFICENT: MISTRESS OF EVIL (2019) and AVENGERS: ENDGAME (2019).
Pfeiffer is perhaps best known for starring in 1992's BATMAN RETURNS in the dual roles of meek secretary Selina Kyle and the slinky and sexy Catwoman. Almost 30 years since she cracked that whip with such panache, her performance is still revered by fans and regarded as one of the best portrayals of the comic book character.
Contact the Feature Writers