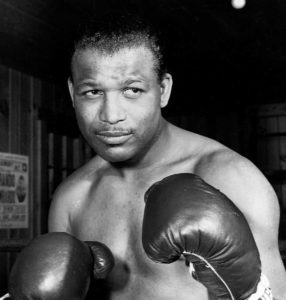 By Vinny "Glory Days" Lucci
In 1946 Sugar Ray Robinson would go on a frenzied tear of ripping through the 147-pound gauntlet winning all fifteen bouts including old nemesis's Sammy Angott and Izzy Jannazzo. Tragically Ray stopped contender Jimmy Doyle by 8th round knockout at the Cleveland Arena in 1947. Jimmy was rushed to Saint Charles hospital but expired a few hours later having never regained consciousness. Robinson would donate his entire purse over his next three bouts to bury his comrade at arms and buy Doyle's mother a house. It was said that was Jimmy's goal as a prizefighter.
Add wins over Artie Levine and Freddie Flores and the spectacular Sugar Ray Robinson was finally signed to meet top contender Tommy Bell for vacated title at the Cleveland Arena in Ohio just five days before Christmas. Robinson won a fifteen round unanimous decision over the foe he previously beaten when returning from military service. Along with the heavily avoided Charley Burley and immortal Ezzard Charles, Robinson separated himself from trio and was finally on the throne and continued his uncontested reign of welterweight division. The Bell win brought him his first title and upped his jaw dropping ledger to 72-1-1, 50 KO's. The one loss was to LaMotta and the draw with tough Jose Basora. Sadly, the title he fought for was vacated by champion Marty Servo who Ray had beaten twice by decision. Servo accepted an ill-advised non-title bout against Middleweight champion Rocky Graziano who knocked the lighter man out with thundering right hands in round two. Servo's nose was crushed and the ensuing damage to his sinuses forced an early retirement.
The two main reasons why "all- time great" rival "best of an era" is quality of opposition and longevity, beating the best any era has to offer. Sugar Ray was about to embark on yet another artistic foray of dominance that beguiled fans as well as his opponents. Over the next 27 months Robinson would defend title four times over Bernie Docusen, Jimmy Doyle, Georgie Abrams and a thrilling scrap with Kid Gavilan. Scattered in between were nineteen non-title bouts. His success prompted the quote, "To be a champion you have to believe in yourself when no one else does."
The rampage continued with 14 straight wins over a variety of boxers in the middleweight division. One such fellow, George Costner had taken a shine to the moniker "Sugar" and declared to media he was going to show Robinson who the "real" Sugar was, conveniently forgetting Ray knocked him out inside two rounds at welterweight in 1945. At ring introductions Costner told Robinson, "Your name ain't Sugar, mine is." The always flamboyant Ray replied, "We better touch gloves now because this is the only round." Robinson then knocked him out before the first round ended. After the "contest" ended, Ray told George, "Now go out and earn a name!"
In June of 1950 Ray won a Pennsylvania state version of middleweight champion which wouldn't get you a free ride on subway. As making the welterweight limit of 147 pounds a distant memory, Robinson decided to defend his title one last time against mandatory challenger Charlie Fusari at Roosevelt Stadium in Jersey City which Ray won in another spirited contest. Robinson donated his entire million-dollar purse for cancer research! It would be the last time he'd have to shed weight on his perfect frame which always seemed destined to be a legit middleweight in hibernation. The next quest would be start all over while at the top of his game making the glory hound middleweight division a reclamation project of nearly uncharted waters.
The same year saw Sugar pounded the canvass with bodies fighting on average every three weeks adding 20 more wins to his awe-inspiring ledger. His October victim was future belt holder Bobo Olson who was knocked out in 12th round of a state champion defense.
This led up to a real training camp of two months to challenge none other than old nemesis Jake Lamotta for his middleweight crown. The glorified event was held on February 14, and hosted at Chicago Stadium. It would go down in boxing infamy known as the St. Valentine's Day Massacre. For ten rounds it appeared to be business as usual as the two boxers forever linked in history dueled one last time. Robinson now fully accustomed to carrying 13 extra pounds and wearing it well on a still chiseled frame turned up the pressure with a relentless volume of combinations taking over the fight. In the 12th round he began to administer a beating of reverence to which everyone in stadium stood up from their seats to witness. The historic 13th "bad luck round" depicted in the Martin Scorsese film "The Raging Bull" bore witness to the fact that LaMotta was not playing possum on the ropes as had been a long-time ritual of trying to lure opponents into the pocket. Jake was not only hurt but soundly beat. Bleeding about eye wounds and no longer able to navigate the ring without the support of ropes the carnage was halted by referee at two-minute mark. The stoppage, was first "official" one on Jake's record as it was proven in court, he threw a fight against Billy Fox in order to receive a title shot granted by Frankie Carbo and Frank 'Blinky" Palermo, two organized crime figures who controlled boxing at the time.
So tightly ominous was the control that many champions ventured into non-title bouts that drew less money for greedy parasites to skim off top of their payday and Robinson would keep his franchise namesake running with eight straight bouts before defending his title that year on a European tour where he was as worshipped in France and other countries as he was back home. What was secretly sucking the life blood out of Ray was that he invented the "entourage," and his was of Ringling Brothers variety. Along with his wife Ray traveled with manager George Gainford, trainer Harry Wiley, two assistant trainers, a golf pro, a professional barber, a chauffeur, odd job and gofer, sparring partners and the flotsam hangers-on along with a hundred pieces of luggage which cost a weekly tab in excess of three thousand a week.
That first defense would prove he was human after all losing his belt in a good fight against British contender Randy Turpin by decision at Earl's Arena in London England. Three months later Ray would rematch Turpin in another thrilling affair that he was winning going into tenth round. A cut to eyebrow made Robinson switch into lightning mode where he unleashed a blitzkrieg of carnage knocking the champion out in same round. These extended volleys were often combinations that appeared as if he was a gunslinger pulling out two revolvers from both sides of his hips. The motion was effortless from a seemingly bad defensive posture. The results were devastating.
Sugar next fought back to back successful defenses against Bobo Olson and Rocky Graziano winning by unanimous decision and third round knockout respectively. The last win putting an exclamation mark on what could have been the last hoorah. Instead, with no more contenders to defeat Ray decided to motivate himself to climb one last mountain and challenge Joey Maxim for his light heavyweight crown in Yankee Stadium in June of '52 amid an unusual heatwave that rose to 103 degrees. The wicked pace Robinson set and the soaring temperatures famously dehydrated Ray by the thirteenth round where well ahead on scorecards was unable to come out of his corner for the fourteenth. The stoppage was the only one in Robinson's 201 bout career. Referee Ruby Goldstein also succumbed to the heat prior to the stoppage and was replaced by Ray Miller. Robinson thinking it was the end of the line relinquished his middleweight title and retired at the height of his popularity.
Retirement seemed earnest with a 131-3-2-1, 85 KO's career securely locked away for prosperity in the history books forever. He bought three buildings in Harlem along 127 street and 7th Avenue just up the block from his place "Sugar Rays." His flashy custom painted flamingo pink Cadillac convertible was often parked right outside like a neon sign declaring the king was home. Other investments included a Lingerie shop, a Cleaning and Dyeing shop for his second wife Edna Mae Holly. Robinson would then take to show business as a dancer and worked his tail off five hours a day in grueling marathons which he declared were more wicked than training for a match. He also ran five miles a day out of habit keeping his body in as pristine condition as possible. The great musician John Lennon once said, "Life is what happens when you're busy making other plans." Haphazardly nothing seemed to go just right even through acclaimed reviews to sustain the lifestyle and large monetary nut Robinson carried forcing him back in to the ring wars. Sugar's distinct pugilistic advantages against younger men were now making him appear to be a merely cagey and talented boxer after a two-and-a-half-year layoff.
Glory, fame and immortality were just as much within his grasp as much as the desperate need for monetary consumption and financial security. Over the next three years Sugar would embark on a roller coaster journey to also ensure no one would ever forget his name or legacy. Robinson would take on a handful of tune ups and challenge old foe Bobo Olson for middleweight title, winning it for third time by second round KO. He granted Olsen a rematch and stopped him five months later in the fourth round.
Two years later he surrenders the belt to Gene Fullmer by Unanimous decision at MSG, only to win it a fourth time at Chicago Stadium by knocking out the barrel chested Fullmer with a single left hook in fifth round. Ray was 37- and eleven-years Gene's senior. Sports writers who covered the event dubbed the thrilling knockout as "the perfect punch." At post fight conference Ray was asked how far the left hook actually traveled. His response, "I couldn't say but he got the message."
Four months later he defended title at Yankee Stadium against tough as nails Carmen Basilio and lost close fight by split decision, only to regain the title for the fifth time six months later in the rematch at Chicago Stadium. The more you say it, the more spectacular it sounds; "Five-time middleweight champion of the world."
The final act and last stand of Robinson was still worth the notoriety and price of admission as he incredibly fought on 49 more times over the next seven years. The grand master showman whose orchestrations of synchronized violence entertained the world for a quarter of a century leaving an elitist bench mark of 174-19-6-2, 109 KO's. His fancy footwork and dazzling flurries that all consisted of hard knock out punches from either hand along with his innate ability to fight going backwards not only premiered with his arrival but has transcended the sport by which all others are measured. His handsome face with movie star good looks barely hinted at what he did for a living and his granite jaw never let him down. Hard to comprehend he spent most of his career stringing together wins in a tedious fashion of fighting once and twice a month.
Imagine if he were allowed to fight at today's pace resting and training four to six months between bouts? Certainly, makes you want to slap the words out of anyone's mouth who would suggest any boxer from today's era was better. To those so inclined in such unsubstantiated radical thinking, l revel in the infamous quote of recently deceased boxer/trainer Roger Mayweather: "You don't know shit about boxing!"
Robinson married his third wife Millie Wiggins Bruce in 1965 and set up the Sugar Ray Youth Foundation four years later. Ironically it did not have a boxing program. Later on in life Ray developed diabetes and roughly two decades after formal retirement he came down with Alzheimer's Disease. Ray passed away on April 12, 1989 at the age of 67. At the time of his death he was ultimately broke and by his own admission squandered and ran amok of spending four million dollars in earnings. By today's standards that would be comfortably over 43 million. Sugar was quoted as saying, "I have no regrets. If I could do it all over again, I wouldn't change a thing."
Join me and raise a glass to toast Sugar Ray Robinson the very best there ever was; and ever will be…
Read Part 1: Ringside Report Looks Back at the Legendary Sugar Ray Robinson.
Contact the Feature Writers