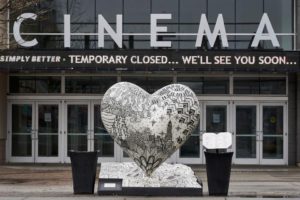 By Anthony "Zute" George
As a lover of pop culture, I could not help to wonder, who is going to be the first to try and make a film about the Covid-19 crisis? Indeed, this is a question that comes with many attachments.
First, will we ever be ready for such a thing? Who would want to see this horror play out as a movie? Well, if they made films based on the 911 tragedy, nothing is off-limits. With no end in sight regarding Covid-19, in fact, what we all should be doing is figuring out how to prepare for a potential 'second wave,' in the fall, plans to make a film on this subject is probably way off. But I am sure some screenwriters are already banging away on their keyboards.
After all, like with everything else in our lives, Covid-19 and the cinema have an unappetizing relationship.
Unlike with 911, Covid-19 has shut down the leisure activity of going to the movies. Yes, we can still watch movies at home, which is where the competent officials want us to be, but nothing is quite like going to the movies. For a good majority of us anyway. Okay, for my family and me for sure. I do not want to speak for everyone erroneously.
With that said, if you a true lover of film, you know that many films were made for the big screen. Even if you could produce a large screen in your house, it is just not the same. In my opinion.
If you look at the beauty of a filmmaker like Stanley Kubrick. My personal favorite. All his films play better on the big screen. Take The Shining, the Overlook Hotel does not come alive the way it did when it played in an actual movie theater. Those twins were not quite as scary. Still a great film, but nothing takes away from the very first time I saw that classic on the silver screen. I was about eight when it came out, and I still remember it like yesterday. What was wrong with my family taking me to such a movie? Well, …
I was even younger when I first saw Star Wars on the big screen. A much more family-friendly film. And that moment when you see the first scroll and spacecraft come across that big screen, man! An argument can be made that it should be illegal to watch Star Wars on anything smaller than a 60-inch screen!
But today, with Covid-19, none of that matters. The only way we can see films is at home. And that makes me sad. Just one of many horrific variables we have experienced.
Indeed, there are many more important things than film. But who would have ever envisioned the United States of America where you could not go to the movies?
I know it was a big part of my life.
Being a New Yorker, the family and I would travel down to an AMC Theater in Manhattan to watch a feature in Dolby Cinema. My personal favorite way to watch films. If you ever watched a film in Dolby Cinema, you know precisely what I mean.
Modern classics like Avengers Infinity War and Black Panther were really enhanced when watching in Dolby Cinema. As a Bruce Springsteen nut, I had the pleasure of watching both Blinded By The Light and Western Stars in Dolby Cinema. Bruce on a Dolby Screen? Pure bliss. This theater even replayed such classics like The Wizard of Oz on the Dolby screen as well. There are not many people who could claim they saw a movie that was released in 1939 on the big screen until the modern theaters started replaying these classics in such a way.
That is now all gone too.
From what I understand, some parts of the country are reopening. But, I have not heard the plan to include opening up movie theaters as part of this plan. When movie theaters do reopen, will it ever be the same? Movie theaters are one place where you agree to be in close quarters with absolute strangers for a good amount of time. Could the majority of Americans ever be that comfortable again?
I would say to enjoy films at home while our extreme pleasure of going to the movies has been taken away from us, but true lovers of going to the movies know that is not a suitable substitute.
But, as they say, it is what it is.
Stay safe, and I hope to meet you once again at the movies.
Contact the management team