[AdSense-A]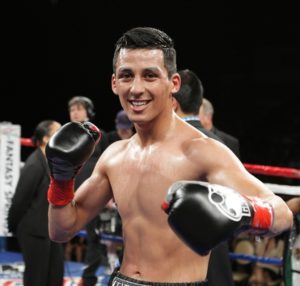 By Marc "Kid Huevos" Livitz
Welcome back, dear reader to the second installment of what we should all hope turns out to be an informative, enjoyable and yet brief look into the lives of fighters and how they continue to cope with the Coronavirus pandemic that continues to smother the world. Earlier this week, I reached out to an old friend from my home state of Texas. For part two of our series, the gears have switched just a bit over to the sunny state of California. Almost a decade has passed since the first time I spoke to Hugo "The Boss" Centeno, JR. and since then, the Oxnard based boxer has always been gracious with his time as well as forthcoming with his ideas and opinions.
Centeno, JR., 27-3-1, 14 KO's, began fighting professionally in the Spring of 2009 and over the course of the last ten years, he's carefully carved out his spot within the middleweight division. As is the case for most, the current state of affairs has painted us into a corner of sorts and we're not entirely sure how to tiptoe our way out of it.
Traditionally, so many fighters have long made the choice to relocate in order to train and prepare for an upcoming bout, yet this has yet to be the case for "The Boss". He's kept his professional affairs at home in Oxnard and recently shared his views with Ringside Report. The questions ranged from the need to stay home to contract issues and some things in between.
ML: Hey, Hugo! Great to talk with you again. I certainly hope you and your family are well. First off, let's get caught up and have you let us know what you were up to when everything came to a halt due to the Covid-19 shutdown.
It hasn't affected me too much because I always feel like I'm in training camp. The only difference is that I'm doing it at all at home. I get to see my wife and my daughter more often, so that's been good. I've been sleeping a little later because I can wake up and train at home. I got some stuff to use at home like a double end bag, an elliptical and a treadmill.
ML: So, at the time when everything slowed down, did you have a fight lined up?
I was actually just waiting for a new contract to surface because my deal with PBC (Premier Boxing Champions) had ended. I was talking to promoters but everything came to a halt. I talked a bit with Golden Boy and Matchroom Promotions, but at the moment, I'm just waiting for offers.
ML: Speaking of PBC, the last time we saw you was last December. You fought Juan Macias Montiel on the undercard of Jermell Charlo's (light middleweight) championship rematch with Tony Harrison. Your bout ended up a draw. What are your thoughts on that night?
I feel that, not to sound crude but they were trying to undersell the fight and sandbag me, as if the guy was a bum they found outside. He wasn't. He was one of the hardest fighters I've ever faced and he was extremely tough. He could hit like a mule and he could go a long way.
ML: Briefly staying with the topic of the Charlo twins, you did face Jermell's brother (Jermall) just over two years ago in Brooklyn for the interim WBC world middleweight title. We know it didn't go as planned (Hugo was stopped in the second round). What do you remember most from that bout?
I think I started off well. I saw early on that he was extremely strong and just the density of his body made him look like he weighed 190 lbs. I felt like the cards were stacked against me, but I was boxing him and boxing smartly. I think I won the first round and when I first got caught, I thought it wasn't so bad. My corner had advised me to box, but once I took a few shots, the Mexican in me tried to come out and make it a fight. In the second, though, he caught me with a left hook and then another one underneath and on the back of my head. That was it.
ML: So, that bout was in April of 2018 and we didn't see you in the ring again until February of last year. Was that by choice? Were you taking some time off?
HC: That wasn't by choice. Not at all. It was due to management. I maybe took two days off before I got back into the gym. I saw that Mikey Garcia was fighting at the Staples Center soon, maybe about a month or two after that. My suspension, though was 60 days. They kept telling me that they'd get me a fight and time just went on and on.
ML: So, you're basically a free agent now. As you continue to wait, just like we're all doing in one way or another, how do you feel about the future?
I'll just keep pushing because this is my life. I'm 29 now and I think I know how to better manage my career. I'm in no way a battered fighter.
ML: Switching topics for just a bit, let's talk for a second about the decision of Andy Ruiz to team up with Canelo Alvarez's trainers. We saw what happened to him after he pulled off that shock win over Anthony Joshua last Summer. He fell into that lifestyle of partying and so on. He looked even more like the demons got him when he met Joshua in their rematch last December. Do you think someone like (Canelo's head trainer) Eddy Reynoso can help him or will the tiger, so to speak not change its stripes?
Well, I feel like he has the work ethic because he's come this far. He has the experience and he knows what it takes. It's tough to say because I know his dad was on him a lot and not long after he beat Joshua, it looked like it could have gone either way and that he might crash and burn.
Once he got the money, he got lost with a lot of new friends and so many people wanted to be part of his team. He may not have had anyone to remind him. We'll see, though. I know that Eddy really trains his fighters hard.
ML: If the same had happened to you, as in if you had won a championship strap, then how do you think it would affect you?
I would not change anything about me if I won a world title. I live in sweats and a t-shirt. It's just that way with me.
ML: Thanks again for your time, Hugo. Are there any fighters you'd like to face in particular?
Actually, yes. It's Jason Quigley. Golden Boy (Promotions) has always protected him and taken care of him.
ML: You're about to turn from a father of one to a father of two. Congratulations on that. As we sign off, is there anything else to add?
As far as my job, I'm staying ready for whenever boxing starts back up again. Otherwise, my daughter keeps me busy. She's learning three languages and she has a wide vocabulary. She's two going on fifteen and always tells me when she's happy and she's sad. My parents and my wife's parents really spoil her.
Contact the Feature Writers