[AdSense-A]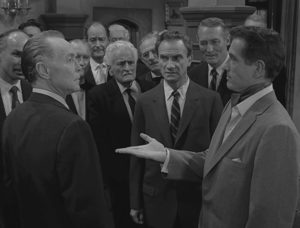 By Anthony "Zute" George
The Twilight Zone is a special kind of television series. I was first introduced to the Rod Serling classic back in the eighties. It was part of a vibrant, late-night lineup on the WPIX Network in New York, The Odd Couple, The Honeymooners, Star Trek, and The Twilight Zone- five days a week. Over two hours of pop culture bliss.
The Twilight Zone came on last, 1:00 AM New York Time, so, I often had to sneak watch. By that time, I was indeed weary-eyed, but as soon as I heard that epic theme music, I was wide awake.
This is an attempt to review some episodes. Not all will be my favorite episodes, that would be too easy. And I will mostly stay away from the well-known episodes. After all, what can I add to The Eye of the Beholder that has not already been said?
So, here it goes.
The first episode I will review is The Silence. It aired in 1961 and was written by Rod Serling, directed by Boris Sagal. The episode features veteran actor Franchot Tone portraying Colonel Archie Taylor. A veteran member of a private men's club. The kind of place that reeks of arrogance, greed, and superiority. False superiority. Well, Mr. Taylor is annoyed by Jamie Tennyson, played by Liam Sullivan. Tennyson is an overly talkative chap who gets under the skin of Archie Taylor. So, Taylor challenges Tennyson. No, not to a game of chess, but to keep his annoying trap shut for one whole year. If Tennyson can refrain from chatter for three-hundred sixty-five days, he will be $500,000 richer. Adjusted for inflation, that is over 4.3 million dollars in 2020. Since the challenge involved an astronomical sum of money, Tennyson had to agree to be isolated like a prisoner for one year, and he could not utter a spoken word.
Now, I will try and not spoil the outcome for those who might not have seen this episode. But I will recommend that you stop reading now if you want to go into the episode fresh. I love The Silence because it is a different edition to The Twilight Zone in many ways. For starters, it is one of the few episodes that does not contain any science fiction elements to it. But it does cover time travel, so to speak. The episode covers one year. When watching it, I wonder what those who were watching it in real-time were thinking. Jumping ahead a whole year on the calendar in a half-hours time. Only Rod Serling could pull that off. It must have been a unique viewing experience at the time.
Another reason why this episode was so great was how it addressed the human condition. Mr. Serling's entire body of work shows evidence of just how much he had the pulse of the human condition, and it was not always a bed of roses. As humans can often be despicable.
The Silence looks at how humans can get exceptionally far, pretending to be something they are not, a dynamic that has grown out of control today. In The Silence, it is implied that Colonel Taylor eventually pays genuinely for his deception, but in today's world, pretending to be something that you are not can carry you much further along than you deserve.
It also shows how far money can drive a sequence of events, and how many of us will do anything for a large sum of cash. I adjusted the bet in The Silence for inflation so you can get a better idea of just how much money was at stake for that time. And even if you think you have The Silence all figured out, it hits you with a twist that you probably did not see coming.
The Silence is a very effective addition to the iconic series. It makes you think and contains elements that you can relate to. While my life and way of thinking, is vastly different than Mr. Taylor's, I know what it is like to be annoyed by someone who cannot shut up for two seconds. In fact, I have come across such people in my life, where is I had the means to do so, I would have paid them handsomely to never utter another spoken word. And that is the beauty of good television. While we never got to see Archie Taylor or Jamie Tennyson again, we will think about them forever.
Rating 5 out of 5 stars.
Thank you, Mr. Serling, for always making me think.
Contact the management team