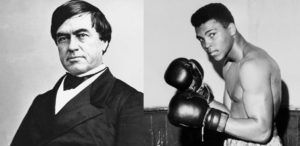 By David "The Journeyman" Vaught
When you hear the name Cassius Marcellus Clay, your first thought is probably of a handsome young Kentuckian who won a Gold Medal in the light heavyweight division at the 1960 summer Olympics in Rome. Cassius Clay, JR., as we know, changed his name to Muhammad Ali and often referred to his birth name as a "slave name", but I would like to take a closer look at the man whose name was passed down to the fighter who became known as the greatest of all time. Cassius Marcellus Clay was born in Madison County Kentucky on October 19th, 1810, a Kentucky politician and an outspoken abolitionist. Clay's father, Green Clay, however, was a slave owner. Those slaves were eventually inherited by Cassius Clay and he gave them their freedom allowing any of them who wanted to continue working for him to stay and earn a wage.
Clay was a well-educated man, he attended Transylvania University and graduated from Yale College in 1832. While at Yale his anti-slavery views really took root. He was elected to the Kentucky House of Representatives three times and became well known for his work to emancipate slaves. This work didn't go unnoticed and he made some serious personal and political enemies.
During a political debate in 1843 a man named Sam Brown attempted to assassinate Clay, Brown pulled out a pistol and fired at Clay, the bullet was partially deflected by the Bowie knife Clay carried in a scabbard.
Despite having been shot, Clay took out his knife, wrestled Brown to the ground, cut out his eyes, and threw him into a ditch. Cassius Clay was a colorful character and he didn't back away from his unpopular stance on slavery despite the danger it brought to him and his family. He started an anti-slavery newspaper in 1845, when he received death threats, he armored the door and brought in cannons to fortify the newspaper office. The office was eventually overrun with armed men and Clay was forced to relocate his printing operation to Cincinnati Ohio.
Besides working as a politician, Clay was also a Captain with the First Kentucky Cavalry from 1846-1847 where he served in the Mexican American War because he opposed the expansion of slavery to the Southwest. In 1849 Cassius Clay was attacked while giving a speech about abolishing slavery. Six men, known as the Turner brothers, beat, stabbed, and attempted to shoot Clay, but Clay managed to fight them off.
Again, using his Bowie knife, he stabbed several of the brothers and then ran down Cyrus Turner, tackled him, and killed him with his knife. Cassius Clay, like Muhammad Ali, was a man of courage and conviction. Both men lived during a time of political and social turmoil, and both men stood up and risked everything because they believed that their personal sacrifice, no matter how great, was worth enduring in order bring needed change to the world.
Contact the Feature Writers