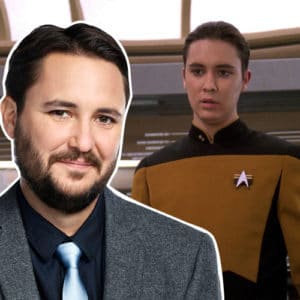 By Anthony "Zute" George
My love for pop culture spans many circles. Star Trek is one of those passions. I love all the TV series, films, comic books, novels, if it is Star Trek, it is me. This article is not entirely about Star Trek, however. It is more about a thought I had when watching reruns of Star Trek: The Next Generation. It was the episode, Final Mission, which involved actor Wil Wheaton's last appearance as a regular on the show. According to IMDB, Will asked to leave the hit show to pursue roles in films. This was during season four of the series. The Next Generation lasted for seven seasons.
I was thinking, what???? What a poor decision. As an actor, why leave a good thing? Unless you are John Travolta in Welcome Back, Kotter, the television gig you have is going to butter your bread more than a film career. Vegan butter, of course. In other words, if you have a working gig as an actor, stay put. In Wil Wheaton's case, he had the pleasure of playing a strong character in Wesley Crusher, who the writers of the show had robust plans for moving forward if you know the storyline of the show, you know that. Why Wil Wheaton did not realize that is beyond me. He left the show just when it was gaining a lot of traction. The two-part episode, The Best of Both Worlds, was a game-changer for, the now iconic, series. Soon after, Mr. Crusher left the Enterprise.
Perhaps Wil Wheaton is perfectly fine with his career choice. But, looking at the option through a critical lens, he had a minimal impact in films, can you name one he was in after he left Star Trek? Also, he wound up returning to the series in a few guest appearances and reprised his role as Wesley Crusher in the Star Trek film, Nemesis, in 2002. Today, Wil Wheaton is the host of the Picard after show on CBS All Access. If you are not familiar with this show, it is Picard's version of The Talking Dead. Indeed, Wil Wheaton once left Star Trek, but Star Trek never left him. With that said, this is not a slight on Mr. Wheaton, he has been a working actor most of his life, and I have the utmost respect for him. I am a little angry that he cheated us out of the development of a great character, but that is something he cannot worry about. However, there is a big difference between a working actor and a major film star. If you are not a major film star, I do not know why you would leave a gig that is giving you the most exposure.
To analyze that point, we have to put the times in perspective. Today, television is much different than it was when Wil left Star Trek. Back then, television was seen as the minor leagues of acting. Major stars looked down on television. Which is pretty odd, because other than Tom Cruise, I cannot think of a major film star who did not have roots on television in some way, if you can, let me know. Yet, up until recently, if an actor broke significant ground in film, they would think it would be considered an insult to be on a television series.
Another odd dynamic, since there is a long paper trail of actors leaving their television gigs for film stardom, only to be humbled, and eventually turn back to television. McLean Stevenson did so with MASH, only to find his way back on TV with brutal results. Hello, Larry, anyone? By contrast, Alan Alda stayed with MASH throughout, and is still a prominent actor today. David Caruso toiled with bit parts before striking gold with NYPD Blue, he left that show very early for a film career. Well, he was awful as a leading film actor and found his way back to TV with CSI: Miami. Coincidently, Caruso was replaced by Jimmy Smits, who left L.A. Law for similar reasons, then left NYPD Blue for the same reasons, only to be back on television many times over. Again, I like Jimmy Smits a great deal, but other than saving the Skywalker's, he has extraordinarily little impact in films.
The hit show ER is another excellent litmus test for this dynamic. As George Clooney is the only cast member to leave that show, and have a fruitful career in film, and oh, many others have tried. George Clooney is a remarkably interesting case because it could be argued that he stayed on with ER longer than he needed to. With that said, Clooney had his fair share of failed TV gigs and wanted to make sure he was firmly established before letting go of the comfort of a hit show. Today, George Clooney can call the shots how he sees fit, and focuses on many other projects separate from acting.
However, If Mr. Clooney decided to once again work on a TV series, it would not be seen as an unprecedented decision because many major film stars with hefty clout have done the same. The reason for this dynamic is a TV series is no longer restricted to network television, as was the case in the days of Hawkeye Pierce, John Kelly, and the like. Today even feature films can be seen from the home. Imagine back in 1990, when Wesley Crusher decided to leave The Enterprise, the thought of a Martin Scorsese feature, starring DeNiro, Pacino, and Pesci, aired as a TV movie. Well, that is essentially what we got when The Irishman was featured on Netflix.
But with acting, being able to work is always a blessing, no matter in what capacity. The fact that television is seen as a much more respected vehicle today makes me joyful, as I have a special place in my heart for television shows. And when characters like Wesley Crusher and Jon Kelly are taken away from us because of silly aspirations by the people who play them, it is the less fortunate side of pop culture. But for every David Caruso, there is an Alan Alda, and passionate television fans can do nothing but take it all in stride.
Any television is better than no television at all.
After all, if an actor wants to return to TV, all the writers have to do is say the season they were killed in was a dream.
Patrick Duffy, anyone?
Contact the Feature Writers