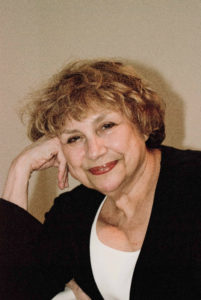 By Diane Batshaw Eisman, M.D. FAAP Doctor Eisman, is in Family Practice in Aventura, Florida with her partner, Dr. Eugene Eisman, an internist/cardiologist
As per usual, Doctor Curmudgeon® was growling.
This was such a common occurrence that the rest of the Curmudgeon household routinely ignored those deep and heartfelt noises.
To what new vexation were these groans related?
What new irritation had dared to darken the quirky mood of the small, crumpled looking physician?
Of course! Telemedicine! Long had she railed against its inadequacies. Since her office was temporarily closed, she was now coerced into using this means of "seeing" her patients. Here she was …in pajamas…no makeup. Seated in front of her mobile phone, she found herself face to face with a patient!
PATIENT: "Hi there, Doc. Good to see you"
DOC: "Good to see you too. Do you have the list of your vital signs? Blood pressure? Pulse? Temperature? Weight?
PATIENT: "Oh, yeah, Doc. Already emailed them. But doc…what's that thing on your head?"
DOC: "It's a headband."
PATIENT: "Why? What for?"
DOC: "To keep my hair out of my eyes. I have become accustomed to seeing."
PATIENT: "Why don't you just trim your bangs?"
DOC: "I am not allowed near a non-sterile scissors."
PATIENT: "Why is that messy pile of papers obscuring the lower part of your face?"
DOC: "Eventually, they will be scanned into the computer?"
PATIENT: "In what year?"
DOC: "Not funny. This call is about you. How are you feeling? Any complaints?"
PATIENT: "Nah, I'm fine, just need prescriptions refilled and haven't seen you in months.
DOC: "Well, anyway I want to go through what we call a review of systems"
PATIENT: "Sure, I've got time. But what is that odd shape that's now on your desk?"
DOC: "A cat."
PATIENT: "Why do you keep a cat on your desk?"
DOC: "I do not KEEP a cat. The cat keeps me"
PATIENT: "Why are you wearing a mask? Has it come to your attention that we are not actually together?"
DOC: "Because I had already put the mask on correctly and I am about to go outside and get the mail."
PATIENT: "I am proud to say that I don't wear a mask. They are really stupid. Have you looked at all the photos of the president? Ever seen him wear a mask?"
DOC: "You're a tad confused. Listen carefully: MASKS GOOD. MASKS NOT STUPID. PEOPLE WHO DO NOT WEAR MASKS…STUPID!!!"
CLICK!
Doctor Curmudgeon® is Diane Batshaw Eisman, M.D., a physician-satirist. This column originally appeared on SERMO, the leading global social network for doctors.
SERMO www.sermo.com "talk real world medicine"
Contact the Feature Writers