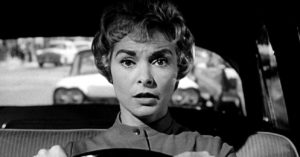 By Geoffrey Huchel
Janet Leigh was a scream queen before being a scream queen was a thing. As Marion Crane in PSYCHO, Leigh paved the way for the many actresses who followed that have been given that title, including daughter, Jamie Lee Curtis. PSYCHO may be one of the films that Leigh is best known for, but her career goes far beyond playing the woman who goes to a roadside motel and meets her fate at the hands of Norman Bates.
Janet Leigh (born Jeannette Helen Morrison) was born on July 6, 1927 in Merced, California. She was an American actress, singer, dancer and author, whose career spanned over five decades. Leigh was discovered at age 18 by actress Norma Shearer, who helped her secure a contract at Metro-Goldwyn-Mayer.
She made her film debut in the big budget Civil War film THE ROMANCE OF ROSY RIDGE (1947). Soon after she was cast in the drama IF WINTER COMES (1947), with Deborah Kerr and Angela Lansbury. Leigh kept busy the following years appearing in WORDS AND MUSIC (1948), with an all-star cast that included June Allyson, Judy Garland, Gene Kelly and Mickey Rooney, the Lassie film HILLS OF HOME (1948), THE RED DANUBE (1949), THE DOCTOR AND THE GIRL (1949), THAT FORSYTE WOMAN (1949), LITTLE WOMEN (1949), with June Allyson, Peter Lawford, Margaret O'Brien, Elizabeth Taylor, and Mary Astor, HOLIDAY AFFAIR (1949),and ACT OF VIOLENCE (1949).
The 1950s brought more success for Leigh. She appeared in two dozen films, such as STRICTLY DISHONORABLE (1951), ANGELS IN THE OUTFIELD (1951), SCARAMOUCHE (1952), JUST THIS ONCE (1952), THE NAKED SPUR (1953), HOUDINI (1953) , with her husband Tony Curtis, ROGUE COP (1954), PRINCE VALIANT (1954), LIVING IT UP (1954), TOUCH OF EVIL (1958), and THE VIKINGS (1958). The beginning of the 1960s brought Leigh to again star opposite Tony Curtis in WHO WAS THAT LADY? (1960), and her career-defining role, murder victim Marion Crane in Alfred Hitchcock's PSYCHO (1960), co-starring Anthony Perkins and Vera Miles. PSYCHO was a major critical and commercial success. Leigh's murder scene is considered one of the most iconic scenes in film history.
For her performance Leigh received a Golden Globe Award for Best Supporting Actress and was nominated for the Academy Award for Best Supporting Actress. Two more high profile films Leigh co-starred in were the Oscar nominated drama THE MANCHURIAN CANDIDATE (1962), opposite Frank Sinatra, Angela Lansbury and Laurence Harvey and the musical BYE, BYE, BIRDIE (1963), with Dick Van Dyke and Ann-Margret. During the 1960s, 1970s and 1980s Leigh made several television appearances in TV movies and series THE MAN FROM U.N.C.L.E. (1964), THE DANNY THOMAS HOUR (1967), THE RED SKELETON HOUR (1951), THE VIRGINIAN (1962), THE NAME OF THE GAME (1968), ROWAN AND MARTIN'S LAUGH-IN (1967), LOVE STORY (1973), COLUMBO (1974), MIRROR, MIRROR (1979), FANTASY ISLAND (1977), THE LOVE BOAT (1977), STARMAN (1986), MURDER, SHE WROTE (1984), THE TWILIGHT ZONE (1985), and TOUCHED BY AND ANGEL (1994). Leigh returned to film and the horror genre to appear as Norma in HALLOWEEN H20: 20 YEARS LATER (1998). Leigh co-starred opposite her daughter Jamie Lee Curtis when she reprised her iconic role of Laurie Strode. The film also starred Josh Hartnett and Michelle Williams. Leigh's final roles were an episode of FAMILY LAW (1999) and BAD GIRLS FROM VALLEY HIGH (2005).
Janet Leigh died at her home in Los Angeles on October 3, 2004, at age 77, after a battle with Vasculitis.
Essential Leigh:
LITTLE WOMEN (1949)
PSYCHO (1960)
THE MANCHURIAN CANDIDATE (1962)
BYE, BYE, BIRDIE (1963)
HALLOWEEN H20: 20 YEARS LATER (1998)
Contact the Feature Writers