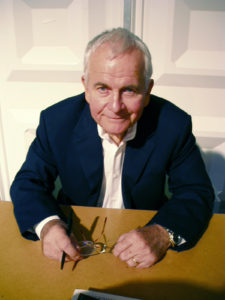 By Geoffrey Huchel
Acclaimed British actor Sir Ian Holm, who is known for his role of Bilbo Baggins in The Lord of the Rings passed away June 19, 2020, in London, England. He was 88. He had been battling Parkinson's for several years.
Before making an impact with his television and film roles, Holm was an established stage actor. He played Richard III in a production of The Wars of the Roses and made appearances in productions such as Measure for Measure, The Tempest, Romeo and Juliet, King Lear and The Homecoming, for which he won the Tony Award for Best Featured Actor in a Play for his portrayal of Lenny.
Holm's filmography includes over 130 television and film credits. His television credits include THE CHERRY ORCHARD (1962), THE LIVES OF BENJAMIN FRANKLIN (1974), PRIVATE AFFAIRS (1975), THE MAN IN THE IRON MASK (1977), JESUS OF NAZARETH (1977), THE LOST BOYS (1978), LES MISERABLES (1978), HOLOCAUST (1978), THE THIEF OF BAGHDAD (1978), ALL QUIET ON THE WESTERN FRONT (1979), S.O.S. TITANIC (1979), GAME, SET AND MATCH (1988), THE ENDLESS GAME (1989), ALICE THROUGH THE LOOKING GLASS (1998), ANIMAL FARM (1999), THE LAST OF THE BLONDE BOMBSHELLS (2000), and 1066: THE BATTLE FOR MIDDLE EARTH (2009).
Holm will be best known for his work in films such as ALIEN (1979), LORD OF THE RINGS: THE FELLOWSHIP OF THE RING (2001), THE LORD OF THE RINGS: THE RETURN OF THE KING (2003), THE HOBBIT: AN UNEXPECTED JOURNEY (2012), and THE HOBBIT: THE BATTLE OF THE FIVE ARMIES (2014). His other film credits include A MIDSUMMER NIGHT'S DREAM (1968), MARY, QUEEN OF SCOTS (1971), TIME BANDITS (1981), CHARIOTS OF FIRE (1981), HAMLET (1990), KAFKA (1991), MARY SHELLEY'S FRANKENSTEIN (1994), NIGHT FALLS ON MANHATTAN (1996), THE SWEET HEREAFTER (1997), THE FIFTH ELEMENT (1997), A LIFE LESS ORDINARY (1997), EXISTENZ (1999), BLESS THE CHILD (2000), FROM HELL (2001), THE DAY AFTER TOMORROW (2004), THE AVIATOR (2004), GARDEN STATE (2004), STRANGERS WITH CANDY (2005), and RATATOUILLE (2007).
Ringside Report sends our condolences to Ian Holm's family in their time of grief.