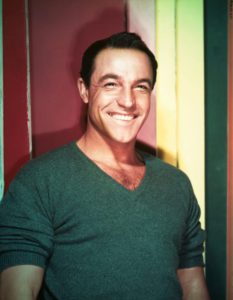 By Geoffrey Huchel
It is not uncommon to name a well-known actor and easily think of a popular movie that made them a star. Oftentimes an actor is remembered for their singing and dancing abilities as well. All can be said for Gene Kelly. The legendary song and dance man is known for his energetic and athletic dancing style and the likable characters he played. Kelly is one of the most popular stars of his time and was ranked as one of the greatest male screen legends of classic Hollywood cinema.
Eugene Curran Kelly was born on August 23, 1912 in Pittsburgh, Pennsylvania. At a young age, Kelly's mother introduced him to dance when she enrolled him and his brother in dance classes. His family would later open a dance studio in Pittsburgh and opened a second location in Johnstown, Pennsylvania.
Kelly served as a teacher at the studio during his undergraduate and law-school years at the University of Pittsburgh Law School. Kelly eventually dropped out of law school to pursue a career as a dance teacher and full-time entertainer. Kelly's early career was on stage. He appeared as a dancer in Cole Porter's Leave It to Me. His first breakthrough was in the Pulitzer Prize winning The Time of Your Life in October,1939. He was cast in the lead role in Rodgers and Hart's Pal Joey. His performance propelled him to stardom. It was not long before offers from Hollywood began to arrive.
Kelly's first motion picture was MGM's FOR ME AND MY GAL (1942), starring Judy Garland. He followed up with THOUSANDS CHEER (1943), THE CROSS OF LORRAINE (1943), PILOT #5 (1943) and DU BARRY WAS A LADY (1943), with Lucille Ball. Kelly costarred opposite Rita Hayworth in the musical comedy COVER GIRL (1944) and with Deanna Durbin and the crime drama CHRISTMAS HOLIDAY (1944). Kelly's next film was in the star-studded ZIEGFELD FOLLIES (1945), with Judy Garland, Fred Astaire, Lucille Ball, Lena Horne and Lucille Bremer. Kelly's next film was the musical ANCHORS AWEIGH (1945), co-starring opposite Frank Sinatra. Kelly and Sinatra play two sailors, one naïve, the other experienced in the ways of the world. Kelly reunited with Judy Garland for a third and fourth time to star in WORDS AND MUSIC (1948) and THE PIRATE (1948). Also, in 1948, Kelly starred in THE THREE MUSKETEERS, with Lana Turner, June Allyson and Angela Lansbury. Like his frequent collaborations with Garland, Kelly reunited two more times with Frank Sinatra for TAKE ME OUT TO THE BALL GAME (1949) and ON THE TOWN (1949). Kelly reunited with Garland a fifth and final time for the musical romance SUMMER STOCK (1950). In the beginning of this piece it was mentioned that most actors are remembered for a specific film. Kelly had a few. The first was the Oscar winning AN AMERICAN IN PARIS (1951), costarring Leslie Caron. The film won the Oscar for Best Picture and Kelly was nominated for the Golden Globe for Best Actor in a Comedy or Musical for his performance. Perhaps, the film Kelly was most well-known for is the Oscar nominated musical comedy SINGIN' IN THE RAIN (1952), one of the most beloved musicals of all time. The film co-starred Debbie Reynolds and Donald O'Connor. Kelly served as lead star, co-director and choreographer for both films. The iconic umbrella dance remains one of the film's most memorable sequences and was paid homage to in a recreation on the television series GLEE (2009). Another popular film Kelly starred in was BRIGADOON (1954), about two Americans on a hunting trip in Scotland who become lost and encounter a small village that's not on the map, called Brigadoon in which people harbor a mysterious secret and behave as they were still living two hundred years in the past. The 3-time Oscar nominated film costarred Cyd Charisse and Van Johnson.
Kelly co-starred opposite Spencer Tracy in the biographical drama INHERIT THE WIND (1960) and what a way to go (1964), with Shirley MacLaine and Paul Newman. Both films were Oscar received multiple Oscar nominations. Kelly's last feature film was opposite Olivia Newton-John in the fantasy musical XANADU (1980). Kelly also made appearances in TV movies and series including JACK AND THE BEANSTALK (1967), THE LOVE BOAT (1977) and NORTH AND SOUTH, BOOK I (1985).
Kelly's health declined steadily in the late 1980s. In July,1994, he suffered a stroke and was hospitalized for seven weeks. He suffered another stroke in 1995. He died on February 2, 1996 at the age of 83.
Essential Kelly:
ANCHORS AWEIGH (1945)
ZIEGFELD FOLLIES (1945)
THE PIRATE (1948)
ON THE TOWN (1949)
SUMMER STOCK (1950)
AN AMERICAN IN PARIS (1951)
BRIGADOON (1954)
Contact the Feature Writers