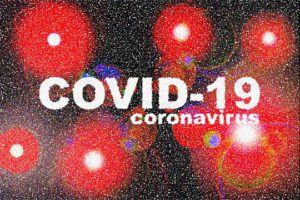 By Jo-Ann "Jo D NL" Duke
Hi, it's Jo D, your friendly Canadian observer back again with some very increasingly worried thoughts about how America is now dealing, or will have to deal, with President Trump's actions recently the past week or two.
My concern lies mostly in regards to his insistence that US Covid-19 cases are not as prevalent as they truly are. Also, his insistence that the US has one of the lowest mortality rates in the world, and that testing people for Covid-19 creates cases, so that if you don't test, you won't have more cases.
All three of these issues are frightening on their own; but having all of them being pushed at the US citizens by the president and his administration are very troubling, and for them to be happening all at the same time is nerve-wracking.
Just looking at these issues from outside the US, it has made me very concerned for all American citizens. This is, in part, due to the present leadership's guidance or lack thereof with regards to the Covid-19 crisis.
Another problem that can be clearly seen is with having the majority of the administration insisting on repeating and/or agreeing with what the president has been saying the past week or so; it has been causing even more issues in regards to Covid-19.
This behavior is letting some people believe that they don't have to follow medical guidelines to protect themselves and everyone they come into contact with as they gather together.
The main issues that I see coming from the administration's behavior are the politicization of wearing masks as a medical safeguard, and making it about taking away people's rights versus being a health measure; and not having people continue to try and social (physical) distance from others when they are out, to stop the spread of Covid-19.
Perhaps though, the most worrying issue is the fact that some citizens are still not believing the virus is as dangerous as it truly is; and not doing anything to try and stop the spread.
How then can the country get a handle on the virus; and in an attempt to get the whole country in a position where they can get the huge number of new cases within multiple states under control; so that once this is done, for the country to have a chance to be able to flatten the curve of the virus while dealing with it being spread even more.
The information listed below includes the worldwide current number of cases, deaths and the number of patients who have recovered worldwide as has been recorded on Worldometer.
As well, it has the current number of US cases, deaths and the number of Americans who have recovered from Coronavirus (Covid-19). To be fair, I have also included the numbers for Canada, so they can be seen and used for comparison.
The numbers are what was available when this article was written, so please see the information below. I have included a link for the world's numbers, and the links specifically for the US and Canada.
https://www.worldometers.info/coronavirus/#countries
World
Last updated: July 17, 2020, 20:38 GMT
Coronavirus Cases: 14,111,224
Deaths: 595,668
Recovered: 8,397,504
https://www.worldometers.info/coronavirus/country/us/
United States
Last updated: July 17, 2020, 20:49 GMT
Coronavirus Cases: 3,751,251
Deaths: 141,804
Recovered: 1,701,262
https://www.worldometers.info/coronavirus/country/canada/
Canada
Last updated: July 17, 2020, 20:44 GMT
Coronavirus Cases: 109,516
Deaths: 8,835
Recovered: 96,623
The US has lost 141,804 citizens to Covid-19 as of the update listed above. . The number of US deaths is 23.81% of the total 595,668 Covid-19 deaths worldwide that have occurred.
At the same time, Canada has lost 8,835 citizens to Covid-19; and the number of Canadian deaths is 1.5% of the total 595,668 Covid19 deaths worldwide that have occurred. The exact numbers for both countries are listed as of the update above.
My question is then, if the US has one of the lowest, if not the lowest mortality rate according to the president, as he has said multiple times; then how can the country have the highest number of Covid deaths in the world. I am sincerely asking for someone who could explain this concept to me?
Ironically, the US, in which both the president and his press secretary who are both quoted further down; there are multiple times in which they both keep saying that the US has the lowest mortality rate; and unless my calculations are wrong, the truth is that it has almost 16x the percentage of deaths that Canada has.
The data I have stated previously comes directly from the Worldometer site on their Covid pages, so please feel free to check it out, and see for yourself.
As well, I have found the following information in the article by Graig Graziosi that The Independent published on Tuesday, July 7, 2020. In the article, it stated that President Donald Trump claimed incorrectly on Monday, July 6, 2020, that the US's coronavirus mortality rate was among the lowest in the world.
The following is something that was on Twitter on Monday, July 6, 2020. "The Mortality Rate for the China Virus in the US is just about the LOWEST IN THE WORLD," Mr Trump tweeted on Monday.
The president's tweets punctuated an earlier message delivered by the White House Press Secretary Kayleigh McEnany in which she claimed the world was looking to the US as a "leader in Covid-19."
"Because the chart I showed you where you have the mortality rate in Italy and UK up here and across Europe, and you have the United States at a low case mortality rate, it's because of the extraordinary work that we've done on therapeutics and getting PPE and leading on ventilators," Ms McEnany said.
As I said earlier, it can be seen that not only are the administration members agreeing with the unverified information that the president is putting on Twitter, and whatever he is saying during his press conferences, roundtables, interviews and the like.
They are also repeating the information as if it has been verified as true, and it has not, as far as I have seen or heard up to this point. In my opinion, these actions are in fact endangering every citizen of the US, especially if they are among the people who believe this information to be accurate.
Think about it for just a minute; because if people, who do believe what the president and his advisers and members of the administration say is true, then they are being told that the death rate from Covid-19 is much lower than it really is; is it not possible that this might lead them to a false sense of security?
Could this not make them believe that it is safe to be out without following medical recommendations such as wearing a mask that will at least give them a chance to protect themselves; and the truth is that they also need to protect everyone else they come in contact with during these times?
Lastly, the words seen below are a direct quote from the US president made during his Red White and The Blue law enforcement roundtable that was held on July 13, 2020.
He stated "As an example, we've done 45 million tests. If we did half that number, you'd have half the cases, probably around that number. If we did another half of that, you'd have half the numbers. Everyone would be saying we're doing well on cases."
The one thing that stands out as truly horrifying to me is that it seems like he has convinced himself that what he is saying is true. However, as you can see from the numbers we have already seen numerous times, and from multiple infectious disease experts since the pandemic started, that his belief and certainty in this idea is at best misguided.
There will still be the same number of people infected with the virus; this is true, and whether they are tested or not, it will not change the numbers of being positive for Covid-19 to being negative.
Unfortunately, if they are not tested, they will just go undiagnosed, and possibly be spreading the virus, and unknowingly infect even more people when they come into contact with them, in some place or other.
However, if they do follow the safety guidelines set out for all citizens to follow, this will lessen the chances of the virus being spread; which from many occasions of the guidelines has shown how quickly the virus can spread, or even come back, and the case numbers will rise again, as they have been in many states.
As seen on the MaddowBlog in an article written by Steve Benen on July 14, 2020, the title states that "Trump argues the US has 'created cases' through virus testing" with the subtitle saying that "The president really ought to understand the difference between identifying coronavirus cases and creating coronavirus cases."
The author states, "The act of getting tested is not itself dangerous to the public. The process doesn't make positive test results."
This is correct. You cannot get infected by having a coronavirus test. Truthfully, it is imperative that we need to realize just how important proper testing is to help the world get through the Covid-19 pandemic.
For the general public, which I would say that at least 98% or more of us are, we need to see that being tested if needed is how we can see just how many people are infected, where the main sites of infection are, and the speed that the virus is spreading throughout the US, and worldwide.
If you want an example of that, just look at the 77,000 new cases reported in the US breaking a daily record for new cases. Texas, Florida, California, Arizona and others are seeing cases in the thousands each day, and many states are enforcing the fact that masks are now required if you are in public.
My hope is that if the people who refused to wear a mask, because it was taking their rights away, those from before will comply with this mandated requirement; that this one action may help slow the rate of the spread.
This is even more important in the states that have steadily rising case numbers every day; breaking case number records, which is not a good thing, because the more cases, realistically, the more deaths will happen in America.
Once the spread can be slowed, then this can help lead to the flattening of the curve of the virus not only in the US, as well as the rest of the world. Believe it or not, if everyone starts following the healthcare guidelines that are in place already, it will help slowly but surely get the virus under control.
A good analogy would be that the US is trying to fight a massive forest fire burning out of control with a small garden hose, but what they need the largest hose they can find to put the fire out, once and for all.
The sad reality is that confirmed cases of the virus shows us that the pandemic is not going to disappear, that people need to be diagnosed and treated so that hopefully they can recover, and get back to their lives and families.
As we have been told multiple times; the truth is that if people are asymptomatic, there is no way to definitively tell that they have Covid-19, and this could cause the virus to spread even more quickly than it already has.
Just one asymptomatic person could easily cause a cluster that could infect hundreds or more, if there was a party, barbecue, or even a get-together in a restaurant or bar, for example.
I am not exaggerating when I say this, because it happened where I live. Almost two hundred people ended up developing Covid-19 at the very beginning of the first cases showing up here.
An asymptomatic person had attended a social gathering, in fact, the event was the next day after our first case of the virus had been diagnosed; honestly, at that point, we were still adjusting to the idea of the virus, not knowing how much it was going to change all our lives.
The person had gone to a family based event, since they had no idea they were sick, and they ended up infecting multiple people who brought it home to their families and it spread; and almost 180 people got sick from that one event.
We have been lucky since then, and overall so far for the whole province, we have only had 262 cases, we did unfortunately lose three people, but now we have no new cases, and all 259 patients have recovered, and are no longer considered active anymore.
Thankfully, we have only had one case in the past two months, give or take a day. My provincial premier, minister of health and our chief medical officer of health have been updating our province with needed information every day, either through television, radio, or the government website, through the Covid-19 Updates section.
Also, the essential stores that were required to stay open as well the workers who had to go into work every day; those who did so here in Newfoundland and Labrador, the people who have put themselves at risk to make sure the rest of us still have food, medication, and any other essentials that we need; they have made sure that when we have had to go out, which in my case, is as little as possible; that they have gone out of their way to make it as safe as possible.
I want to offer them a very sincere thank you for all they have done; and I have done so in person whenever possible, because the workers who do this, so that we can have what we need, truly do deserve to have that recognition, in my humble opinion.
I guess you could say that we have flattened our curve, and in a way I guess we have; though to be honest, I am sure that there are people who are positive, and just don't know yet.
It is quite possible that we may indeed go through a second wave of the virus, but fingers crossed, that will not happen. However, unless people like the president and his administration start to openly support the infectious disease experts.
They need to do this, and encourage all Americans to follow the guidelines that have been put in place, so that America can once again be the beautiful amazing country it has always been in the past.
I know that I can't wait for the day that America and all her people will be safe, and the country no longer divided the way it is at the moment; and all of us from around the world, can come back to the country that has such a special place in our hearts.
Well, once again I am signing off from Canada, sincerely wishing all of my American friends the best, those both old and new, and much love to all of them.
Contact the Feature Writers