[AdSense-A]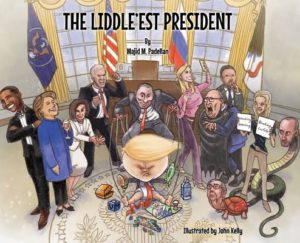 While many find themselves hunkered down under coronavirus "Shelter in Place" rules, and listening to occasional coronavirus briefings, many readers have found a distraction to put smiles on their faces and laughs in their bellies: President Donald Trump.
Or, to be more precise, a hilarious political humor book titled "The Liddle'est President" is formatted as a children's book, but is meant for adults. The book includes engaging, beautiful full-color illustrations and a story-telling voice to document the rise of a "Liddle" version of the President, and tracks his improbable rise…and eventual fall.
The book was written and published by first-time author and Social Media influencer Majid M. Padellan, who has grown a Twitter audience of over 590,000 followers with his biting daily critiques of the President. He is known as "BrooklynDad_Defiant!" on the platform. Padellan also met his wife on Twitter, who moved to America with her 2 children from New Zealand to form their new family.
MSNBC Commentator Malcolm Nance wrote "Go get yourself a copy NOW. It is freaking HILARIOUS. I absolutely loved it! Buy it for your kids as a scary bedtime story."
Harvard Law scholar Laurence Tribe raved "Here's a terrific (and hilarious) graphic nonfiction mini-novel that tells the story of our mini-Commander in Chief. A perfect antidote to cabin fever during the lockdown. Order it right away!"
On its first day of release, The Liddle'est President immediately claimed the top 2 spots in Amazon's Political Humor best seller list. Four months later, the book remains in the top 100.
The popular first-time author autographs hard cover copies of the book sold from his website, and has even autographed and mailed a book to the "President" himself. Get yours today!
Order your copy now of his book and other products by clicking HERE.